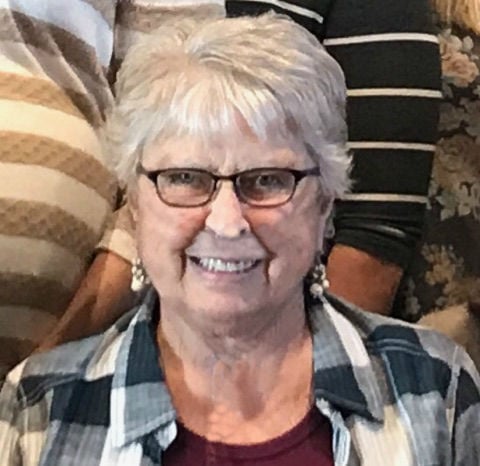 March 21, 1937 – Dec. 1, 2017
ARLINGTON -- Elaine Hilgenkamp was gently led by God's hand on Friday, Dec. 1, 2017, to live in Heaven with Jesus.
Elaine was born on March 21, 1937 in Arlington. She was one of four children of Emil and Lenora (Hilgenkamp) Dunklau and grew up on the family farm near Arlington. On March 17, 1957, Elaine was united in marriage to Ronald Hilgenkamp. Their union was blessed with three daughters, Sandra, Sheryl and Susan.
Grateful for the 80 years that God shared Elaine with us are her survivors, husband, Ron, Arlington; daughters, Sandra (Brian) Rasmussen, Mead, and Sheryl (Alan) Wiese, Filley; son-in-law, Galen Buhr, Filley; nine grandchildren, Kari (Nick) Steinbach, Keli (Brad) Boutwell, Philip (Sarah) Rasmussen, AJ (Makayla) Wiese, McKenzie (Logan) Behrendt, Mitchell Amundson, Chelsea (Landon) Cousins, Taylor, and Tia Buhr; nine great-grandchildren, Randal, Elaine, Clayton and Landon Steinbach, Payten, Adilynn and Lilyan Boutwell, Taylin Rasmussen and Aubrey Wiese; sisters-in-law, Illene and Donna Dunklau and Delores Stork; brother-in-law, Milton (Kathy) Hilgenkamp, all of Arlington; many loving nieces, nephews, cousins and other relatives and friends.
The funeral will be 10:30 a.m. Wednesday, Dec. 6, at St. Paul's Lutheran Church at Arlington. Visitation will be from 4-8 p.m. with family receiving friends from 6-8 p.m. Tuesday, Dec. 5, also at St. Paul's Lutheran Church. Burial at St. Paul's Cemetery.
The family requests memorials in lieu of flowers, so together with members of Christ's family, funds can be given to the mission to make known the love of Christ and the promise of God's salvation.
Reckmeyer-Moser Funeral & Cremation Service 232 W. Eagle, Arlington, NE 402-478-4151