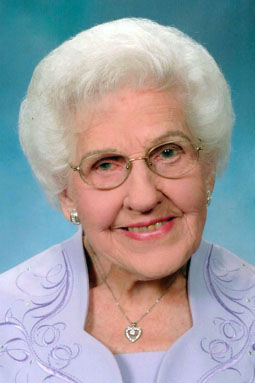 July 1, 1914 – November 16, 2019
Gertrude V. Heimann, 105, of Fremont, Nebraska, passed away Saturday, Nov. 16, 2019, at Nye Legacy in Fremont.
Gertrude was born July 1, 1914, in rural Dodge, Nebraska, Olean vicinity, to Lorenz and Elizabeth (Knust) Kampschnieder. She attended Olean, Sacred Heart Catholic School in rural Dodge. On Jan. 14, 1936, she married Raymond Heimann at the Sacred Heart Catholic Church. She went to live on a farm near Snyder, Nebraska, where she farmed with her husband until 1970. They moved to Fremont and Gertrude became a member of St. Patrick Catholic Church. She was a past treasurer of the retired Eagles activity club and Heritage Club.
Gertrude is survived by her daughters, Elaine Burger of Omaha, Nebraska, and Janice (Milton) Suter of Clara City, Minnesota; son, Donald (Diane) Heimann of Gepp, Arkansas; and daughter-in-law, Alvina Heimann of Fremont; 12 grandchildren, Kathy McClenahan, Barbara Franzluebbers, Brent Burger, Dan Burger, Laurie Feuchtenberger, Pam Engebretson, Dean Heimann, Ron Suter, Pat Suter, Marie Heimann, Bill Heimann, Michelle Rhead; 34 great-grandchildren; 16 great-great-grandchildren; brothers, Robert Kampschneider of Dodge, Hubert Kampschneider of West Point; and many nieces and nephews.
Gertrude was preceded in death by her parents; husband, Raymond; son, Robert Heimann; son-in-law, Bernard Burger; and daughter-in-law, Reva Heimann; granddaughter, Sharon Uttermark; granddaughter-in-law, Dini Burger; grandson-in-law, Mike Uttermark; great-granddaughter, Courtney Rhead; sisters, Leona Heimann, Alfrieda Wordekemper, Oliva Luebbert; brothers, Art, Rudy, Clarence Kampschnieder.
The funeral Mass will be 10 a.m. Friday, Nov. 22, at St. Patrick Catholic Church in Fremont. Visitation will be 5-7 p.m. Thursday, with a Rosary at 7 p.m., all at Moser Memorial Chapel.
Burial will be at Calvary Cemetery in Fremont.
In lieu of flowers, memorials may be directed to St. Patrick Catholic Church.
Moser Memorial Chapel, 2170 N. Somers Ave., Fremont, NE 68025 402-721-4490
Obituaries Newsletter
Sign up to get the most recent local obituaries delivered to your inbox.