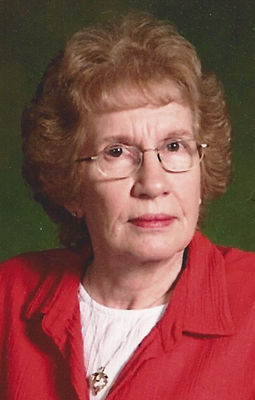 February 29, 1940 – June 17, 2020
Lila was born Feb. 29, 1940, in Arlington, Nebraska, to Max and Elsa (Knecht) Greunke. She was raised on a farm north of Arlington. She attended St. Paul's Lutheran School and graduated from Arlington High School in 1957. She started her career as bookkeeper/secretary for Fred H. Richards Sr. of Hills Farm, Inc. and Hills Farm-Rix in Fremont. Then as legal secretary for Fred H. Richards Jr. at Richards, Yost & Schafersman; Roger Brink, F.A. Gossett III and Barbara C. Haslam and finally as Clerk Magistrate for Honorable Judge, Daniel J. Beckwith and Kenneth J. Vampola. In her retirement, she was bailiff for Dodge County Court; worked part time in Dodge County District Court and Dodge County Treasurer's offices; Cindy Keiser, altering prom dresses and volunteered at Arlington Public Schools and Root to Wings. Lila was a recipient of the Arlington Education Foundation Award.
Lila was a member of St. Paul's Lutheran Church north of Arlington; was involved with the Walther League; taught Sunday School; served on the finance committee and was treasurer of Women's League (LWML).
Lila married Howard Scheer on April 12, 1969, at St Paul's.
Lila is survived by brother, Kenneth (Marlene) of Arlington; sisters-in-law, Joan Scheer and Eloise Greunke of Arlington, Janette Greunke of Oviedo, Florida; many nieces and nephews; great-nieces and nephews and many dear friends.
She was preceded in death by her parents, Max and Elsa; husband, Howard; brothers, Dean, Marlin and twin brother, Lyle; and sister-in-law, Bev Greunke.
The funeral service is 10:30 a.m. Monday, June 22, at St. Paul's Lutheran Church. Controlled visitation is Sunday, June 21, from 2-6 p.m. at Reckmeyer-Moser Funeral Home in Arlington. Burial at St. Paul's Lutheran Cemetery.
In lieu of flowers, memorials may be directed to St. Paul's Lutheran Church, Arlington Education Foundation, Roots to Wings, or Arlington Volunteer Fire and Rescue.
Reckmeyer-Moser Funeral Home, 232 West Eagle, Arlington, NE 68002
Obituaries Newsletter
Sign up to get the most recent local obituaries delivered to your inbox.