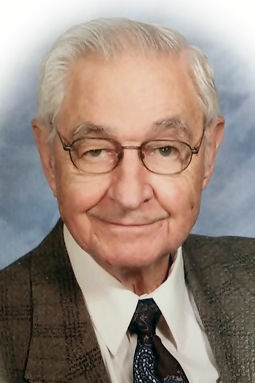 August 21, 1928 – February 1, 2020
Melvin E. Schneider, age 91, of Fremont died Saturday, Feb. 1, 2020, at home.
Mel was born Aug. 21, 1928, in Scottsbluff, Nebraska, to David and Lydia (Dahlinger) Schneider. He graduated from Minatare High School in 1945. He attended Scottsbluff Junior College from 1946 to 1948. While attending Scottsbluff Junior College he was named to the Omaha World Herald All-Nebraska Junior College 1st Team in football and basketball. He then attended the University of Nebraska at Lincoln and received his Bachelor of Science degree in Agriculture. In 1950 Mel began a long career with Hormel Foods, starting in Austin, Minnesota, as a Livestock Buyer. In 1951 he was drafted into the Army and served in Korea. After his service he returned to working for Hormel. In 1954 he opened Hormel's Hog Buying station at Humphrey and in August of 1957 he transferred to Denison, Iowa, and managed their buying station for 13 years. He returned to Fremont in 1970 as a territory buyer until he retired in December of 1988.
You have free articles remaining.
Mel married Jo Ann Phillips of Burlington, Iowa, on Aug. 26, 1956. He was a member of First Lutheran Church, American Legion Post 20 and the Valley View Golf Course, all of Fremont.
Survivors: children, Melanie (Michael Martin) Peppmuller of Fremont, Jeri (Jim) Kallio of Fremont, Stevan (Lori Moseman) Schneider of Fremont/Peru, Craig Schneider of Fremont; eight grandchildren, Aaron Schneider, Drew (Becca) Schneider, Lauren (Gage) Carlson, Christian Schneider, Caleb Schneider, Ashley Peppmuller, Megan (William) Flynn and Zoey Kallio; four great-grandchildren, Luke, Leo, Charlotte and Liam; brother-in-law, Jim Phillips of Austin, Minnesota.
Mel was preceded in death by his parents; wife, Jo Ann in June of 2009; son, James in October of 2017; three sisters, Agnes, Mary and Freida; and four brothers, David, Carl, Alex and Wilbur.
The funeral will be 10:30 a.m. Monday, Feb. 10, at First Lutheran Church in Fremont. Burial with Military Honors will be in Memorial Cemetery. Memorials are suggested to the Methodist Fremont Health Hospice and First Lutheran Church. Visitation will be Sunday, from 2 p.m. to 6 p.m., with the family present from 4 p.m. to 6 p.m. at the Ludvigsen Mortuary Chapel in Fremont.
To send flowers to the family of Melvin Schneider, please visit Tribute Store.