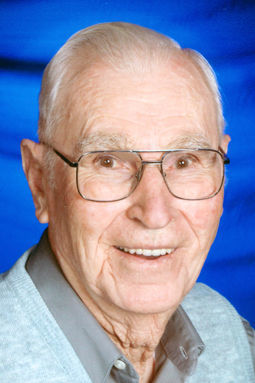 October 13, 1924—September 17, 2019
Paul W. Buntemeyer, age 94, of Fremont died Tuesday, Sept. 17, 2019, at Nye Legacy.
Paul was born Oct. 13, 1924, in Deshler, Nebraska, to Fred J. and Alvina (Mundt) Buntemeyer. He was baptized and confirmed at Peace Lutheran Church in Deshler. He graduated in May 1943 at Deshler High School.
Paul worked for Western Light and Telephone in Kansas and Continental Oil in Wyoming until entering the service as a Military Policeman stationed at Camp Stoneman, California. He was discharged in May 1947 returning to Deshler working for Deshler Telephone Co. He married Lorene Bruns of Deshler at Peace Lutheran Church on May 1, 1949. They moved to Schuyler, Wayne and permanently to Fremont in 1960 where he worked for Northwestern Bell Telephone until retiring in February 1986.
He was a member of Good Shepherd Lutheran Church, taking part in many church activities and offices. He was a member of Lutheran Laymen's League, Telephone Pioneers and Isaac Walton.
He is survived by daughter, Karen (Jay) Anderson of Fremont; grandchildren, Tracy Anderson, Chad (Tammy) Anderson and Christina (Brian) Ward; four great-grandchildren; and three great-great-grandchildren.
Paul is also survived by sisters-in-law, Mildred Buntemeyer of Broken Bow, Lenora Frank of Beatrice and Thelma Liebe of Manhattan, Kansas; and several nieces and nephews.
Paul was preceded in death by his wife; daughter and son-in-law, Barbara and Brian Basinger; his parents; three sisters; and three brothers.
The memorial service will be 10:30 a.m. Wednesday, Sept. 25, at Good Shepherd Lutheran Church in Fremont with Military Honors by the Fremont Honor Guard. The Rev. Ryan Ankersen will officiate. There is no visitation. In lieu of flowers, memorials are suggested to Fremont Area Alzheimer's Collaboration (Fremont Area Community Foundation, 1005 E. 23rd St., Suite 2, Fremont, NE 68025) and Good Shepherd Lutheran Church.
Obituaries Newsletter
Sign up to get the most recent local obituaries delivered to your inbox.