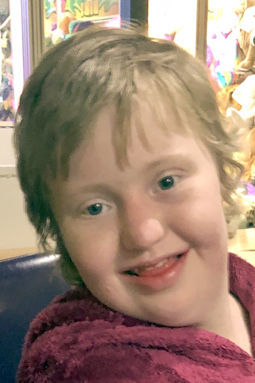 January 13, 2005 – February 11, 2020
Renae Proskovec, 15, of Fremont, Nebraska, passed away on Feb. 11, 2020, after a long battle with leukemia. She died with her family by her side, surrounded with love.
Renae Lynn Proskovec was born Jan. 13, 2005, in Fremont to Jim and Sandi (Martens) Proskovec. She was befriended and taken care of by many wonderful teachers, schoolmates, and staff members at Fremont Public Schools. She also had many amazing supporters in the community who rallied around her Relay For Life team, "Rock-and-Rollin' for Renae." Everyone who met Renae adored her great sense of humor and silly attitude, her open-heartedness and big hugs, and her love for Disney princesses, Barbies, coloring, and the color pink.
Renae was born with Down syndrome and was diagnosed with acute lymphoblastic leukemia in 2008. After a period of remission, the cancer relapsed in 2018, leading to two years of intense treatments. She benefited immensely from the incredible skill of devoted medical professionals throughout the many phases of her brave battle.
You have free articles remaining.
During a break in her treatments in July, Renae enjoyed a whirlwind tour of her favorite vacation spots, including Adventureland and Great Wolf Lodge. Her family also made the 22-hour drive to and from Disneyland so that Renae could enjoy "It's a Small World," the ride she loved watching in videos on her iPad. With the gift of more time from some additional therapies, she was able to start her freshman year at FHS, make a return trip to Disneyland to see the park decorated for Christmas, and celebrate her 15th birthday with her friends at the Amazing Pizza Machine.
Renae is remembered most for helping people live their best lives by bringing more fun, jokes, color, "pranks," ice cream, one-liners, nicknames, dance parties, joy – and so much more love – into the world.
She was preceded in death by her grandpa, Larry Martens. She is survived by her parents, Jim and Sandi Proskovec; sisters, Lexi and Katie; grandmother, Sharon Martens; grandparents, Jim and Jeanne Proskovec; aunts and uncles, Jason Proskovec (Brooke), Jeremy Proskovec, Susan Martens (Ian), Steve Martens (Stacy); cousins, William, Henry, and Samuel Martens; and a large extended family.
Visitation will be held on Friday, Feb. 14, from 5-8 p.m. at the Ludvigsen Mortuary Chapel. A celebration of life will be held on Saturday, Feb. 15, at 10:30 a.m. at First Lutheran Church, 3200 E. Military Ave. Pastor Scott Jensen will officiate. Guests are invited to wear pink, orange, or bright colors to celebrate the things Renae loved. Memorials may be directed to the family.
To send flowers to the family of Renae Proskovec, please visit Tribute Store.