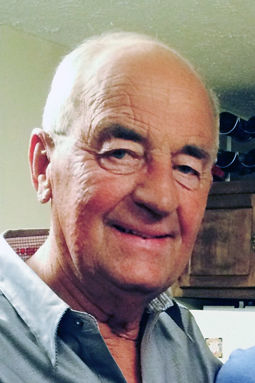 May 3, 1943 – June 7, 2019
Ronald L. Sukstorf, 76 years, of Cedar Bluffs passed away Friday, June 7, 2019, at Nebraska Medical Center in Omaha.
Ron was born on May 3, 1943, to Arnold and Dorothy (Lemke) Sukstorf in Fremont. He grew up in Cedar Bluffs and graduated from Cedar Bluffs High School, class of 1960. For a short time, Ron worked as a mechanic at Anderson Auto in Wahoo. He served in the U.S. Army National Guard from April 21, 1964, to April 20, 1970, as a Helicopter Crew Chief. On April 2, 1966, Ron married Sandra Troudt at St. Matthew Lutheran Church in Cedar Bluffs. The couple resided near Cedar Bluffs, where Ron continued farming.
Ron had a passion for outdoors which included: airboating, hunting, fishing, golfing, riding motorcycles and snowmobiles. He loved his Chevys and restored old cars and John Deeres.
Ron served on the Saunders County Co-op Board, Famers Union Co-op, and was instrumental in the installation of the two bins and legs that stand in Cedar Bluffs. Agri Enterprises was established by Ron Sukstorf, Randy Sukstorf and Gene Hansen. They sold Circle bins with the "You buy it —- We build it" concept. The equal partners continued in this business for approximately four years. He was past director of the Nebraska Airboaters Association and a lifetime member. Ron was a member and Elder of St. Matthew Lutheran Church where he served as a Trustee and was on the Finance Board.
He was preceded in death by his parents; son, Cole Sukstorf; and nephew, Andrew Sukstorf.
Ron is survived by his wife, Sandy; children, Chad (Tammy) Sukstorf, Wendy (Mike) Bischof, Bridget (Brett) Vance, Lacey Sukstorf and Skye (Jillian) Sukstorf; brother, Delbert (Sandy) Sukstorf; sister, Genelle (Mark) Hackel; and grandchildren, Maverick, Kalley, Caden, Ryder, Tyke, Crew, Rio, Emily, Gage, Malia, Dash, and Rex.
The funeral service is 11 a.m. Wednesday, June 12, at St. Matthew Lutheran Church in Cedar Bluffs. The Rev. Mark Weber will officiate. Visitation will be Tuesday from 4 p.m. to 8 p.m. with family receiving friends from 6 p.m. to 8 p.m. at St. Matthew Lutheran Church. Visitation will continue Wednesday one hour prior to the service at the church. Burial will be at Union Cemetery at Cedar Bluffs.
In lieu of flowers, memorials may be designated to the Cedar Bluffs American Legion Post 158 or St. Matthew Lutheran Church at Cedar Bluffs.
Moser Memorial Chapel, 200 W. Main St., Cedar Bluffs, NE 68015 402-628-3445
Obituaries Newsletter
Sign up to get the most recent local obituaries delivered to your inbox.