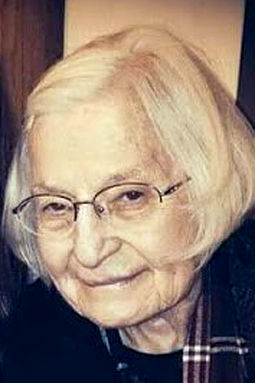 December 30, 1924 – November 3, 2019
Ruth Frances (Dystensky) Roby, age 94, of Plattsmouth, Nebraska, passed away on Sunday, Nov. 3, 2019, at Hillcrest Health Plaza in Bellevue, Nebraska.
She was born Dec. 30, 1924, to Frank and Antonia (Jasa) Dystensky in Webster, Nebraska. Ruth was raised in Webster where she attended grade school through the eighth grade. She attended North Bend High School her freshman year, and graduated from Scribner High School in Scribner, Nebraska, in 1942. After graduating from high school, she attended college in Fort Collins, Colorado, where she furthered her normal training, and received a teaching certificate. Ruth taught country school in rural Dodge County, Nebraska. She met Kenneth "Ken" LeRoy Roby and they were married on Dec. 31, 1947, in Wahoo, Nebraska. She then worked as a telephone operator in Webster. Ruth and Ken made their home in Scribner and raised their children there. She was a stay-at-home mom, farm wife, and homemaker. After Ken retired from farming, and his rendering truck business, Ruth and Ken lived in Louisville, Nebraska, until they settled in Plattsmouth.
Ruth loved playing cards with her family, with friends, and even solitaire by herself. She enjoyed doing crossword and Sudoku puzzles, and crocheting. She crocheted countless blankets for her family and the less fortunate. Ruth had a clever and intelligent mind, a loving heart, and a witty sense of humor, you would often hear her say as you were leaving "I am glad you got to see me."
Ruth was a member of First United Methodist Church in Plattsmouth.
She is survived by her two sons, Franklin Roby and wife Birgit of Lincoln, Nebraska, Keith Roby and wife Judy of Plattsmouth, Nebraska; daughter, Nancy Marlette and husband Loren of Canton, South Dakota; seven grandchildren, Sarah Peters and husband Drew, Matthew "Matt" Roby and wife Lindsey, Kendall Roby and wife Molly, Jamison "Jamie" Roby and wife Anastasia, Jonathan "Jon" Bucklew-Marlette and husband Bob, Amy Jo Lems and husband Dale "Bubba," and Douglas "Doug" Marlette and wife Dessa; 13 great-grandchildren, Henry Peters, Kathleen Peters, Andrew Peters, Reagen Siebrandt, Colt Roby, Nicholas "Nic" Rahn, Alexander "Alex" Roby, Nataliya Roby, Murphy Roby, Maddisan Bonin, Dellaney Bonin, Bayler Lems, and Jasmine Scherbenski; her sister, Rose Seifferlein of Overland Park, Kansas; three sisters-in-law, Betty Tophoj of Oshkosh, Nebraska, Della Wolford of Caldwell, Idaho, Frances Spencer and husband Bernard of Hyannis, Nebraska; numerous nieces, nephews, cousins, and many friends.
You have free articles remaining.
She was preceded in death by her parents; infant brother at birth; husband, Ken Roby; great-granddaughter, Haddley Lems; special friend, Wilbur Grubbs; sister-in-law, Donna Pierce; and five bothers-in-law, Glen Hackbarth, Cy Seifferlein, Erwin Tophoj, Phillip Wolford, and Virgil Pierce.
A visitation will be held from 1 to 9 p.m. with family greeting relatives and friends from 6 to 8 p.m. on Friday, Nov. 8, at Roby Funeral Home in Plattsmouth.
A funeral service will be held at 10:30 a.m. Saturday, Nov. 9, at First United Methodist Church in Plattsmouth with Pastor Michael McGregor and Rev. Dr. Lee R. Wigert officiating and Donna Glynn as organist.
The Pallbearers will be Sarah Peters, Matthew Roby, Kendall Roby, Jamison Roby, Jonathan Bucklew-Marlette, Amy Jo Lems, and Douglas Marlette.
Ruth's Final Resting Place will be next to her husband Ken, at Oak Hill Cemetery in Plattsmouth.
Memorials to First United Methodist Church or Plattsmouth Senior Citizen Center.
Services Entrusted to Roby Funeral Home, 346 Ave. A, Plattsmouth, NE 68048. (402) 296-3123 robyfuneralhome.com
To plant a tree in memory of Ruth Roby as a living tribute, please visit Tribute Store.