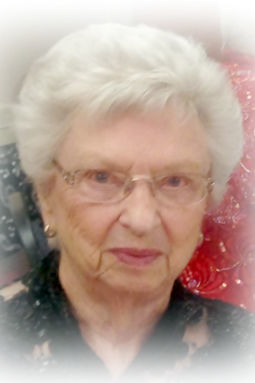 June 22, 1923 – July 6, 2019
Ruth McCabe, age 96, of Fremont died Saturday, July 6, 2019, at Shalimar Gardens.
Ruth Margaret (Beard) McCabe, originally of Auburn, Nebraska, passed quietly Saturday morning with family at her side. Ruth was born June 22, 1923, in Lincoln, Nebraska, to Lillie and Harold Beard. The family moved to Auburn, Nebraska, where she attended school to 11th grade and was a member of the Methodist Church. The family later moved to Omaha, Nebraska, where she graduated from Omaha Central High School. She married Roy McCabe of Omaha on Nov. 4, 1942. During WWII she followed Roy while he was in training, she worked an interesting array of odd jobs during this time. Ruth returned to Omaha and worked at the Mead Ordnance Plant until the end of the war and also at Chris Drug Store. Ruth and Roy moved to Fremont, Nebraska, in 1947, purchased Roy's Radio and TV Repair Shop that she managed until they sold the company.
They were members of First United Methodist Church where Ruth enjoyed teaching Sunday School, joining committees, and her UMW Circle. Ruth was a very active 50-year member of Arbor Vitae Chapter 92 Order of Eastern Star where she served as Worthy Matron in 1977, was later a Grand Representative, and held many other offices. During her life she was also a member of Daughters of the Nile, Ramus and Kensington, serving as President for each. Ruth was a Cub Scout Den Mother, 4-H leader, Demolay Mom, PTA Activity chair.
She loved to sew and knit making items for the Shrine Hospital, Eastern Star Home for Children, Oriental Band, St. Andrew's Church in Omaha and many items for family and friends. She also enjoyed spending time outdoors where she attended to her large garden and loved to mow her large yard. She enjoyed traveling, taking bus and auto trips with friends. In later years her great joy was spending time with her eight grandchildren.
Preceded in death by parents, Lillie and Harold Beard; husband, Roy Sr.; sisters, Winnie Reams (Bernie), Carrie Walton (Bill), Shirley O'Hara (Bob); brother, Carl Beard (Jackie); grandchild, Kevin; and daughter-in- law, Patti (Roger). Survived by children, Roy Jr. (Cinda), Ronald, both of Fremont, Rhonda Lynn Cardey (Ron), and Roger, both of Omaha; grandchildren, Chad (Heather), Renae, Melissa, Tyler (Amy), Alyssa (Nate), Shelby (Nick), Amanda, Delaney; and seven great-grandchildren.
The funeral service will be 10 a.m. Wednesday, July 10, at Fremont First United Methodist Church. Visitation will be Tuesday from 3-8 p.m. with the family present 6 p.m. to 8 p.m. at the Ludvigsen Mortuary Chapel in Fremont. Order of the Eastern Star Service will be at 7:30 p.m. and open to the public. Memorials may be directed to the Masonic-Eastern Star Home For Children.