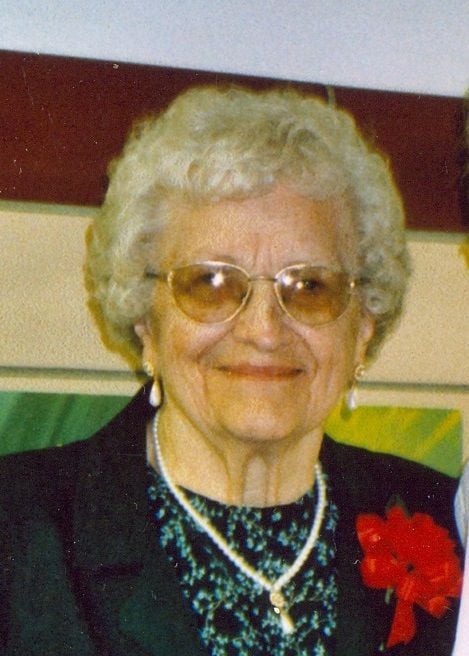 July 2, 1925 – Dec. 6, 2017
SCRIBNER — Valera E. Moeller, age 92, of Scribner died Wednesday, Dec. 6, 2017, at the Hooper Care Center.
Valera was born July 2, 1925, on a farm north of Scribner to Herman and Grace (Wooldrik) Hasemann where she grew up. She was baptized on Sept. 5, 1925, at St. Paul's of Hooper by Rev. H. Rhode, confirmed at St. Paul's on Aug. 28, 1938, by Rev. Hugo Welchert. She attended Rural School 35 for eight years and graduated from Scribner High School on May 21, 1942. She attended Wayne State College for one year. She then worked as price clerk at the rationing board. When it closed in 1945, she then worked at the county treasurer's office in Fremont, then returned to Scribner and worked at the Farmers State Bank. She also worked at the telephone office in Scribner as a bookkeeper. In 1960, she began working at Lamberty's Variety Store until it closed in 1999. She also was needlework superintendent for the Dodge County Fair for 25 years and was honored by being the grand marshal in the parade in 2009. She was a 4-H leader for nine years. She volunteered for about 40 years for the Scribner Blood Mobile, and cleaned church at United for 25 years.
In 1949 on Feb. 20, she was married to Glenville Moeller at St. Paul's Lutheran Church by Rev. Hugo Welchert. While a member at St. Paul's she taught Sunday school and sang in the choir for many years. She is a present member of United Lutheran Church in Scribner. She was a member of the Scribner Junior's club, and a member of the American Legion Auxiliary for over 50 years. She was also a member of the Ladies group of United for about 50 years.
Valera loved to spend time with her daughters and spouses, sewing, quilting, baking, gardening, especially baking with her grandchildren and great-grandchildren, and gathering with her siblings to eat and play cards.
Family was her first love.
Survivors include: daughter, Marilyn (Jack) Robart of Fremont; son-in-law, Ronald Lear of Lincoln; grandchildren, Veronica Lear (and friend Neal Brigner) of California, Nikole Smutz of Scribner, Lyndsie (Michael) Mullin of Lincoln, Jared Robart (and friend Aura Dewolfe) of Fremont, Justin Robart (and friend Diana Lessner) of Fremont; five precious great-grandchildren, Natalie Robart, Payton, Madison and Jaxon Smutz, and Allissa Mullin; sister, Audrey (Leonard) Meyer of Scribner; and sisters-in-law, Anita Hasemann of Fremont and Lois Hasemann of Scribner.
Valera was preceded in death by her husband, Glenville; her parents; daughter, Sherilyn Lear, and a grandson, Matthew Lear; and two brothers, Delwyn and Wylene.
The funeral will be 11 a.m. Monday at United Lutheran Church in Scribner. The Rev. Dr. Nicki McIntyre will officiate. Burial will follow in the Scribner Cemetery. Visitation will be Sunday at Ludvigsen's Scribner Funeral Chapel from 2 p.m. to 6 p.m. with the family present from 2-4 p.m. Memorials are suggested to the Scribner Volunteer Rescue, Scribner Volunteer Fire, United Lutheran Church and Make-a-wish.