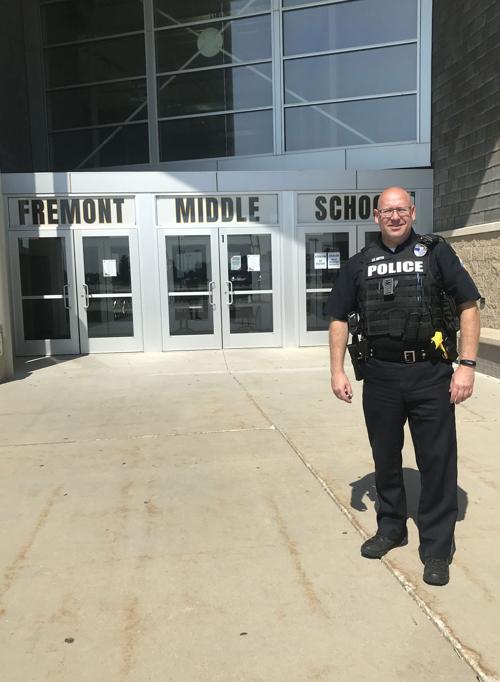 Fremont Police Officer Jim Butts has been a School Resource Officer or SRO for more than 20 years.
He travels from school to school within his area or wherever he is needed to be a positive figure for law enforcement and a mentor to children.
On Wednesday, he visited Fremont Middle school to speak with kids in various classrooms about sexual harassment.
"I talked with them today about the difference between what is school discipline and what becomes a law violation," he said. "We don't want them touching each other at all."
Students also need to know that once touching gets to a certain point, it could be a sexual assault.
As an SRO, Butts regularly visits different schools on a daily basis giving not only talks about sexual harassment but a multitude of problems in schools, like assault, online harassment and bullying.
"This is to keep kids out of the system," he said. "We are trying hard to keep kids out of the juvenile justice system."
Butts said in the past the juvenile justice system in Fremont was becoming untenable, and so proactive solutions to children committing crimes were needed.
"It's not just about mentoring and teaching, it's about being there," he said. "Many kids are afraid of cops, many parents tell their kids to be afraid of cops. I'm here to be a positive figure for them."
Kristen Henkenius, the Fremont Middle School counseling director, also discusses the importance of these types of teachings and interactions.
"Our goal as educators is to understand that it takes numerous times for students to absorb and learn and understand information," she said. "So this program is just one piece of it. We also have classes that support our goal like our Family Consumer Science courses or The Bridge who comes in to talk to our kids about dating violence. It's all about having our students get the information in more than one way more than once."
The Bridge is an advocacy group that works to help prevent domestic violence and sexual assault and works with the victims, families and friends.
"We have always talked about bullying," Henkenius said. "We have always talked about reporting to adults, but for the last several years the kids have been exposed to so much more on social media, television, etc. We realized that we need to start teaching them this stuff now because they are already talking about it. Sometimes they don't realize that what they are doing could be a crime."
Henkenius knows that sometimes students see things, but don't report it because they don't want to "tattle or snitch."
Fremont Middle School starts the school year by reviewing the information about bullying and sexual harassment that is in the student handbook. This continues for the first few weeks of school.
Throughout the year, it has more lessons discussing problems facing students like social media posting awareness called "Think Before You Post," and even implementing a "Tiger Time" every Tuesday during fourth period which goes over information in the handbook discussing bullying, sexual harassment.
It works to instill a "we not me" culture.
"We all have to look out for each other, and that culture will make students more comfortable to report something to an adult," Henkenius said.