The postcard was sent to Sweden in the early 1900s.
For reasons unknown, it came back to Phelps County and to the immigrants who'd mailed it across the ocean.
Eventually, it landed in an antique store in the tiny town of Funk and, later still, into the hands of Jason Combs.
The geography professor — and antique hunter — looked it over. On the front, two cows flanking an ear of corn twice their size.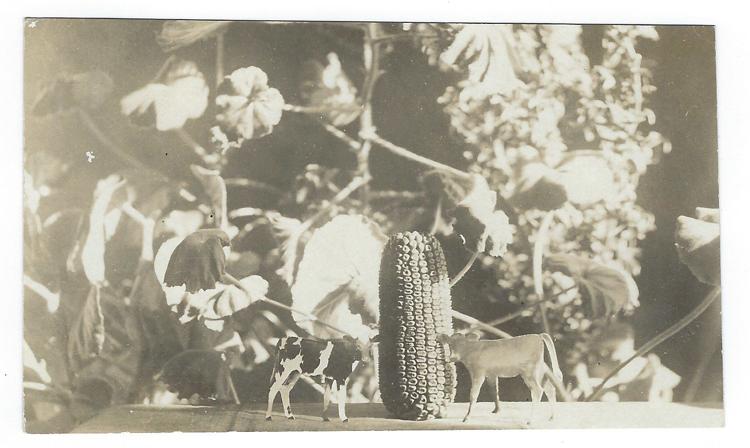 Combs was fascinated. Along with teaching and directing the geography department at the University of Nebraska at Kearney, he had a thing for old things.
"For years, I've told people it's a family genetic disorder," the professor said last week. "And it's continued on with me."
Combs not only collects antiques but he and his wife, Gayle, run a shop of their own, Burr Oak Antiques.
He's been lucky to be able to merge his love of collecting with his skills as a researcher, Combs said.
An article he authored on Junk Jaunt — a weekend-long, 300-mile temporary flea market through central Nebraska — was published in the Great Plains Research Journal. A decade ago, he studied postcards from the early 1900s to chart landscape changes over time in Iowa.
And last month, "Nebraska's Exaggeration Postcards: Giant Grasshoppers and Two-Ton Potatoes Along with Other Facts About the Plains," appeared in Nebraska History Magazine's winter edition. A 15-page spread on a deep dive into over-the-top postcards from the early 1900s, co-authored by Combs and his UNK undergraduate son, Tate.
"I was immediately interested in the topic," said David Bristow, editor of the magazine. "This is a great topic for public interest. It's very visual, very accessible and a lot of fun."
Nebraska History Magazine is a hybrid, the editor said. A professional history journal with footnoted stories vetted by qualified scholars, as well as a publication suited to the general public and its interest in history.
In this case, tales of giant grasshoppers, ginormous rabbits and tomatoes the size of trucks, all set in the context of time and place on 4- by-6-inch pieces of cardstock.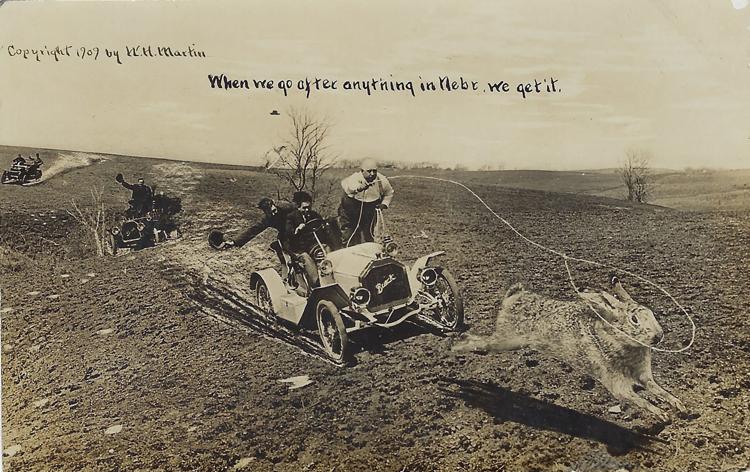 Those exaggeration cards — many of them produced in Nebraska and the Midwest — dovetailed nicely with the magazine's mission of uncovering our state's past.
In this case, sleights of land via the U.S. Mail.
"There was a tremendous amount of pride in the productivity of the land," Bristow said. "And people wanted to brag about it."
Jason Combs went on the hunt after discovering that first interest-piquing postcard.
He scoured the postcard bins in flea markets and antique shops. He searched eBay and enlisted the help of postcard collectors in Lincoln and Colorado, who put him on the trail of fellow collectors.
His stack of exaggeration postcards grew to 200 or more and so did his knowledge of their history.
You have free articles remaining.
"I was kind of stunned by the variety and the number," he said.
And he was surprised by this: "Nebraska is kind of ground zero for these cards."
The father and son research didn't provide a definitive answer for why the whopper cards were so popular during the early years of the 20th century, but Jason Combs has a theory.
The mid-1890s were a disaster for Nebraska farmers and small towns, he said. Plunging commodity prices and drought had arrived on the heels of a population boom in the 1880s.
The Great Plains had a negative connotation, he said, and so Nebraska's citizens began selling the Good Life.
"It was very intentional; they knew what they were doing," he said. "People here were promoting Nebraska, selling Nebraska. Writing back home, 'Look how big the fish are, look how great the corn crop is.'"
Many early postcards were trade cards, Combs said, selling a product not tied to location.
"With these Nebraska cards, it's promoting the place. Welcome to Farnam, Nebraska. Welcome to Beaver City, Nebraska. Welcome to Cozad."
The Combs and son story is an annotated history lesson on the rise and popularity of postcards in general with dozens of images from the exaggeration era.
A boy riding a grasshopper through a panhandle field. "I'm on my way — I'll be seein' yeh."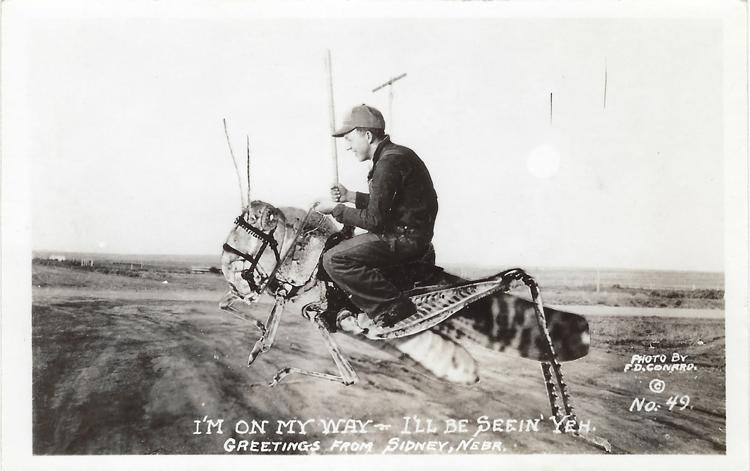 A man holding softball-sized raspberries. A group of anglers pulling up fish big enough to capsize a yacht. A pumpkin that could serve as Cinderella's carriage. Giant carrots and ears of corn and potatoes.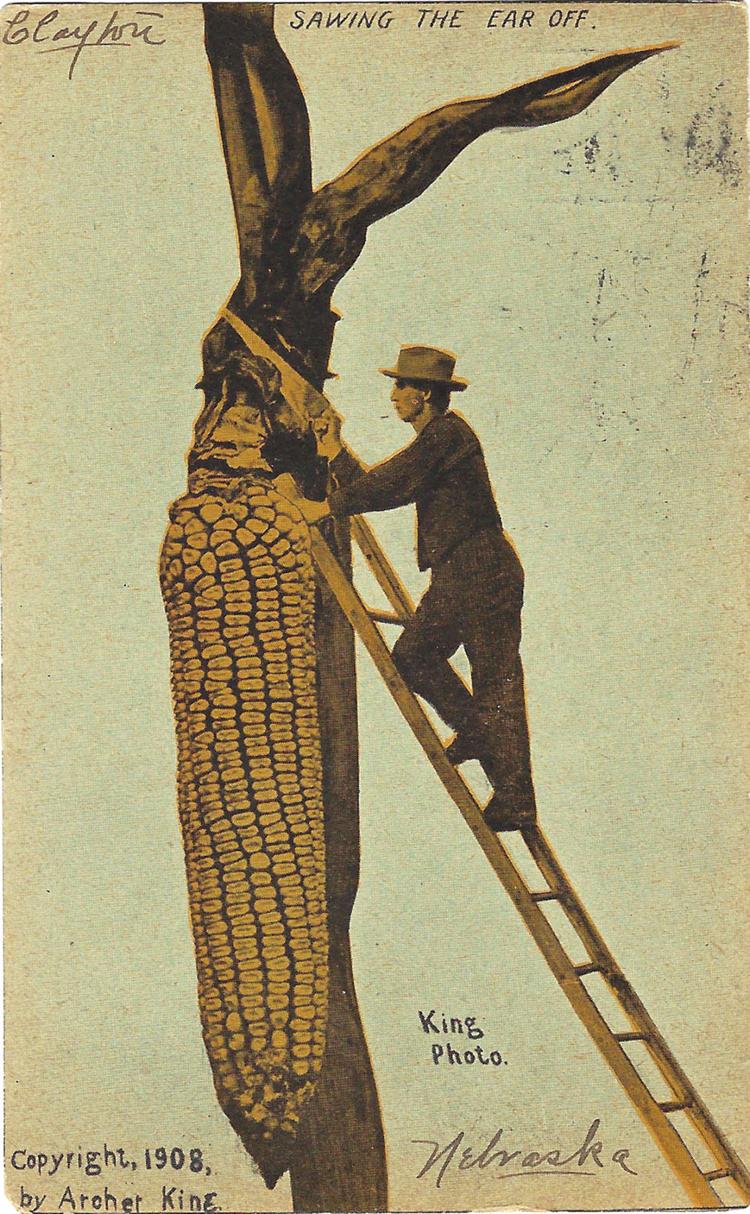 Many of the cards carried befitting brief messages.
"I'll bet you can't raise taters like those in S.D. or Minn., either."
"How would you like a pie made out of this pumpkin?"
"That's the way they fish out here."
Over at History Nebraska, Nebraska History Magazine Editor Bristow has his favorite among the many images Combs shared with his story. A giant rabbit being chased by three automobiles, one of the occupants trying to lasso the oversized critter.
The caption: "When we go after anything in Nebr. we get it!"
The concept and the execution are spot on, he said. Everything in proportion, shadows in place, a sense of realism in a fantastical scene.
"I'm impressed by how much they could do in a dark room with scissors and glue," Bristow said. "These people would have loved Photoshop."
9 weird and wonderful Nebraska attractions