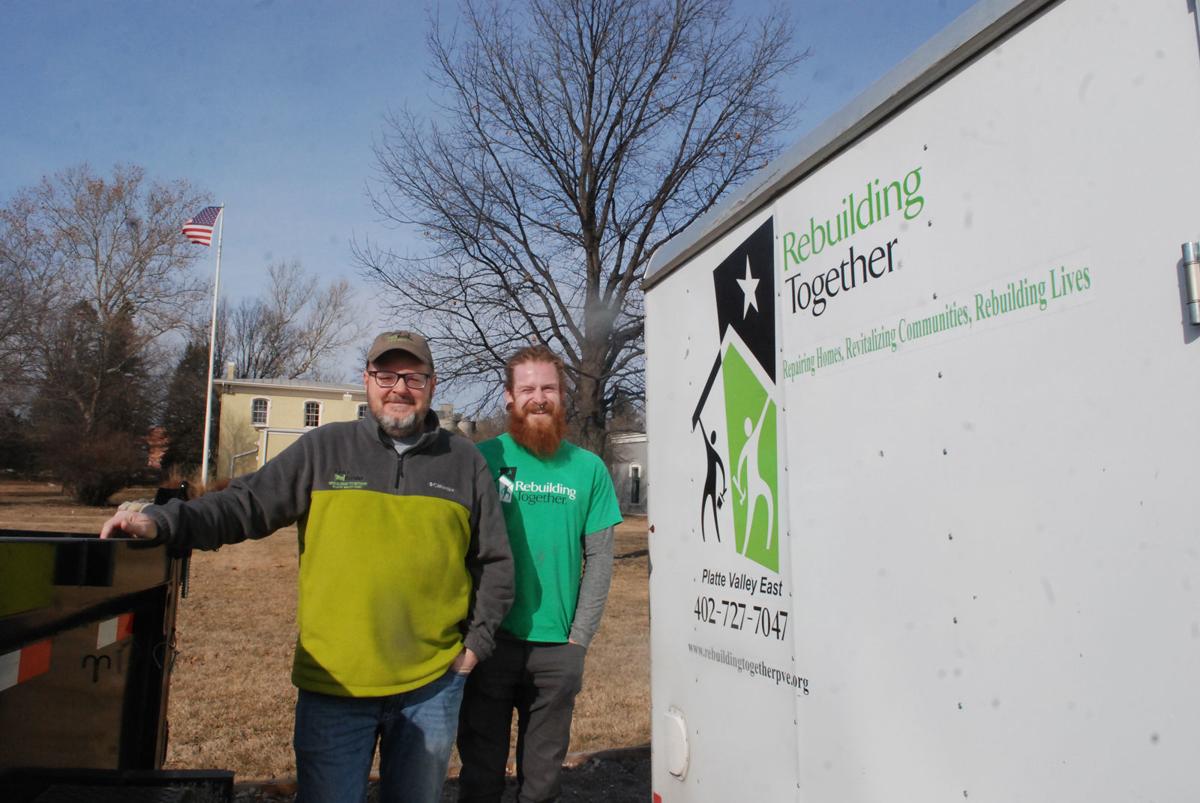 Brad Wiese hopes people in need of home repairs and improvements will contact Rebuilding Together, Platte Valley East.
Wiese is executive director of the nonprofit organization that provides critical home repairs and modifications — at no charge — to the homes of low-income homeowners living in Dodge and Cuming counties.
The agency also helps people in nearby Cedar Bluffs and Morse Bluff and Arlington.
This summer, a couple of large volunteer groups plan to be in Fremont and Rebuilding Together is looking for clients in need of home repairs and improvements.
Rebuilding Together also has a substantial amount of funding to assist low-income, honorably discharged veterans and spouses of deceased veterans with significant home repair and improvement projects, Wiese said.
To be eligible, clients must own the property and be residing there.
There is no age requirement. Eligibility is based on income.
Those interested can apply online at www.rebuildingtogetherpve.org or call for an appointment at 402-727-7047 and come to the agency's office at 445 E. First St.
"They should call first, because we're not always in the office," Wiese said.
Those wishing to apply also many email the organization at info@rebuildingtogherpve.org. Wiese said the agency is happy to send an application or come to the person's home if need be.
"We start with the application and then we do a 25-point home inspection," Wiese said. "We're looking for any health and safety issues.
That could include missing railings or smoke or CO2 detectors. It might include crumpled carpeting that could pose a tripping hazard or a bathroom modification that would allow folks to remain in their own homes.
"We do a lot of bathroom remodeling," Wiese said.
The agency also builds accessibility/wheelchair ramps. It does roofing, siding, window, water heater and furnace installation.
"As long as we can tie it to safety and health issues that allow them to remain in their homes, we will consider it," Wiese said.
The organization focuses on eight principles of healthy homes which include keeping them dry, clean, pest-free, safe, contaminant-free, well-ventilated, maintained and thermally controlled.
A brochure shows circumstances those in need might face and asks readers that if they had to choose would they:
Pay for medicine or pay for a plumber?
Feed your family or fix the furnace?
Replace drafty windows or pay the heat bill?
To meet the need, the nonprofit will have some help this summer.
During the third week of June, approximately 20 youth and adults representing Moses Merrill Camp and Conference Center will participate in a mission camp, working with Rebuilding Together.
Approximately 100 youth representing Catholic Heart Work Camp will work with Rebuilding Together during the last week in June.
Project participants will be involved in window, sidewalk and driveway installation, home exterior painting projects, general yard cleanup and tree trimming.
Midland University students assist Rebuilding Together.
"We started a partnership with the Kappa Phi fraternity. We've done some work with their lacrosse team and track team as well," said Rowan Mitchell, AmeriCorps project and volunteer coordinator.
The groups have been involved in flood relief and yard cleanup.
Kappa Phi members will be involved in window and sidewalk replacement. Mitchell is working on partnering with all branches of the Kiwanis organization, such as the Fremont Noon Kiwanis Club, Circle K at Midland and high school Key Club.
Volunteers play an important role during the spring and throughout the year.
April is National Rebuilding Month — the organization's signature annual event. The month culminates with National Rebuilding Day, the last Saturday in April. Approximately 33,000 volunteers are in service on almost 1,500 affiliate-led rebuilding projects during the nationally recognized month.
In the past, Rebuilding Together affiliates engaged 32,890 volunteers and completed repairs for 1,243 homes and 99 nonprofit facilities, community spaces and parks on National Rebuilding Day.
Each year, Rebuilding Together, Platte Valley East, provides 3,000 volunteer hours and involves 250 unique volunteers and reaches about 20 homes along with community facility projects.
The agency and volunteers helped with sandbagging throughout the community during the 2019 flooding.
In the flooding's immediate aftermath, the agency worked with approximately 25 homes and continues to be part of the long-term recovery construction group. Applications from those affected by the flooding continue to be accepted.
Wiese also said the local organization has several projects scheduled with a group from First Lutheran Church and Kappa Phi in April.
"We are happy to host other groups or individuals that would like to do some service for their friends and neighbors," Wiese said.
More information regarding projects is available on the organization's website under the volunteer tab. This will direct people to the volunteer center where they can sign up for projects. There is a waiting list for projects.
"We're always looking for volunteers and funding," said Wiese, adding that the agency is seeks donations of money and materials.
Volunteers of all skill sets are needed.
Get local news delivered to your inbox!
Subscribe to our Daily Headlines newsletter.