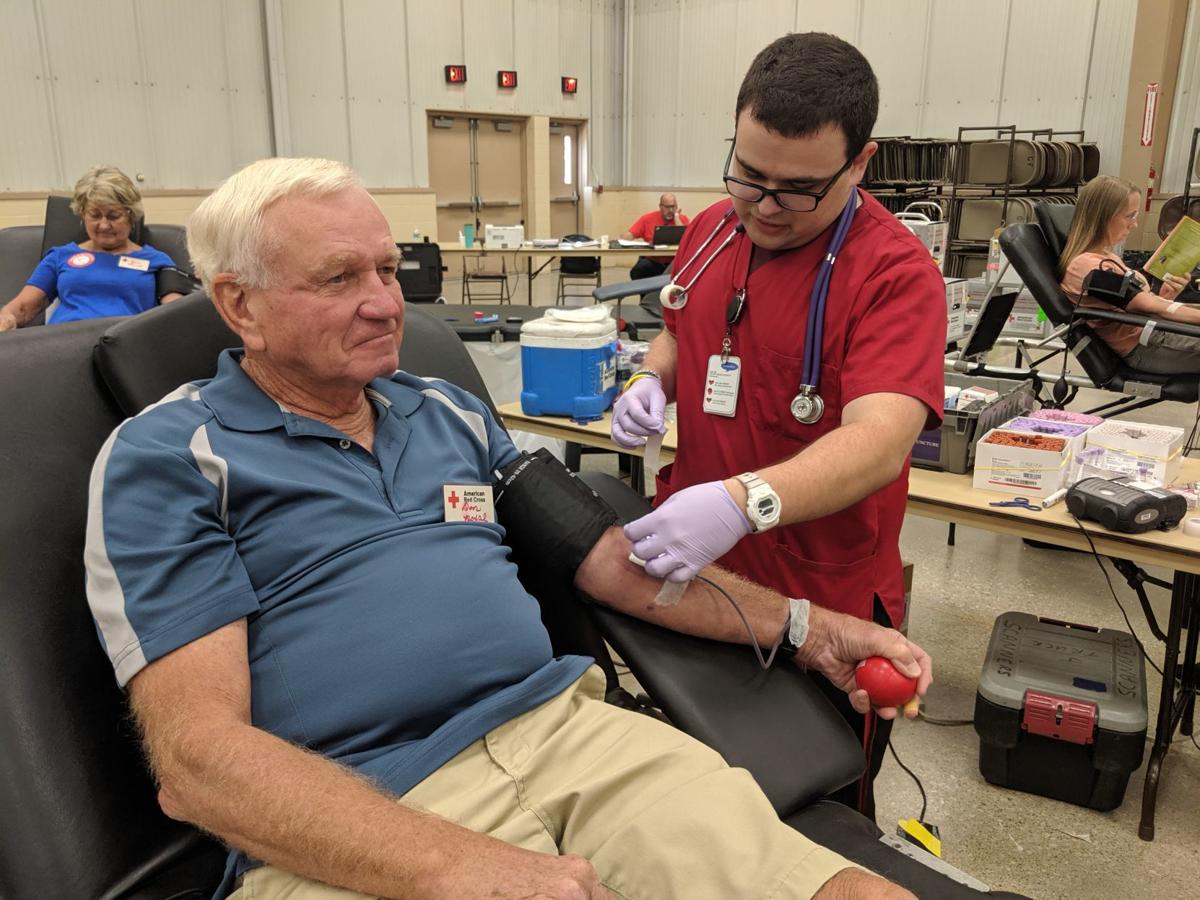 For more than 50 years, Don Nosal has been donating blood to the American Red Cross.
"My wife, Jan, and I volunteer probably every other month," he said. "I guess I just thought it was the thing to do to help people."
The Nosals and other Fremont residents got two opportunities to donate blood Monday and Tuesday at the "Rock 'N Roll Up Your Sleeve" drive at the Christensen Field Main Arena. An additional drive will be held from 8 a.m. to 2 p.m. Sunday at St. Patrick's Catholic Church in Fremont.
Kyle Jensen, account manager donor recruiter for the American Red Cross, said the drives got around 200 people to donate, and the goal for Sunday is 28.
Even though 40% of people are able to donate, Jensen said only about 3% actually do.
"You lose a pound, you get to find out what your blood type is, and then possibly save up to three lives," he said. "So it's definitely an easy way to give back. We're not asking for a money donation, but we're just asking for a blood donation to possibly save other people."
Blood donors must be at least 17 years old, or 16 with parental consent. Those under 19 years old must meet certain height and weight requirements, but donors 19 and older have to only weigh at least 110 pounds. Interested donors can check eligibility by calling 1-866-236-3276.
A Fremont High School student is helping coordinate the blood drive Sunday as part of the Leaders Save Lives Scholarship Program, Jensen said. The program, which is available to high school and college students, gives them the chance for a scholarship if they collect 25 productive units of blood.
"It's great to work with the Fremont community, and anybody can actually host a drive," Jensen said. "I'm trying to encourage more people to host their own drive, because I think that encourages more people to be able to see a drive and then think about donating."
For Nosal, his donations have become just part of his routine.
"If there are people in need of the blood," he said, "why not be the one to help them out?"
Get local news delivered to your inbox!
Subscribe to our Daily Headlines newsletter.