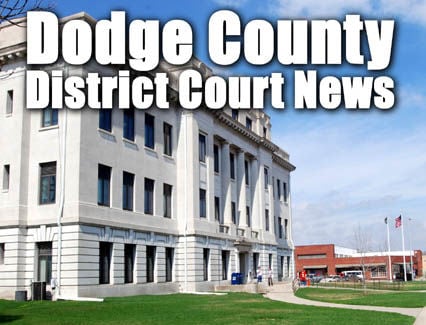 A 31-year-old Schuyler man was sentenced to five to seven years in the Nebraska State Penitentiary for violating his probation Monday morning.
Ezequiel Arrez Jr. admitted to the violation in the Dodge County District Court and was given 168 days of credit served by Judge Geoffrey Hall.
Arrez is currently serving a three-to-five-year sentence from Platte County and a one-year sentence from Colfax County, both of which will be run concurrent to his Dodge County sentencing.
On August 30, 2018, Arrez was stopped by the Dodge County Sheriff's Office shortly after midnight due to weaving while driving westbound on U.S. Highway 30.
During the traffic stop in North Bend, the deputy "noticed Arrez having a slow speech pattern consistent with being under the influence of controlled substances" and found more than 27 grams of methamphetamine and a glass pipe, according to the report.
Arrez pleaded guilty to one count of possession of a controlled substance on May 20, 2019, and was given 30 months of probation.
However, Deputy Dodge County Attorney Emily Beamis said the last time Arrez had reported to the probation office had been June 17, 2019, and had missed multiple scheduled office meetings, random testing and completing his substance abuse evaluations.
"It was naïve to me to believe that I was going to be able to fool the probation system," Arrez said.
Arrez, who has four children, said he was eligible for parole in 2022 and was taking classes in prison.
"I'm taking advantage of all of that so I can be ready to be a successful father and better person when I do get out," he said.
Hall said Arrez needed to be a positive influence on his children, and called his prison time a "wake-up call."
"The good news for you is you're young enough to turn it around," he said. "I hope you take advantage of this opportunity."
In other district court news on Monday:
Christina K. Mount, 50, was sentenced to two to four years in prison after being found guilty of delivery of a controlled substance. On Feb. 24, a confidential informant notified the III-Corps Drug Task Force about Mount and wore a wire while purchasing $20 of psilocybin mushrooms from her. Mount pleaded no contest to the charges and was given 67 days of credit served to her sentence at the Nebraska Correctional Center for Women.
Steven A. Swy, 36, was sentenced to one year in prison for failing to register as a sex offender, a subsequent offense. He was required to register for 25 years since January 1998 for sexual assault of a child. On the two charges, Swy was given five days of credit served for one and one day for another.
Jacquelin M. Schaben, 33, was sentenced to 30 months of probation for possession of a controlled substance. On Aug. 15, a minor child in Schaben's care started a fire after playing with a lighter, causing $50,000 in damages to the house. She was taken into custody after pipes used for meth were found in the residence. Schaben said she had taken ownership of her actions and had been seeking rehabilitation. Hall said she must attend a 12-step program, a cognitive program and a parenting class through Boys Town.
Nathan A. Koehler, 36, had his probation extended by six months for violating one of its conditions. He was given 30 months of probation in February, but was cited in June for driving under suspension, no driver's license and no valid registration and failed to report the citation. Koehler said he had continued to honor his probation by continuing meetings and treatment, as well as taking an intensive out-patient program and working full time at Cargill in Nebraska City.
Tameka D. Lee, 25, had her probation extended by six months for violating one of its conditions. On Dec. 31, 2018, Lee was given 30 months of probation, but in July, was cited for third-degree assault.
Rusty J. Hoffman, 30, was found guilty of failing to register as a sex offender, a subsequent offense. Hoffman, who is required to register every January and July from 2012 to 2043 for third-degree sexual assault of a child, failed to register in January. Hoffman was previously convicted in 2017 of failing to register in Madison County, where he is currently on probation. As part of his plea agreement, Hoffman is facing a one-year prison sentence. Hall ordered a presentence investigation and set Hoffman's sentencing to Dec. 28.
Charles J. LoGrande, 45, pleaded not guilty to terroristic threats, second-degree trespassing and disturbing the peace. He also pleaded not guilty to a second charge, third-degree domestic assault. On May 25, the Fremont Police Department was made aware of an attempted home invasion by LoGrande. According to the police report, the victim said LoGrande was attempting to find his niece, whom LoGrande had previously dated. The victim also said the day before, he woke up around 2 a.m. with LoGrande holding him down and threatening to kill him if he did not tell him where his niece was. On June 27, FPD was dispatched to a residence, upon which LoGrande's girlfriend reported that he hit her with a plastic container and a beer can. Hall set a status hearing for Dec. 28.
Joshua C. Grover, 32, had his bond set at $100,000 during his hearing on a motion to revoke his probation. He did not appear with an attorney and had his hearing set for Nov. 30.
Craig E. Kocian, 42, did not appear in court for his hearing on a motion to revoke his probation. Hall issued a bench warrant at 10% of $150,000.