Joe Roberts had never been to New York City prior to the COVID-19 pandemic.
He never experienced the shoulder-to-shoulder stuffy traffic that filled Times Square or the packed parkways that connected the city's five bureaus.
Instead, The Big Apple was nothing but a ghost town when he entered the city three weeks ago to help fight the COVID-19 pandemic at its epicenter in the United States.
With over 160,000 confirmed cases and over 12,000 confirmed deaths, New York City has more confirmed cases and deaths than any other state in the country.
Roberts is a regional manager with private medical transportation company Midwest Medical that was among over 1,600 employees and 500 ambulances deployed to New Jersey and New York to serve on the frontlines of the pandemic.
Midwest Medical was contracted out by federal contractor American Medical Response to fight the virus.
He also serves as a volunteer paramedic with Scribner Fire and Rescue. He's lived in Scribner since 2005. It's the same town where his wife, who is coincidentally also a volunteer EMT for Scribner Fire and Rescue, grew up.
Roberts deployed alongside fellow Scribner volunteer EMT Chelsea Stockamp.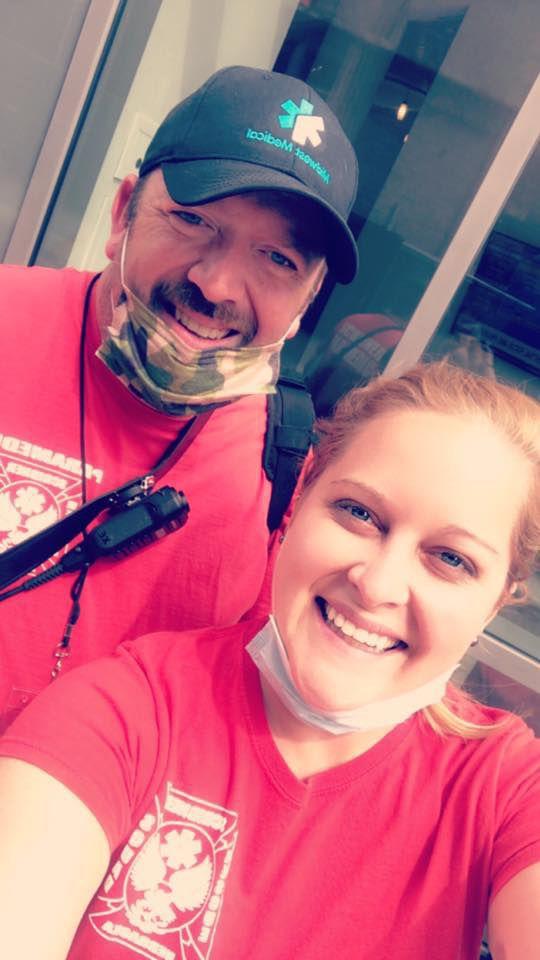 This wasn't Roberts' first deployment. When he heard that he would likely be sent to New York City, he knew he couldn't turn it down.
"I talked with my family and it was a no brainer," he said. "We sat down at the kitchen table and voted and it was unanimous that I was going. They wanted me to do my part."
Stockamp said her decision to travel to New York initially upset her family, but they remained supportive as she progressed through her deployment.
"After being out there for a week or two they were feeling better," she said.
Roberts said New York City was "truly ground zero." While he had no doubts about going, anxiety about his destination lingered.
"I asked myself 'what can I do to make sure I don't bring it to my family, friends and community?'" Proper personal protective equipment use, washing hands and making sure we had gowns, gloves and eye protection when we were taking care of patients was vital," he said.
By the time he received the call confirming that he would be heading to New York City, Roberts was ready to do his part.
"At that point, I was ready to get the call and get going," he said. "With these deployments you have a limited time to get there and we needed to make sure we were doing it well."
Roberts had a hard time describing the city when he first arrived. After talking with local EMTs, he began to realize how much the city had transformed because of the pandemic.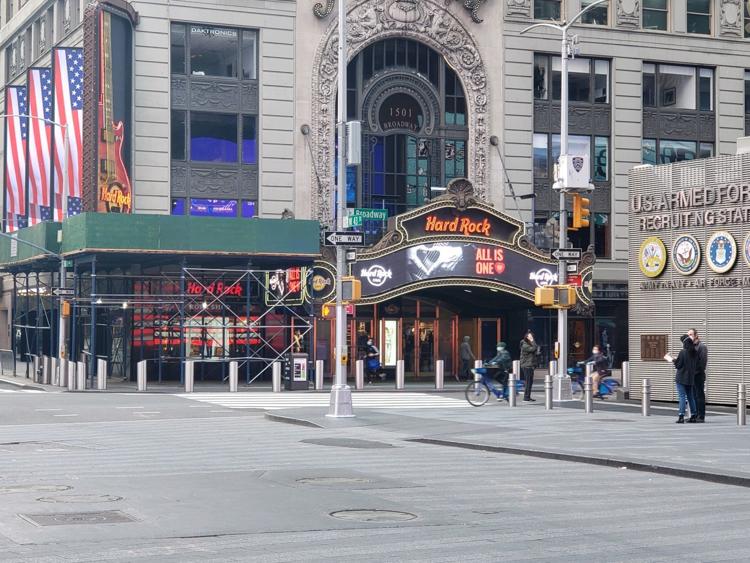 "There was not a lot of traffic or people walking around," he said. "It was just very quiet. It was very interesting."
Stockamp said she was more scared and anxious than she had been in her entire life when first entering the city.
"Coming from a town of 800, it was a big shock," she said. "After a while, I realized that having all the people out wasn't as bad."
She said New York City was a ghost town when the convoy first arrived at the beginning of the deployment. As weeks went on, traffic began to kick up a little bit, albeit nowhere near where it was normally.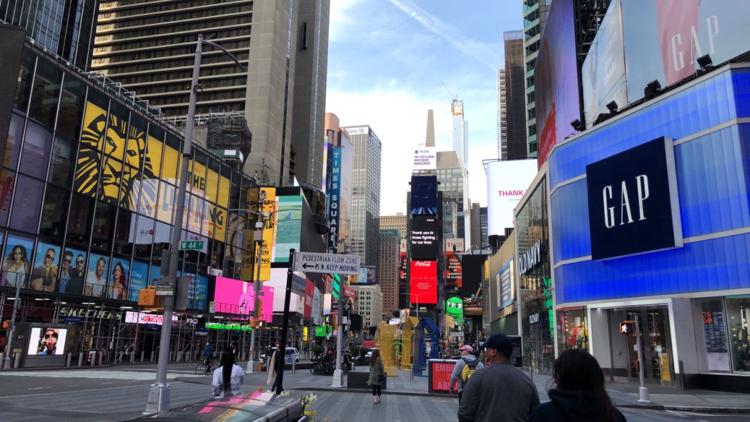 "When we got there it was a ghost town," she said. "You see all these people and everyone is wearing masks and you didn't see that here. So it was kind of a shock."
Roberts and his crew visited Time Square, Battery Park and the National September 11 Memorial during a day off. Typically, these are hubs of activity within the city. The pandemic changed that.
"We stood in the middle of Times Square and took photos," he said. "Talking to guys, it's never like this. In a sense it was almost overwhelming because this is not how it should be."
However, what was more striking for Roberts was the love and support him and his crew received during their three-week stay in New York City.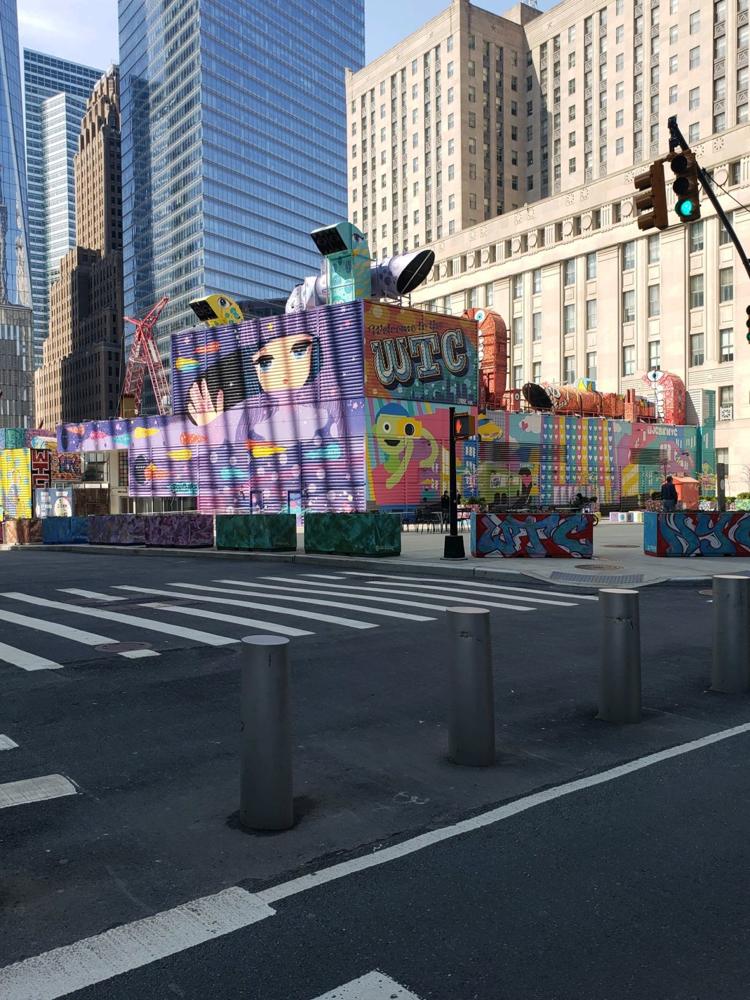 He remembers state troopers pulling into the median to take photos on his phone as Robert's convoy of ambulances crossed into New Jersey. He remembers the cars that would drive alongside the ambulances to honk and wave at the first responders as they entered the city.
"I get choked up just thinking about it," he said. "People would walk up to the truck and just thank them for coming. To have people come up to you as you're sitting on the corner and just saying thank you, it's just so hard to put into words."
During his stay in the city, Robert's primary job was responding to 9-1-1 calls and conducting facility transports for patients needing to be moved from hospital to hospital.
Initially, Roberts was focused intently on ensuring he was taking the right steps to protect himself from contracting the virus. After the first two or three days of work, those actions became a rhythm.
"There were times when you were thinking, 'I need to make sure I do this right so I don't bring it home,'" he said. "It came down to knowing that you were going to take those precautions and we would heavily decontaminate after every transport. After the first couple of days, it became a rhythm and we stayed vigilant and didn't become complacent."
For every contact with a patient, Roberts was forced to wear gloves, a gown, N95 masks. Full PPE precautions were a requirement before each patient.
While critical shortages of N95 masks and other PPE equipment have been well documented as the country battles the pandemic, specifically in New York City, Roberts said his crew was well-stocked throughout their time in the city.
"We're very fortunate," he said. "We were well stocked. AMR is a federal contractor and they did a wonderful job making sure we had the right equipment."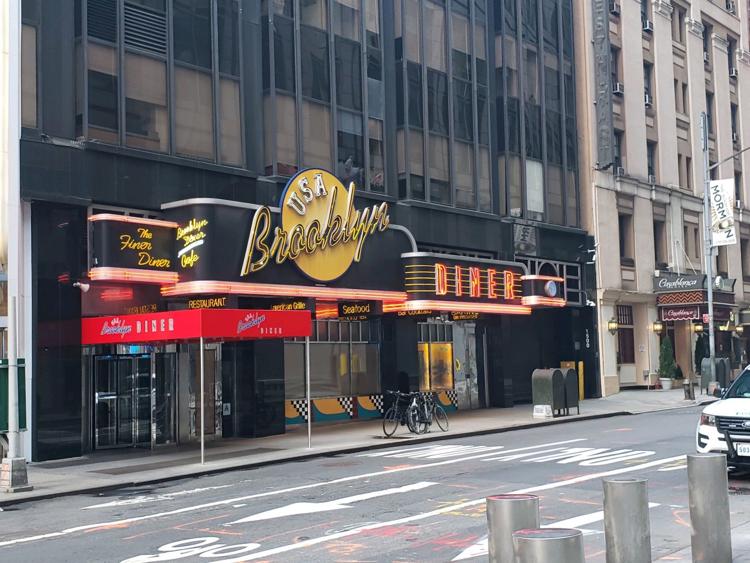 Roberts learned that he would be de-mobilizing and returning to Scribner last Wednesday. He said the news was bittersweet given all the work he had put in over the last three weeks.
"On one hand, we knew the job we were doing was making a difference," he said. "At the same time I haven't seen my wife and kids in three weeks. Once it set in, I got excited to see my family."
Roberts usually had the chance to sleep in during his time in New York City because of the later shifts he worked. Instead of taking advantage of those extra hours, he said he would always listen to New York Governor Andrew Cuomo's morning press conference.
Each day, he said he saw the numbers get lower and lower.
"I do think we made a difference," he said. "To see the numbers dropping was dramatic."
Roberts said that, while he was deployed in New York City, the average of deaths per day halved.
"What we did made a difference for the community," he said.
Roberts said the city's fire department and EMT's had become taxed due to the pandemic. Putting people in place to lessen the burden made a difference in his eyes.
"AMR did a great job putting people in place to help with that," he said. "All in all, there was a pretty big impact by the amount of people deployed to New York."
Stockamp said her experience in New York City was transformative.
"Going up there really scared and leaving really comfortable was kind of exciting for me because we weren't ready to leave yet," she said. "We started enjoying it."
She also left with something else. Stockamp drove into New York City only knowing Roberts and one other person, but left with a new family.
"I'll probably remember the relationships I made and the people I helped," she said. "I met a lot of nice people who were working as EMTs and paramedics as well as potential patients."
Leaving was difficult, but in the end both Stockamp and Roberts were ready to get back to their family.
"Once it sunk in that we were leaving for sure and after some tears, we were ready to hit the road," Stockamp said. "Our families are very happy to have us home."
Roberts and Stockamp arrived in Fremont on Friday after departing from New York City just after 11 a.m. on Thursday. The pair will undergo testing before returning home to see their families.
In addition to the testing, both will follow strict CDC guidelines meant to mitigate any potential spread of the virus.
Those guidelines require Stockamp and Roberts to wear masks wherever they go, practice social distancing and constantly monitor their temperature over the next two weeks.
Neither Stockamp nor Roberts will be able to participate in any rescue calls over the next two weeks.
Looking back, Roberts said the decision to dive into the epicenter of the COVID-19 pandemic was a simple one.
"It's just what we do," he said. "There for a while, it didn't matter where you were from. We were all one family. It's something I'll never forget."
Concerned about COVID-19?
Sign up now to get the most recent coronavirus headlines and other important local and national news sent to your email inbox daily.