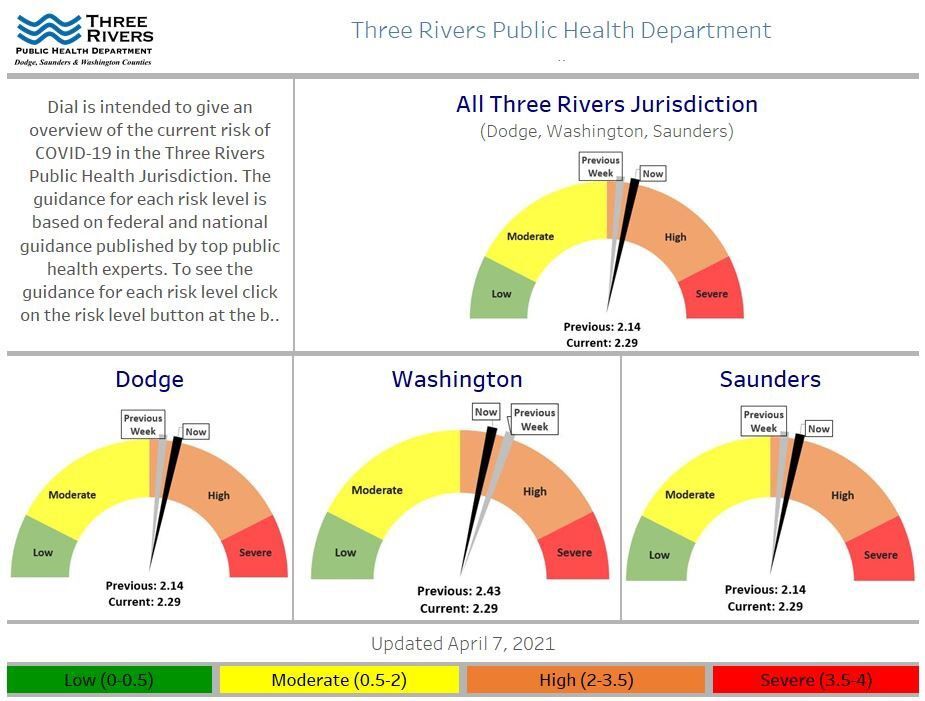 The Three Rivers Public Health Department's risk dial increased this week due to an increase in COVID-19 cases across the jurisdiction, according to a Wednesday press release.
The risk dial increased from 2.14 last week to 2.29 this week.
Additionally, two counties in the Three Rivers jurisdiction saw their respective risk dials increase.
Both Dodge and Saunders County increased from 2.14 last week to 2.29 this week. Washington County's risk dial decreased from 2.43 last week to 2.29 this week.
The risk dial, which debuted in mid-July 2020, is updated every Wednesday to show the risk of COVID-19 in Dodge, Washington and Saunders counties, as well as the entire jurisdiction.
The dial is color-coded, with green being low, yellow being moderate, orange being high and red being severe. The dials are also given a number range, with low being below .5, moderate being .5 to 2, high being 2 to 3.5 and severe being 3.5 to 4.
All four dials are still in the high region.
The main factors considered in the risk dials include:
The increase in the number of COVID-19 cases during the past three weeks.
The increase in the percentage of positive COVID-19 tests.
The capacity of the district and local healthcare system including the number of patients hospitalized with COVID-19, the ventilators being utilized and the percentage available of adult ICU beds.
The presence of community clusters and or community spread.
The availability of 3RPHD to trace all identified contacts of positive cases in 48 hours.
"I am happy to report that collectively together Methodist Fremont Health, Memorial Community Hospital & Health System, Saunders Medical Center, Ashland Pharmacy, Scribner Drugstore and Three Rivers have administered 32,997 of COVID-19 vaccine doses within the health district," Three Rivers Public Health Department Executive Director Terra Uhing said in a press release. "This is our second week of offering vaccinations to 18 years of age and older within the district. If you see an opening please sign up for the shot."
The local health department also announced three new cases of the COVID-19 B.1.1.7 variant, also known as the United Kingdom variant. Two individuals in Dodge County and one individual in Washington County tested positive for the variant.
"We know that two of our three cases were tied to larger unmasked events and we want to remind individuals to stay home when sick, avoid large indoor crowds, wear masks in public and seek a COVID-19 vaccine when able," Uhing said.