For the last few years, the Rev. JJ Hartung has been a familiar face at Full Life Church in Fremont.
He's still a familiar face.
Except now, he has a different job.
Hartung is the new lead pastor of the church at 2380 Seaton Ave.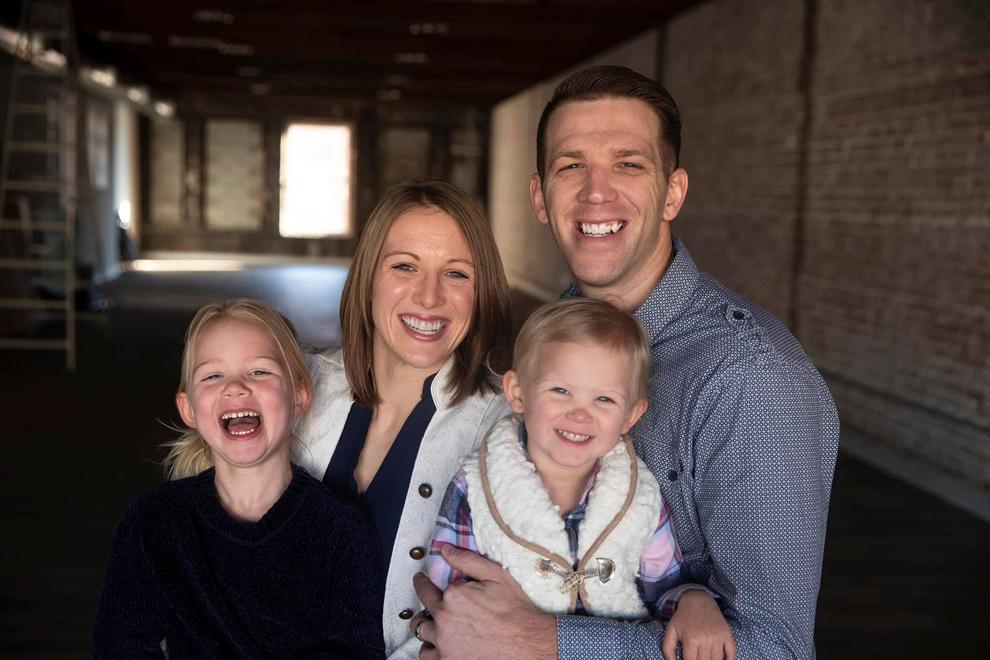 The former associate pastor is looking ahead to the future as he begins to guide the church forward.
Area residents may know Hartung, who grew up in Nickerson. Hartung went to Rosedale Elementary School and graduated from Logan View High School in 2005.
Originally, he planned to major in elementary education.
"But when I gave my life to Christ in 2007, shortly thereafter, I believe I was called to the ministry," Hartung said.
He went to the former Nebraska Christian College in Papillion and the former Grace University in Omaha. He obtained a Christian ministry degree through those colleges.
Hartung and his wife, Erica, married in September 2013. They now have two children, Zoey, 5, and Gabriella, 2.
In 2014, he joined the U.S. Army, but during basic training in South Carolina sustained an injury and was medically discharged.
The Hartungs returned to Fremont and he worked different jobs from late 2014 until 2020. Those jobs included D & T Shirtified in Fremont and Vanguard Cleaning Systems of Nebraska in Omaha.
Hartung said he learned the most through those jobs, because the bosses he worked for at those businesses were men of God.
"They led by example, the love of Christ," he said.
In the meantime, the Hartungs began attending Full Life in the spring of 2015.
They began improving technology with a website and Sunday morning presentations.
The Hartungs helped provide a July Fourth outreach event for two years. In the winter, they helped launch a clothing drive for Washington Elementary School one year and Milliken Park Elementary School another year.
Both schools have higher percentages of students receiving free or reduced-price lunches.
"As believers, we're called to love as Christ," Hartung said. "And one of the ways you can love as Christ is by meeting the needs of those in your community or surrounding area."
Hartung said member Joshua Meyer worked a lot on the Washington Elementary clothing drive.
One year, the church also adopted a low-income family and supplied them with Christmas gifts for their children.
"To me, it's like sharing the love of Christ in those moments," Hartung said.
Hartung came on staff at Full Life as the young adult/associate pastor in 2020.
He was voted in as lead pastor on May 2.
Erika Hartung serves as Women's Ministry director at the church.
In 2019, she and Fremonter Becky Novacek launched the group #sheisfearless, which meets at 7 p.m. the last Friday of each month at The Lighthouse, 84 W. Sixth St., in downtown Fremont. Between 15 and 20 women have been attending.
The group will not meet this month due to Memorial Day, but will resume in June. This group is open to women of all ages.
Hartung appreciates much about the church.
"I love the demographic of our congregation from lower income to wealthy, but what I love about that is you wouldn't notice the difference," he said. "I love that we don't shy away from who we are in the sense of being Pentecostal. I love that we love to worship through song and we stick to the teaching of God's word."
He also appreciates the opportunities he's seen for spiritual growth at the church.
Hartung cites himself as one example.
Last September, he was attending a conference during which the speaker gave a sermon called, "Let It Go." The speaker told how he had to let go of some past hurts with his family, which brought reconciliation.
"When he said that, the Holy Spirit instantly convicted me of how I had to go to my father and ask for forgiveness of things I had done," Hartung said. "So that week, I didn't wait. I went right to my dad's house and asked for forgiveness.
"It was one of the most touching moments of my life."
A good change has occurred.
"My dad and I have been totally reconciled," Hartung said. "And now we always leave our conversations with, 'I love you' and with him saying, 'I love you son.'"
Hartung would like to see other people who've come to know Christ as their personal Savior take the next step in their faith – a little more trust in Jesus.
"He is able to redeem things that we think are non-redeemable," Hartung said. "That's what I want our church to be going forward is helping people find redemption in areas of their lives that they don't think is possible, because the only way you can have that redemption is through Jesus."
Hartung expresses goals and optimism about the future, noting:
"I'm looking forward to being a Gospel-centered church where we're going to love the unlovable and welcome the lost and welcome people as they are to help them experience the love and hope of Jesus Christ."