Earl Wiegert was cutting a customer's hair when the Hotel Pathfinder exploded.
It was Jan. 10, 1976 and the downtown Fremont barber had just closed the blinds of the shop's windows to shield his customer from the bright Saturday morning sun.
The blast broke windows, tore off the door and propelled Wiegert and his customer back across the shop. When Wiegert regained consciousness, his customer was gone. Still in shock, the customer had gone to another barber who finished his haircut. Wiegert's son, John, was home when his dad, also in shock, came in the door — covered in dust, broken glass and small cuts.
Like other downtown businesses, Wiegert's Barbershop at 94 W. Sixth St., would need repairs.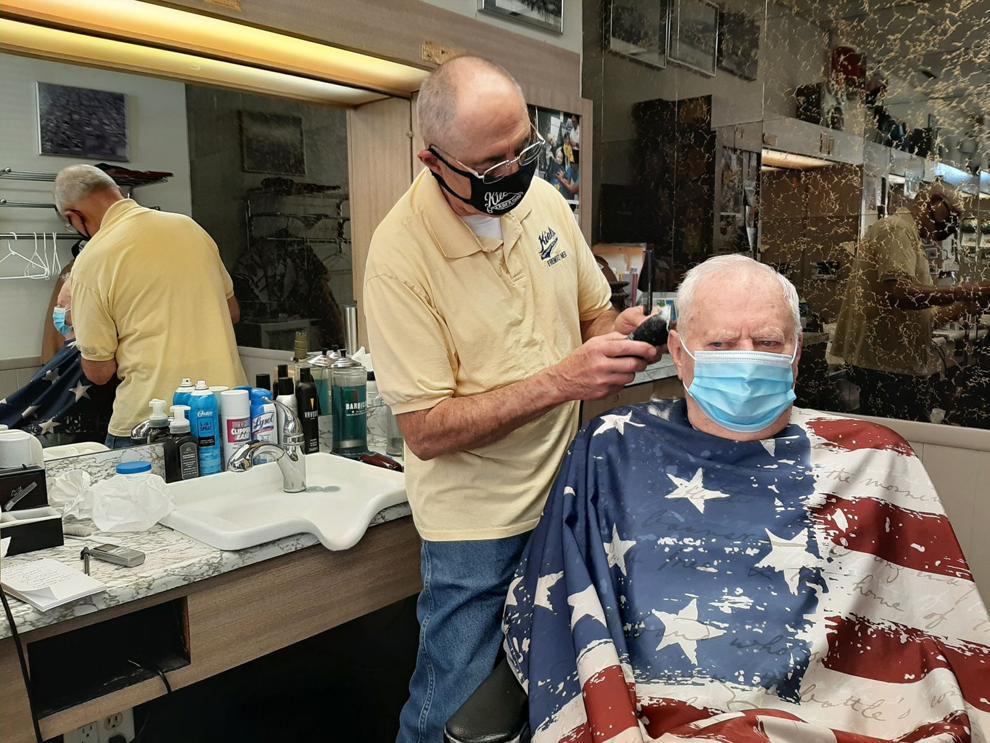 But longtime friend Kiel Eltiste owned a barbershop down the street. Eltiste invited Wiegert to work in his shop until those repairs were complete.
Almost 45 years later, the scene was a little different.
Eltiste was cutting Wiegert's hair on Thursday in the same barbershop that withstood the long-ago explosion.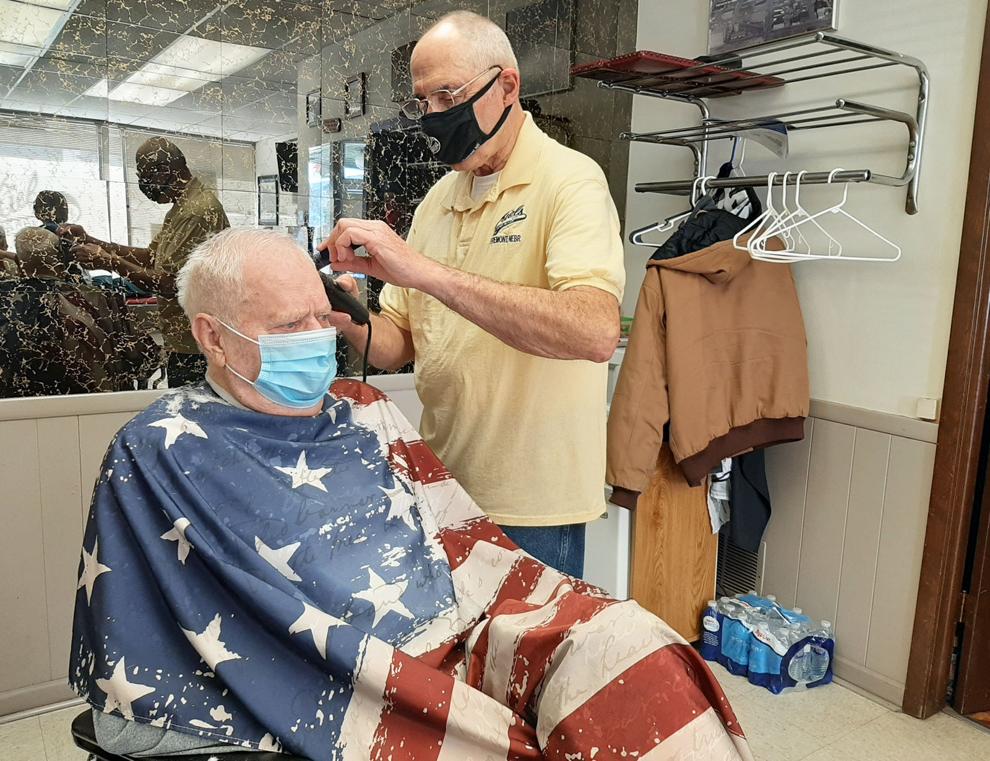 It was the day of New Year's Eve in 2020 and at 2 p.m., Wiegert was the last person to get a haircut at 94 W. Sixth St.
Kiel's Barbershop, which relocated here nine years ago, is moving.
But it's not moving very far.
Owner Connie Dostal is relocating the business just down the street to the building at 88 W. Sixth St.
Doors will open at 8:30 a.m. Tuesday and the hours will be the same: 8:30 a.m. to 5:30 p.m. Tuesdays-Fridays and 7:30 a.m. to 3 p.m. Saturdays.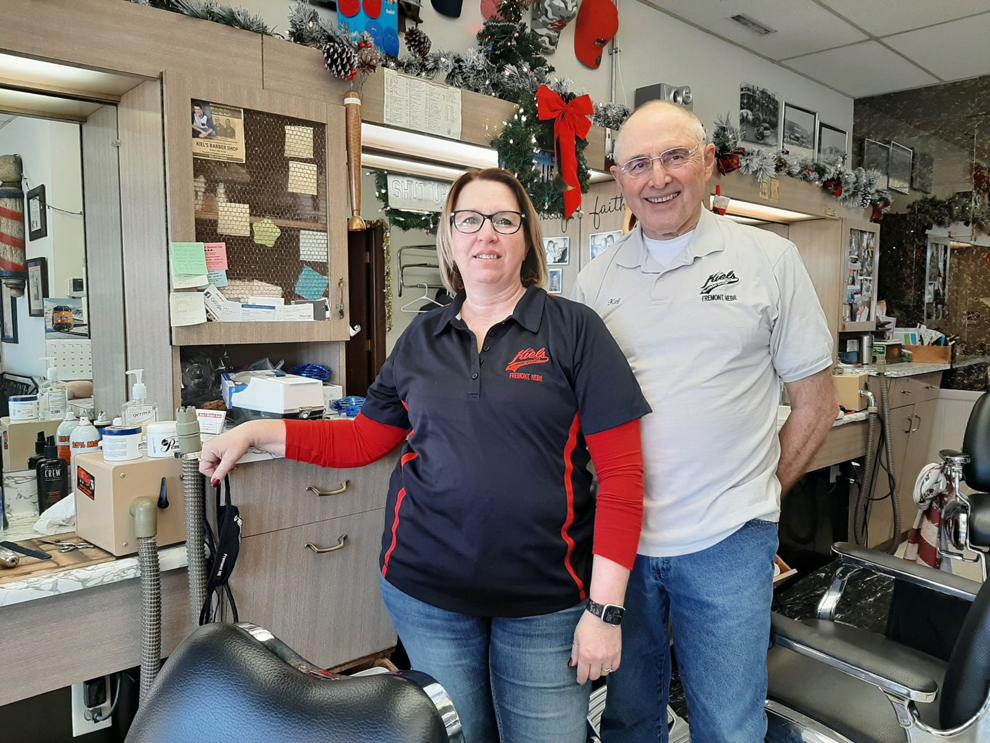 It will remain the same old-time barbershop, catering to men and boys—from little kids getting their first-ever haircut to loyal senior citizens.
Guys come here for haircuts like flat-tops and fades.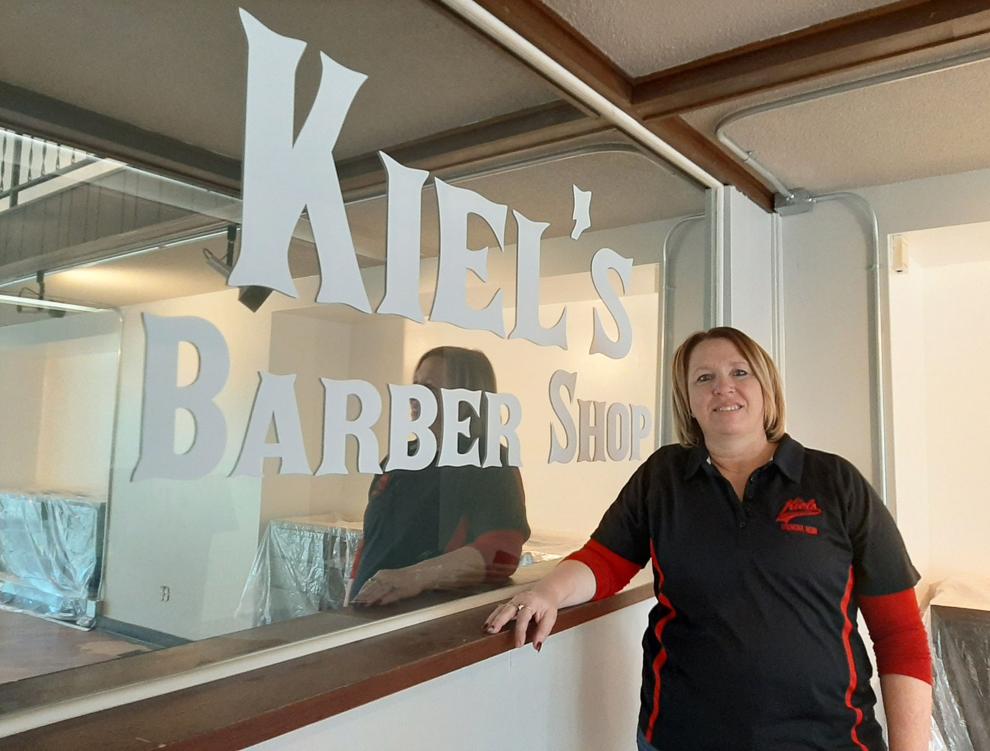 "The mullets are coming back and I've had a few calls of guys wanting to know if I would perm the back of a mullet," Dostal said.
"It is old-fashioned," she said of the shop. "We try to stick to tradition."
The barbershop has known years of tradition.
Longtime barber Emmons Wiegert and his son, Earl, opened the shop at 94 W. Sixth St., in 1960.
It was called Wiegert's Barber Shop.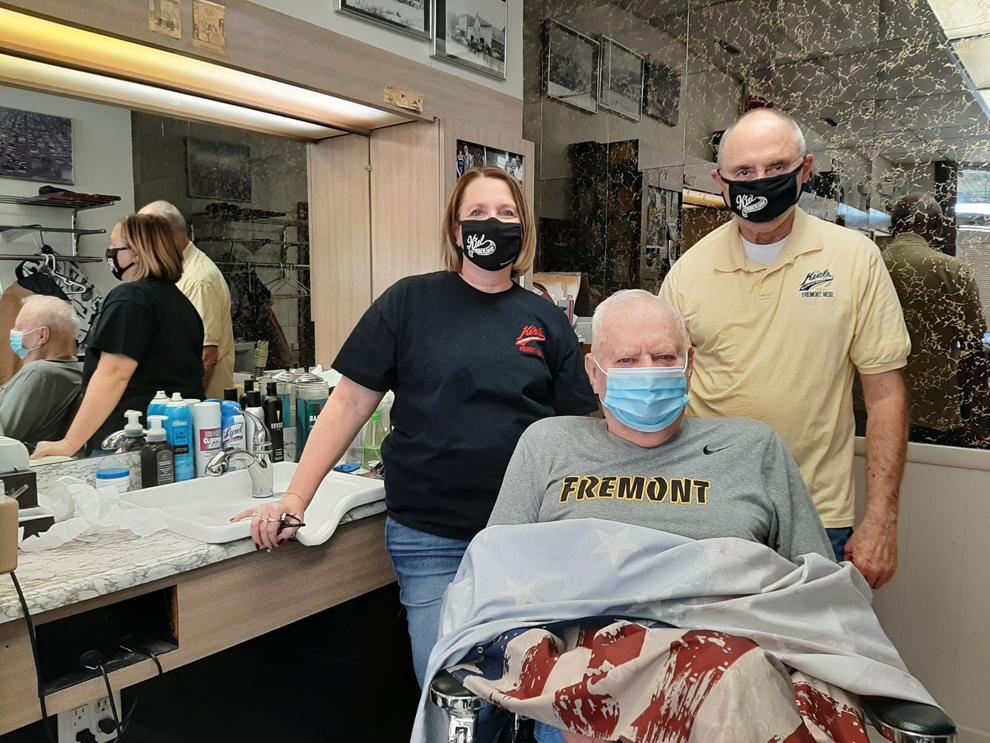 Earl Wiegert later took over the shop and he and Eltiste, who began working as a barber down the street in 1969, became good friends.
John Wiegert was in elementary school when he and his dad would have breakfast with Eltiste at the former Jensen's Cafe.
The men enjoyed kidding each other and Wiegert even got his children to joke with Eltiste.
John and his brother, Kyle, would stop by Eltiste's shop and say things like "How's it feel to be the second-best barber in town?"
Their sister, LuAnn Walraven, got in the act, too. After her dad gave up barbering, she'd stop by Eltiste's shop and say, "Now, you're the best barber on Sixth Street!"
Earl Wiegert ran his shop until 1989, when he had a stroke and wasn't able to work.
Denny Brandt filled in, then barber Chris Arvanitis ran the shop before his death in 2003.
Wiegert, who'd rented the building from Rump's Furnace & Hardware, sold the barbering equipment.
An insurance agency and later, a nail spa, located here before Kiel Eltiste moved into the spot in 2011.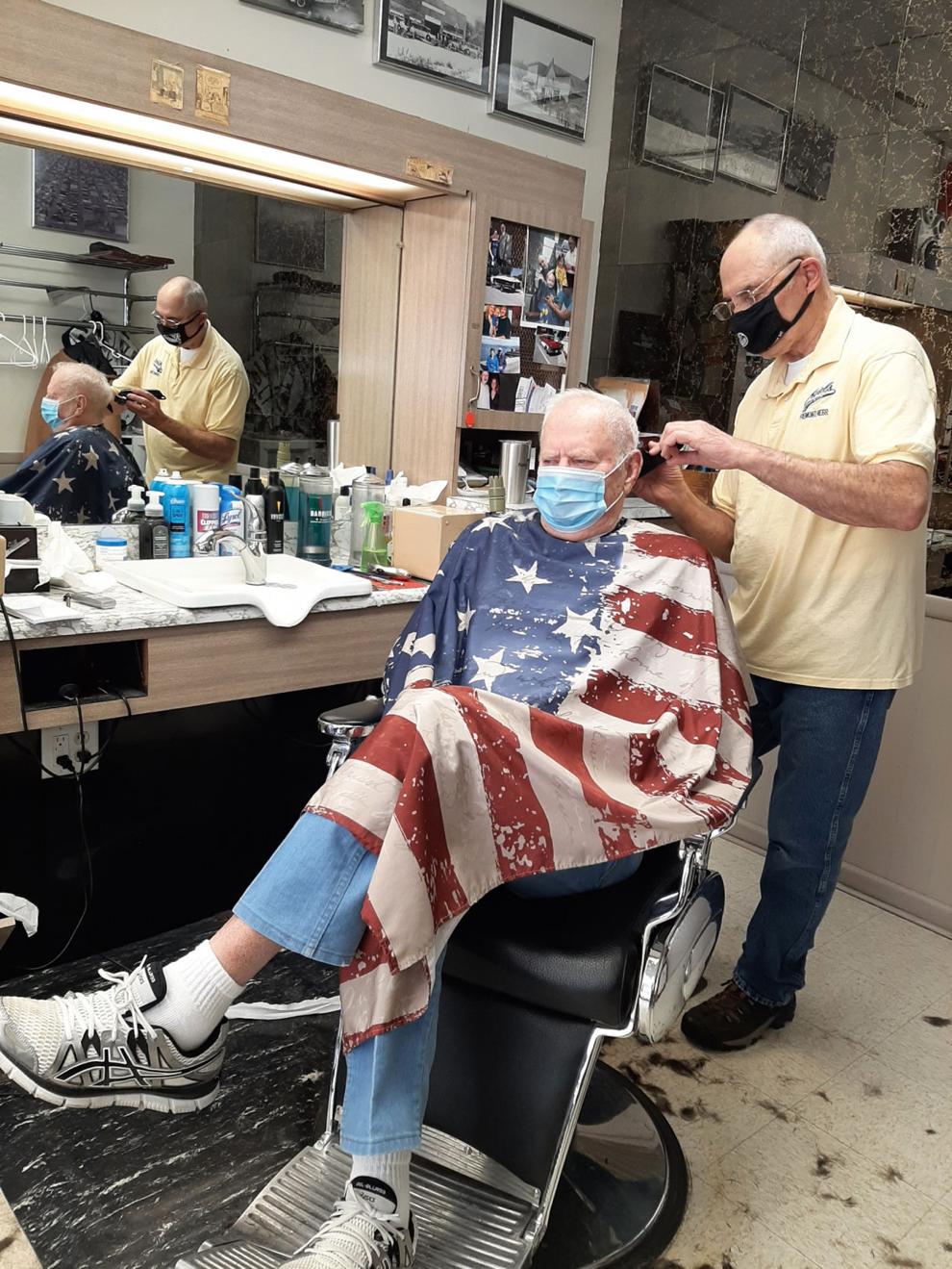 Earl Wiegert was the first guy to get a haircut at Eltiste's new location.
Eltiste owned and operated Kiel's Barbershop in this spot until Jan. 1, 2019, when longtime employee and barber Connie Dostal bought it.
Dostal had begun working for Eltiste in February 1988.
After Dostal bought the business, Eltiste became her employee.
"We switched roles," she said.
Yet they continue to provide old-fashioned-type haircuts.
In 2016, the Fremont Area Art Association purchased the Rump's Furnace building, which also houses the barbershop. The organization let Eltiste know it would like the barbershop space as well in three to five years, Dostal said.
The association remodeled the former Rump's building area.
"And this was the last little bit," Dostal said.
When a building east of the art association became available, Dostal considered a move after talking with that structure's owner.
Dostal knew she wanted to keep the business in downtown Fremont, where Kiel's Barbershop has always been.
She decided to take the offer and relocate the barbershop — just down the street a little—to 88 W. Sixth St.
"I wanted it where it was easy for the customers to find me and parking is great right here. All the neighbors around here are great so I didn't want to leave," Dostal said.
She spoke with the building's owner and had plumbers and electricians begin work on the new shop.
"Everything worked out," she said.
So at 2 p.m. on Dec. 31, the little shop and its longtime tenants saw the end of an era.
"Earl was the first haircut in here when we moved here in 2011," Dostal said. "He's going to be the last."
Now 92, Earl Wiegert sat quietly while Eltiste cut his hair.
"It's great," he said of the haircut. "We've been friends for years."
Dostal notes the location's significance.
"It's part of history," Dostal said. "It's part of the downtown Fremont history."
The building that housed the barbershop was directly across the street from the Hotel Pathfinder, destroyed during a gas leak explosion. Various buildings were damaged.
"But they've all stood the test of time," she said.
The new location carries the "Kiel's Barbershop" name and will feature new work stations and mirrors—spaced according to COVID-related rules.
Some well-known fixtures will be moved to the new location — like the gumball machine.
"Kids like that," Eltiste said.
For years, children have been given two pennies for gumballs. Because kids often don't like licorice, they're given five more pennies if they get a black gumball.
The familiar red and beige waiting chairs, which came from a downtown shoe store, are making the move.
So are the old shoeshine chair and the old coal bucket, where hair is put after it's been swept off the floor.
The metal bench with Kiel's name will be bolted down outside the new location. Eltiste bent the iron, which Todd Hoppe welded to make the iconic bench.
As she looks ahead, Dostal is sad that the current location will no longer be a barbershop.
"Things change," she said. "Progress goes on and you expect that."
Yet she's excited and happy for the new adventure that lies ahead.
"It's a new phase," she said. "Everything's going to be the same. The name and traditions are always going to stay the same, but it's going to have a different look."
And with it comes the promise of more memories to make.