Farm animal gets stuck up in barn's hayloft, and more of this week's weirdest news
Workers say they were called to a barn in Loris, South Carolina, where a horse somehow managed to leave its stall and climb into a hayloft.
High horse: Farm animal gets stuck up in barn's hayloft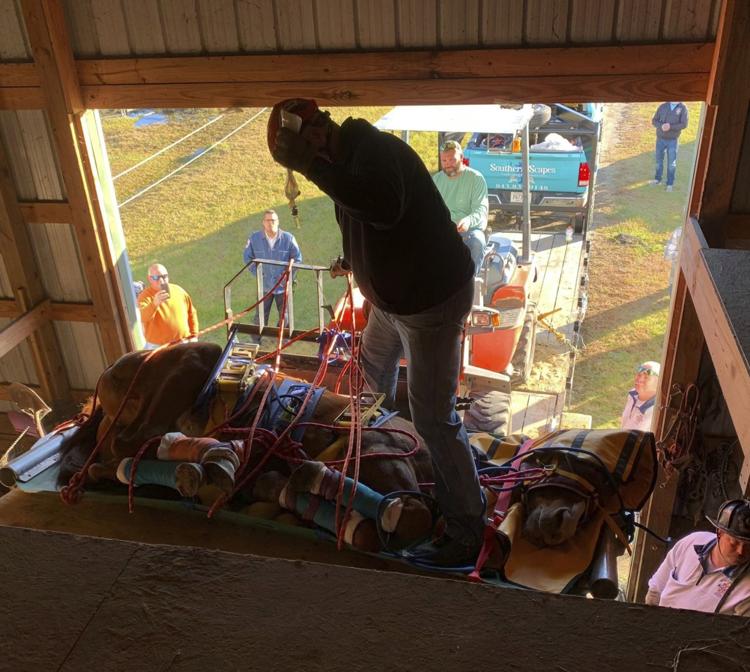 LORIS, S.C. (AP) — A farm animal with unbridled ambition in South Carolina has given new meaning to the phrase "get off your high horse."
Horry County Fire Rescue workers say they were called Sunday to a barn in Loris, where a horse somehow managed to leave its stall and climb into a hayloft.
They had to bring in heavy equipment, and large-animal veterinarians helped sedate the horse before it was lowered to the ground on a makeshift platform.
The horse has moved on to greener pastures, seemingly in good spirits in a grazing field.
Rescue workers still haven't figured out how the horse managed to climb a narrow set of stairs into the loft.
Border agents seize 154 pounds of bologna at Texas crossing
EL PASO, Texas (AP) — No baloney: U.S. border agents seized more than 150 pounds of bologna from a driver entering the country from Mexico.
The U.S. Customs and Border Protection says in a news release that the driver told agents Thursday at the El Paso crossing that he had rolls of frozen turkey ham in his pickup truck. Upon further inspection, though, the agents determined that it was 154 pounds of Mexican bologna, which is made of pork.
The agency says the driver was released but the bologna was seized and destroyed. It says bologna can't be carried across the border because it could introduce foreign animal diseases to the domestic pork industry.
Man using magnet fishes WWI-era grenade from Michigan river
GRAND RAPIDS, Mich. (AP) — A magnet-wielding angler has fished a World War I-era grenade from a western Michigan river.
WOOD-TV reports the angler found the explosive Tuesday after dangling the magnet from a bridge in the Grand River in Grand Rapids.
Joseph Alexander told the television station he "thought it looked like a grenade, but not one" he'd seen before. Alexander said he posted photos of it online and people commented that it was a grenade and he should call police.
Grand Rapids police say the device is a "German Granatenwerfer" and that it will be stored until detonated safely. Sgt. John Wittkowski said since the device was so old and had been submerged for a long time it likely was no longer very dangerous.
Alexander said magnet fishing is a hobby.
UK treasure hunters jailed for stealing Viking-era hoard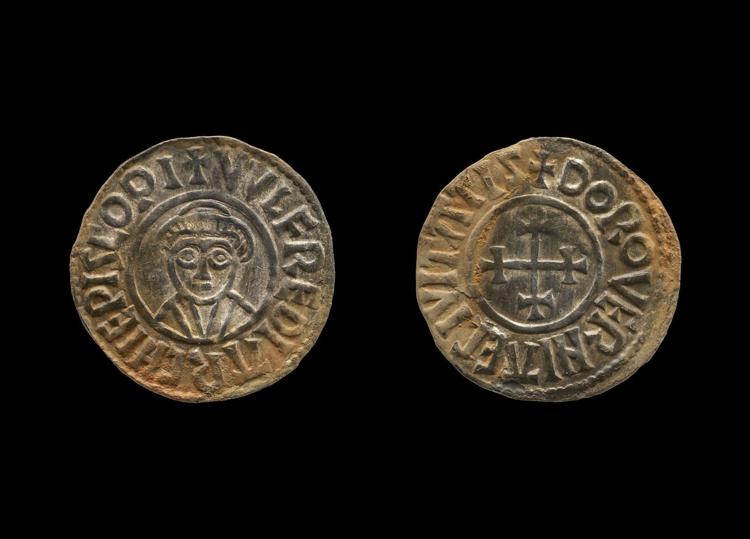 LONDON (AP) — Two amateur British treasure-hunters were sentenced Friday to long prison terms for stealing a hoard of 1,100-year-old Anglo-Saxon coins and jewelry valued at millions of pounds (dollars).
Experts say the hoard — much of which is still missing — could shed new light on a period when Saxons were battling the Vikings for control of England. The trove is thought to have been buried in the late 9th century by a member of a Viking army that was being pushed east across England by an alliance of Saxon forces.
The collection of gold and silver jewelry and up to 300 coins was dug up in 2015 on farmland in central England by metal detectorists George Powell and Layton Davies. They were convicted this week of failing to report the hoard, as required by law.
Instead, they tried to sell some of the bounty through antiquities dealers. Some of the jewelry and about 30 coins are all that have been recovered.
Prosecutor Kevin Hegarty said the hoard's value had been estimated at between 3 million pounds and 12 million pounds ($3.9 million to $15.4 million) and added that a find of "immense archaeological, historical and academic value" had been lost to the nation.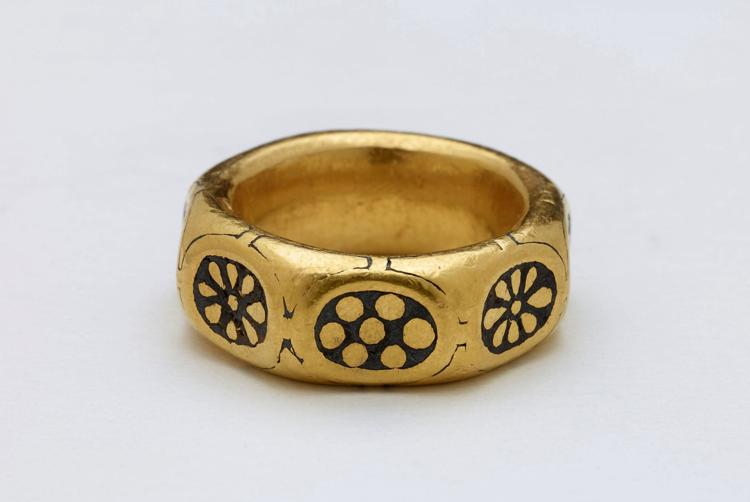 The hoard "represents a nationally important assemblage created at the very point England was forming and becoming a nation with a single identity under the vision of (King) Alfred the Great," he said.
Powell, 38, who was described as having the leading role in the crime, was sentenced to 10 years in prison by a judge at Worcester Crown Court in central England. Davies, 51, received an 8 ½-year sentence. Two other men were convicted of helping to conceal the find.
Judge Nicholas Cartwright said the irony was that if the two treasure-hunters had just reported the find to the authorities, they would have been in line for a reward of a third to half of its value.
"You could not have done worse than 500,000 pounds each," he said. "But you wanted more."
The two men have not disclosed the location of the missing items.
Powell's lawyer, James Tucker, said his client now "wishes he had never found the treasure."
"It became a temptation — and for him, a curse," he said.
Police: Couple staged store robbery, then bought rings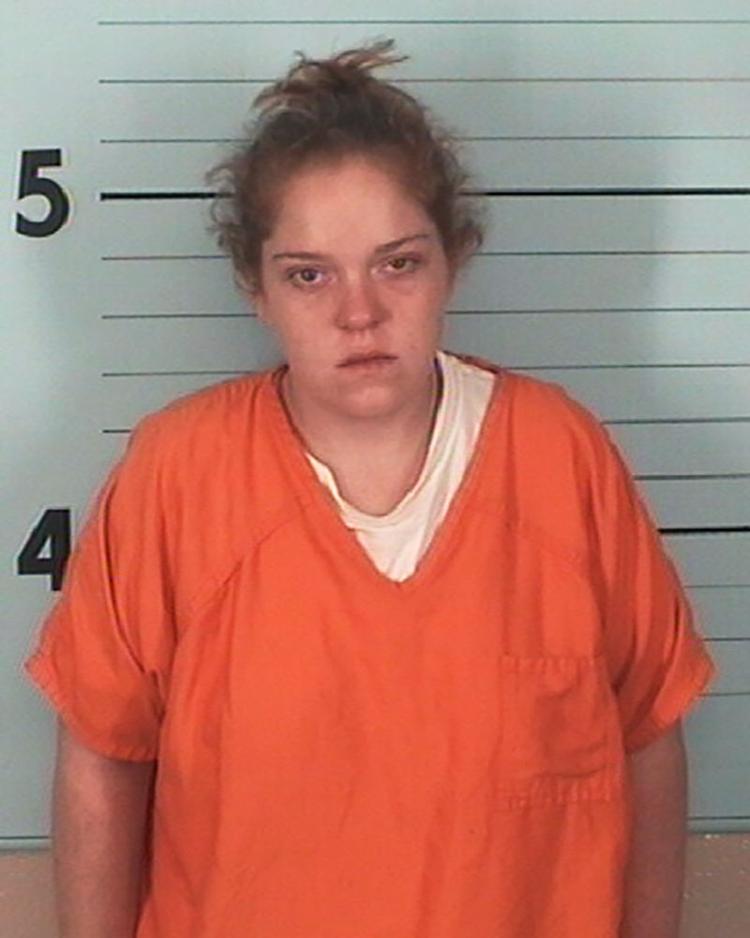 MORGANTON, N.C. (AP) — A convenience store clerk in North Carolina staged a robbery with her boyfriend at the business, used the money to buy rings hours later and made a video of their engagement at a Walmart, police said.
The case began late Monday night when convenience store clerk Callie Elizabeth Carswell told police a man entered the Big Daddy's store carrying a long, curved knife and demanded money from her, according to a Morganton Department of Public Safety news release.
But investigators say they noticed discrepancies between her story and surveillance video from the store and they discovered it was her boyfriend, Clarence William Moore III, who entered the store demanding money.
"Carswell and Moore planned the armed robbery and stole a total of $2,960 in cash," the news release said.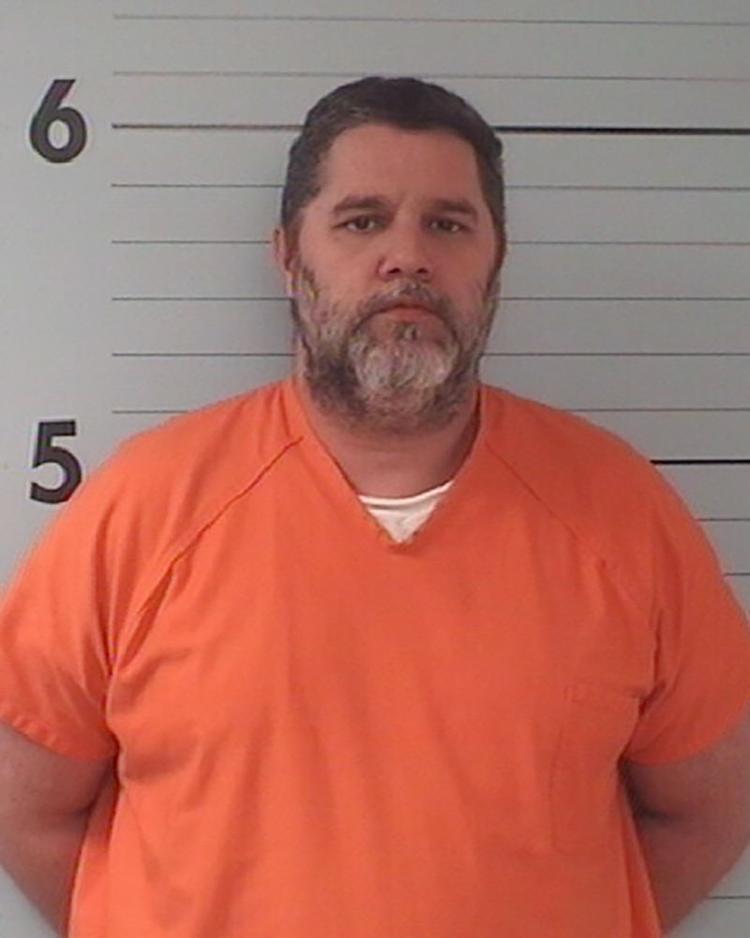 The news release said authorities searched Moore's vehicle and found money form the store and a hand-written list of items needed to conduct the robbery. Investigators say they found the weapon and clothing Moore used during the robbery.
Authorities searched Carswell's phone and found video of them getting engaged at Walmart early the next morning, according to the news release. Receipts showed engagement rings were purchased at the Walmart. Police Lt. Josiah Brown confirmed in an email that the stolen cash was used to buy the rings.
According to The News Herald, Carswell said outside of court Tuesday that she wasn't involved in the robbery plan.
"I didn't do it. ... I wasn't involved," she told reporters.
Police said Carswell was charged with armed robbery, misuse of 911, and filing a false police report. Moore was charged with armed robbery.
A phone listing for Moore said the number was out of service. A message left at a number for Carswell wasn't immediately returned.
Alaska man arrested after drugs found in spoiled goat guts
ANCHORAGE, Alaska (AP) — An Alaska man found with $400,000 in illegal drugs hidden in spoiled goat intestines at an airport has been arrested.
Cenen Placencia of Kodiak was arrested Wednesday at Anchorage's international airport, authorities said.
Investigators with Alaska State Troopers searched a large fish box the 71-year-old man had checked as luggage, according to an affidavit filed with the charges. Placencia gave his consent to search, according to the affidavit signed by a special agent with the Coast Guard Investigative Service.
Inside the box was loosely wrapped frozen meat, with multiple small pieces of meat frozen together, according to the affidavit, which says Placencia consented to the meat being thawed for further investigation.
Investigators smelled the odor of rotting meat as it thawed, and a police dog detected the presence of drugs, the affidavit says. Before the meat finished thawing, Placencia withdrew his consent for a search, prompting authorities to obtain a search warrant, the court document says.
Resuming the search, investigators found packages wrapped in plastic that contained about 740 grams of heroin and 389 grams of methamphetamine.
Placencia had been heading back to Kodiak when he was arrested, initially booking a morning flight and later rebooking for a late afternoon flight.
Before that flight departed, however, Placencia agreed to be interviewed. He told investigators he packed the bag himself and denied knowing about the drugs, according to the affidavit. Placencia told investigators he bought the goat intestines for $140 from a California rancher for his own consumption, the affidavit says.
Placencia taken into custody at the Anchorage jail, troopers said. A message left late Friday afternoon at the Federal Public Defender Agency was not immediately returned.
Placencia was arraigned Friday on a charge of possession with intent to distribute controlled substances.
Troopers said authorities began investigating Placencia in February. In March, authorities served search warrants at Placencia's Kodiak home, seizing about 247 grams of heroin and 13 grams of crystal methamphetamine, according to troopers.
The affidavit says nearly $2,280 in suspected drug proceeds also was seized at the home in March, the affidavit says.
Those drugs are not included in the current charges, said assistant U.S. Attorney Christina Sherman. The investigation continues, she said.
—By RACHEL D'ORO Associated Press
Ruff ride: Florida dog bumps car into motion, gets solo trip
PORT ST. LUCIE, Fla. (AP) — Florida authorities say they responded to a rogue vehicle spinning in reverse around a suburban cul-de-sac with a lone occupant inside: a Black Labrador.
News outlets report residents called police Thursday after seeing the dog trapped and clambering around in the car as it spun in circles in a Port St. Lucie neighborhood.
Police say they think the dog's owner stepped away from the running car and that's when the pet knocked it into reverse. Neighbor Anne Sabol says she watched the furry speed racer take out a mailbox and a trash can.
Sabol says the dog was in high spirits after being rescued, adding it "jumped out of the car, wagging his tail."
Police stopped the joyride by punching a passcode into the driver's door. No one was hurt.
Gaza man masters rare skill of balancing art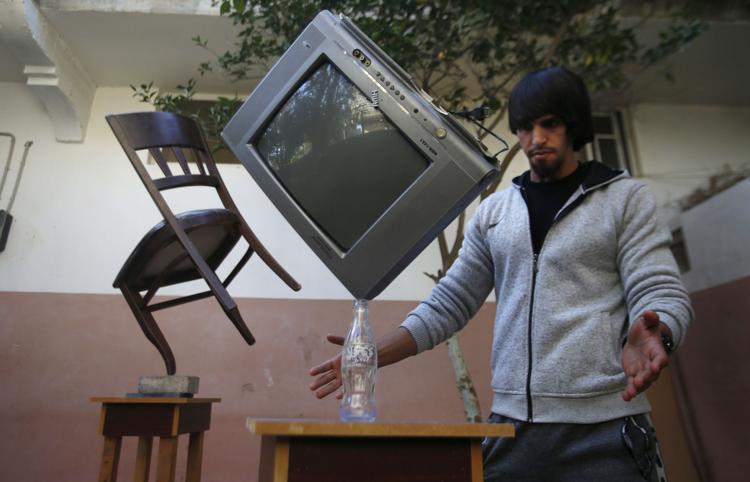 BEIT HANOUN, Gaza Strip (AP) — Whenever Mohammed al-Shenbari sees a new object, he quickly tries to find its "balancing point" and make it stand in a way that appears to defy the law of gravity.
The 24-year-old self-taught Palestinian artist says he can balance almost any object, using what he calls a mix of mind and body.
This has made him a popular entertainer and frequent participant in psychological support sessions that are common in conflict-ridden, poverty-stricken Gaza.
In the yard of his home in northern Gaza, al-Shenbari stood a chair on one leg, propped two gas canisters on a slanted pipe wrench and balanced an upside-down TV screen on the rim of a Coke bottle.
"You just need to know the fulcrum of the object and you get it," he said.
A fitness and bodybuilding coach, al-Shenbari says his healthy lifestyle helped him slowly develop "the great focus" required to balance the objects.
"When I do this, I feel something indescribable; like a magnet drawing out energy from me toward the objects," he said after he stacked four oddly angled cans of beans on a wood frame hanging off a tree.
A year ago, al-Shenbari came across a YouTube video by a Korean balance artist, Nam Seok Byun, and was fascinated by the way the artist arranged layers of rocks delicately supported by round pebbles.
Trying to emulate his hero, al-Shenbari said he would spend days working on what now seem like basic sculptures. Now, it takes him just a few minutes and several attempts to figure things out.
Gaza is sandwiched between Israel and Egypt, which have kept it under a blockade for 12 years since the Hamas militant group took power.
After years of living under the blockade and three devastating wars between Israel and Hamas, al-Shenbari, like many young Gazans, wants to leave the territory in search of better opportunities. His dream is to compete on reality TV shows and travel to Asia, where he says the art of balancing is practiced, to improve his skills.
"I want to balance larger objects like a washing machine or a fridge," he said.
—By HATEM MOUSSA Associated Press