A former prison guard caught smuggling methamphetamine and marijuana into the Nebraska State Penitentiary got prison time for it Tuesday.
Edgar Gomez, 35, of La Vista, pleaded no contest to possession of methamphetamine, delivery of marijuana and unlawful acts in the Nebraska Department of Correctional Services.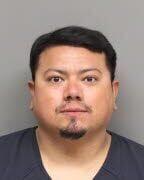 His attorney, Edward Wintroub, said when an inmate initially approached Gomez he was distressed, needed the money and didn't know what to do, so he agreed to do it. 
When he was asked to do it again, he threw the package away but the inmate told him there would be consequences if he didn't.
In arguing for probation, Wintroub said Gomez had been manipulated and made bad decisions, but he was concerned for Gomez' safety if he were sentenced to prison, something Gomez echoed when he was given an opportunity to speak.
"I feel like there would be a huge target on my back," Gomez said. "Mentally, I wasn't all there when this happened."
Deputy Lancaster County Attorney Charles Byrd pointed out inconsistencies in Gomez's statements. At one point, he said he'd thrown the package away the first time. He told another investigator he'd brought in contraband successfully twice before and was caught the third time, on Feb. 18, 2022.
Byrd said Gomez's phone records show he was paid $2,500 between Jan. 30, 2022, and Feb. 18. 
"He minimizes his role in this and offers excuses instead of taking responsibility for his actions," the prosecutor said.
On Feb. 18, staff at the State Pen found Gomez with a beverage can with a hidden compartment as he entered the prison for work, according to the affidavit for his arrest.
Correctional staff found plastic baggies with 57.2 grams of meth and 65.1 grams of marijuana inside.
Gomez ultimately was arrested and charged.
Lancaster County District Judge Jodi Nelson called the amounts Gomez was caught smuggling astonishing and said for him to suggest he didn't know what he was bringing into the prison was very difficult for her to believe.
"This was a business transaction," she said. "I recognize that it was something that you got into and, quite frankly, I don't doubt that you got in over your head rather quickly. But in the line of work that you were in you also knew that that was one of the consequences of doing this."
Nelson said Gomez had full ability to say no or to stop it and should have considered the consequences of getting caught when he decided to do it.
"You violated a position of trust by engaging in this behavior," she said.
Nelson said she also recognized that Gomez had little criminal history before this but said sometimes that first offense "is a doozy."
And she sentenced Gomez to six to 10 years in prison.