In the aftermath of a Republican sweep of statewide and congressional offices that spotlighted a growing rural-urban political divide, attention focused Wednesday on a changing landscape in the Legislature and funding of voter-approved Medicaid expansion.
Gov. Pete Ricketts, Sen. Deb Fischer and all three Republican House members were re-elected, but none of them won majorities in either Omaha or Lincoln.
The nonpartisan Legislature was revamped in a fashion that close observers believe increases the number of senators who could be described as politically moderate.
However, predicting how new senators ultimately will vote or behave is usually a fool's errand.
The Medicaid expansion vote dramatically spotlighted how difficult it is to define or pigeon-hole political sentiment.
Nebraska, a red state with an overwhelming Republican voting majority, approved an initiative that will extend Medicaid coverage to an estimated 90,000 adults who can be broadly defined as the working poor, despite warnings from the governor that it could imperil property tax relief and popular state programs.
That vote divided urban and rural Nebraska, with 85 of 93 counties opposing the proposal, while Lincoln and Omaha gave it overwhelming approval and pushed the proposal over the finish line with room to spare.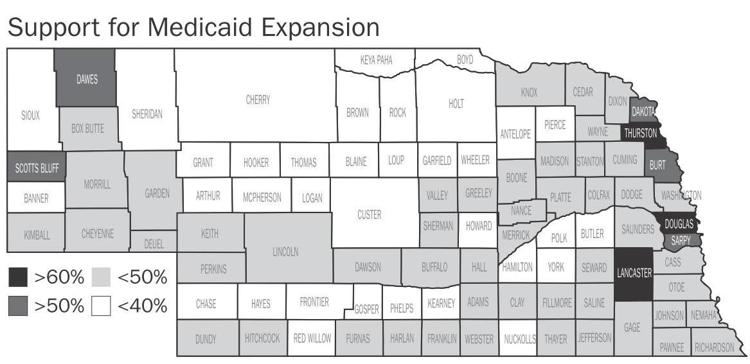 The final vote count: 345,837 for, 304,253 against. 
The next chapter will be written in the 2019 Legislature, where some opponents already have hinted at slow-walking or even attempting to block funding of Medicaid expansion. 
The state's share of costs has been estimated at $19.8 million during the first fiscal year and $32.2 million in the second year.
In an interview with the Associated Press, Ricketts said "this is going to have to fit into the budget with all of our other priorities" since he will not consider any tax increase.
"That means that other priorities we have in the budget -- things like K-12 education, higher education, property tax relief, potentially even roads -- are all going to have less money available," the governor said. 
Sen. John Stinner of Gering, chairman of the Legislature's Appropriations Committee, earlier signaled that tentative planning was underway to consider those costs in case the initiative was approved.
Sen. Adam Morfeld of Lincoln, who led this year's legislative effort to expand Medicaid, said he and other sponsors of the initiative will go to court if opponents in next year's legislative session attempt to block funding.
"The funding requirement is crystal-clear in the language" of the initiative approved by Nebraska voters, he said Wednesday.
"There is no legal room not to fund it," Morfeld said.
"The budget won't pass next year if it is not funded," he added.
"It is going to get funded and people are going to get those services."
Morfeld pointed to a possible revenue source that soon will be available to help fund state government programs and services once the Legislature enacts legislation requiring collection of state sales taxes that already are owed on online sales.
Half of the anticipated new revenue from that source would "cover new Medicaid costs easily," he said. 
"After two or three years, Medicaid will pay for itself," Morfeld said, as it triggers new economic activity across the state.
During the first two years, Medicaid expansion would generate $786.5 million in federal funding, according to the legislative fiscal analysis. An additional $572.8 million would be coming to Nebraska in the third year.
The fiscal analysis prepared for Stinner and Sen. Kate Bolz of Lincoln assumed a July 1, 2019, implementation date while noting that "the actual start date may be different" depending on the language of legislation. 
Under terms of the initiative, the state's Department of Health and Human Services is required to submit a state plan for expanding Medicaid coverage by April 1, 2019.
"The state shall amend its Medicaid state plan to expand eligibility," the initiative mandates. And the department is required to "take all actions necessary to mandate federal financial participation."
Morfeld said warnings by opponents that Medicaid expansion would take funding away from state school aid, property tax relief or other priorities are bogus.
"That would only be the case if we want it to be," he said.
In a statement three weeks before the election, 11 state senators warned that the costs of expanding Medicaid assistance "would make property tax relief nearly impossible" and endanger funding for local schools, the University of Nebraska and current Medicaid recipients. 
Ricketts earlier expressed the same concerns. 
The initiative launched by Insure the Good Life collected more than 100,000 signatures from Nebraskans on petitions to place the issue on the November ballot.  
Tuesday's vote count showed huge majorities in Lincoln and Omaha carrying the issue to victory with assistance from majority votes in Burt, Dakota, Dawes, Sarpy, Scotts Bluff and Thurston counties.
The issue ultimately was approved statewide by approximately 42,000 votes after piling up a 47,000-vote majority in Omaha and Douglas County, along with a 26,000-vote margin in Lincoln and Lancaster County.
New Medicaid assistance would be extended to Nebraskans who work at jobs that earn them less than $17,000 a year, including food service and retail workers.  
Medicaid expansion
U.S. Senate
Governor/lieutenant governor
U.S. House 1st District
U.S. House 2nd District
U.S. House 3rd District
Secretary of state
State treasurer
State auditor
Attorney general
Legislature District 2
Legislature District 4
Legislature District 6
Legislature District 8
Legislature District 10
Legislature District 12
Legislature District 14
Legislature District 16
Legislature District 18
Legislature District 20
Legislature District 22
Legislature District 24
Legislature District 26
Public Service Commissioner District 1
NU Board of Regents District 5
Legislature District 28
Legislature District 30
Legislature District 32
Legislature District 34
Legislature District 36
Legislature District 38
Legislature District 40
Legislature District 42
Legislature District 44
Legislature District 46
Legislature District 48
Public Service Commission District 3
NU Board of Regents District 3
NU Board of Regents District 4
NU Board of Regents District 8
State Board of Education District 5
State Board of Education District 6
State Board of Education District 7
State Board of Education District 8
Lincoln mayor term limits
County treasurer
Lancaster County Board District 1
Lancaster County Board District 3
Lancaster County Board District 5
Lancaster County clerk
Lancaster County assessor
County sheriff
Lancaster County attorney
Public defender
Clerk of district court
County engineer
Retention of judges
Seward County sheriff
SCC Board of Governors District 1
SCC Board of Governors District 2
SCC Board of Governors District 3
SCC Board of Governors District 4
SCC Board of Governors District 5
Lower Platte South NRD Subdistrict 1
LPSNRD Subdistrict 2
LPSNRD Subdistrict 3
LPSNRD Subdistrict 4
LPSNRD Subdistrict 5
LPSNRD Subdistrict 6 (four-year term)
LPSNRD Subdistrict 6 (two-year term)
LPSNRD Subdistrict 7
LPSNRD Subdistrict 8 (four-year term)
LPSNRD Subdistrict 8 (two-year term)
LPSNRD Subdistrict 9
LPSNRD Subdistrict 10
LPSNRD at-large seat
Area ballot questions
Federal and statewide races
Legislature
Public Service Commission
NU Board of Regents
State Board of Education
Lancaster County Board
Lancaster County races
SCC Board of Governors
Lower Platte South Natural Resources District board