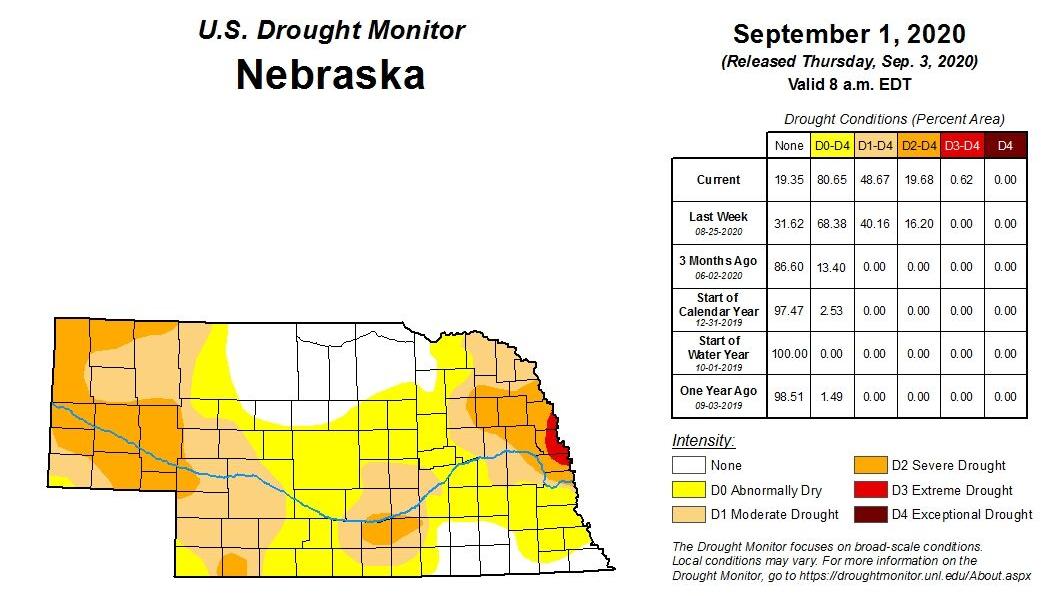 Drought expanded its reach in Nebraska last week as many areas of the state finished off their driest Augusts in years.
According to the updated U.S. Drought Monitor map released Thursday morning by the University of Nebraska-Lincoln, nearly 50% of the state is now in some level of drought, and more than 80% is abnormally dry. The amount of severe drought has now grown to cover nearly 20% of the state, and for the first time in more than six years, there is extreme drought in the state, in parts of three counties along the Missouri River in east-central Nebraska.
"Droughts of this magnitude will likely take months to recover from," the National Weather Service said in a tweet, noting that it would take several inches of rain to mitigate the drought conditions.
After several wetter-than-normal years, many areas of Nebraska have now seen precipitation totals significantly below average, especially this summer.
According to the weather service, Omaha had its driest August in more than 100 years, with just 0.46 inches of rain. It also had its fourth-driest summer ever, with rainfall totals that were more than 4.5 inches below normal. All of Douglas County is in a severe drought, and the northeastern corner of the county is in extreme drought.
Norfolk also saw its fourth-driest summer ever. Hastings had its second-driest August ever, while Kearney and Grand Island had their third-driest.
The eight-county climate district that includes Hastings had its driest August on record.
Severe drought has now shown up in that area of the state, while it has expanded its reach in the Panhandle and northeast Nebraska.
The weather service said 35 counties in Nebraska have now authorized emergency haying and grazing on Conservation Reserve Program land.
The U.S. Army Corps of Engineers on Thursday said some areas of the Missouri River Basin got less than 25% of their normal August rain.
Last year, after severe flooding in Nebraska and other surrounding states, 65.6 million acre feet of water was being stored in the Missouri River's reservoir system as of Sept. 1 and more than half of the flood-control storage area was being used.
As of Tuesday, the reservoirs were storing 60.1 million acre feet, and less than one quarter of the flood storage area was being used.
Last year, water releases from the Gavins Point Dam averaged 70,000 cubic feet per second in August. This year, the average was 30,000 cfps. The Corps said it likely will increase the releases somewhat this month to ensure enough water is in the Missouri downstream to meet navigation targets.
Lancaster County has avoided drought conditions to this point, but the entire county is now classified as abnormally dry. August rain totals were 2.2 inches below normal in Lincoln, and the city has seen less than half an inch of rain since Aug. 10.
There are some chances for rain Monday-Wednesday in Lincoln, but the forecast shows a better-than-average chance of below-average rainfall for the entire state through the next two weeks.
16 countries that fit inside the state of Nebraska
Be the first to know
Get local news delivered to your inbox!