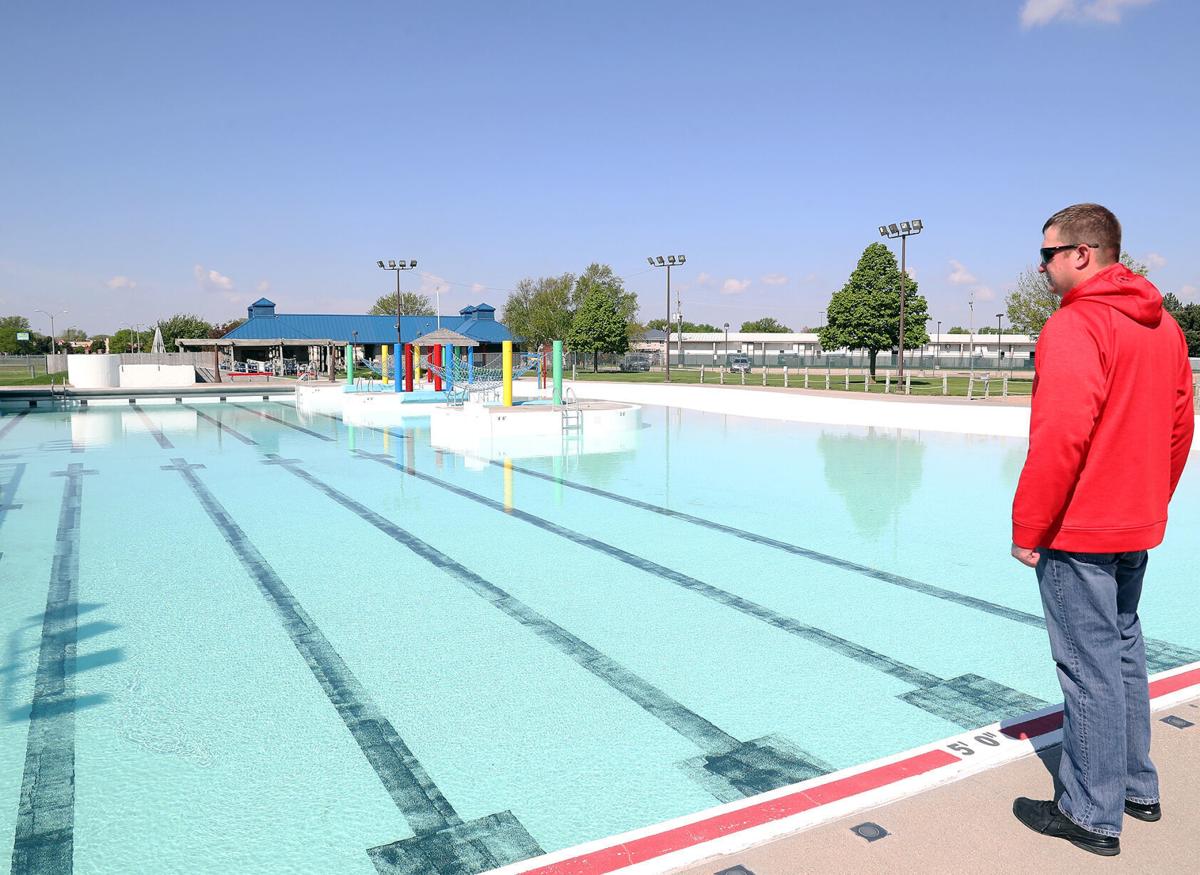 On May 29, people will be able to enjoy Island Oasis and Grand Island's wading pools for the first time since August 2019.
The layoff of almost 20 months makes the reopening of Island Oasis a little more challenging than it usually is, said Recreation Superintendent Jeremy Bachmann of Grand Island Parks and Recreation.
After the long layoff, there's a lot more debris to clean up, not only in the pool but in the pipes.
The debris consists of leaves, sand and dirt. During the winter, some of the sand at Island Oasis' play area blows into the pool. Some of the debris gets into the pipes.
On Wednesday, workers partly filled the Island Oasis pool and turned on all of the pumps and motors. They found "a number of leaks in the valves and the seals and things like that," Bachmann said.
In addition, all of the dirt collected in the pipes "basically turned the pool a muddy lake color," Bachmann said.
On Thursday, the workers drained the pool. Now that they know where all of the leaks are, they're going to spend the next two weeks trying to fix them.
When the pool is filled each year, a muddy lake color is expected "a little bit, but not to the extent that it was this year," Bachmann said. 
The crew had to drain the pool regardless, to get some of the leaks fixed and valves replaced.
In addition, workers did some painting on the bottom of the pool because some of the paint had chipped during the past two years.
In the green space at Island Oasis, Bachmann and his crew are going through sprinkler heads. Some need to be replaced because of wear and tear and the normal process of going from freezing to thawing each spring.
Another issue is the availability of valves, gaskets and other needed equipment.
COVID-19 has caused those items to be in high demand. Sometimes, it takes a lot of time to get the parts.
When filled, the Island Oasis pool holds 360,000 gallons of water.
Because of the long dry spell, the Lazy River is not the only thing sluggish at Island Oasis this spring.
Workers have spent "a lot more time out here than we have in the past," he said.
But, he said, they're working hard to get the pools ready to open on Saturday, May 29.