RAVENNA — At 8 a.m. Sept. 24, Mary Pernicek set her doctor's buggy with red wheels out on her lawn for Junk Jaunt shoppers. She also set out two other buggies, four mule carts, old farm tools, kerosene lamps and more.
Not long after that, Ron and Shirley Schuller drove by. Seeing those kerosene lamps, they stopped. Ron, who retired in 2015 after a career in education, collects and fixes up kerosene lamps like some men purchase old cars.
The Schullers bought two lamps and were walking back to their pickup when they spotted that doctor's buggy parked on the lawn. They stopped and stared. They'd had an old buggy years ago, but they sold it.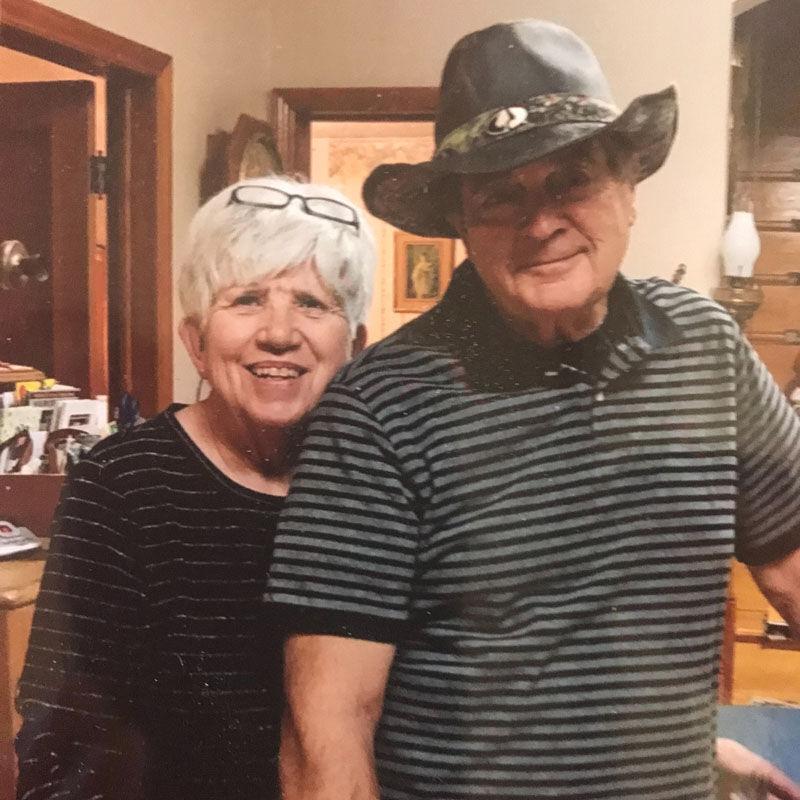 "Look at that," Shirley said to Ron. "Remember when Mary drove that around town?"
The Schullers turned around and headed toward the buggy. The Perniceks — Mary and her husband Jim — showed the Schullers the assets of that buggy, which was built more than a century ago.
"The lights on the buggy are kerosene, so Jim was showing Ron the lamps. Mary told us about all the fun they've had in the buggy," Shirley said.
"I looked at Ron and he looked at me," she said. "We said, 'It would be so much fun to drive it.'"
They didn't hesitate. They bought it.
Junk Jaunt joy
It's not certain who had more fun at the three-day, 300-mile round trip Junk Jaunt — the Perniceks, first-time sellers at the 18-year-old event — or their customers. For the Perniceks, selling their antique vehicles stirred long-buried memories.
Jim gave that doctor's buggy to Mary as an anniversary present years ago. It had been manufactured by Rock Island Plow Co., a company founded in 1855 as Buford & Tate in Rock Island, Ill.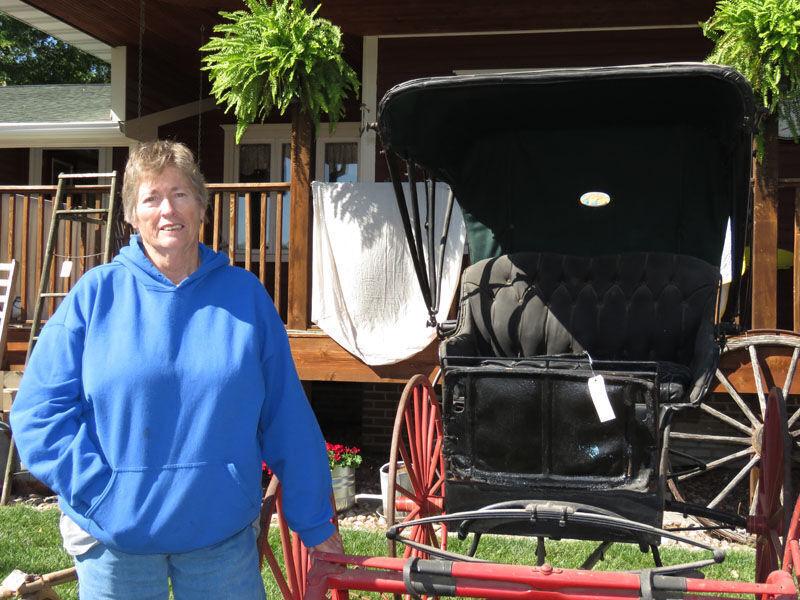 They drove to Gretna to buy it, put it inside a horse trailer and brought it home to Ravenna.
"I'd always wanted one of these. I had broken my ankle and couldn't ride a horse, so I wanted to drive it. I just thought it would be fun to drive," Mary said.
"It was all original, the wool lining, the cab, everything. We always stored it inside and turned the wheels every three months so they wouldn't get flat," she said. "I sold it because I couldn't drive it anymore, and I knew that if it just sits here, it's just going to deteriorate. I wanted to let somebody have it who will enjoy it."
Spring wagon
The Perniceks also were selling a two-seat spring wagon built between 1890 and 1910. Mary bought it from a woman in Hazard 20 years ago "just to have it. A lady wanted to get it out of her barn," she said.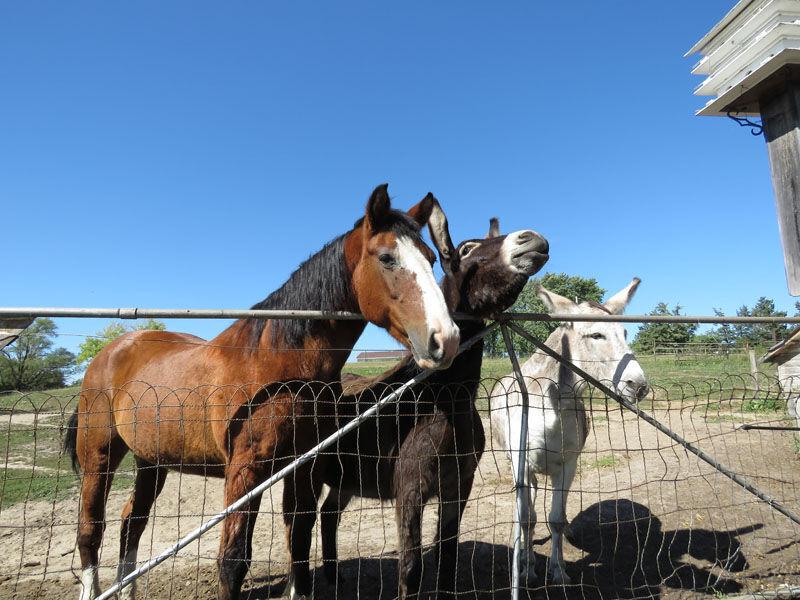 Mary bought lights for it. She attached skis in the winter so she could take it out in snow and ice. While Jim drove it now and then, Mary was the primary driver. It was pulled by her team of mules.
"It was relaxing. It wasn't like being in a car with the radio on. You were outside and you could visit. We didn't buy it to parade in. We brought it just to have it, like an old collector's car," she said.
Mary even drove her daughter to the senior prom in it in 2004. "She and her date met here at the house. We loaded up and took them over to the city auditorium where they had the prom," she said. "They were tickled. Everyone else had limousines."
Hobbes: a human?
Pernicek's mustang Hobbes pulled the spring wagon, too. Hobbes was born on a farm near Elm Creek, and when his mother died eight hours after his birth, Pernicek adopted him. She brought him home and bottle-fed him and broke him in by having him pull the spring wagon.
"He didn't know he was a horse. One day when we were remodeling the house and didn't have a complete kitchen, I came into the kitchen, and he came right in behind me," she said.
"My daughter would lie on a blanket and read him stories and he would lie beside her, just like a dog," she said.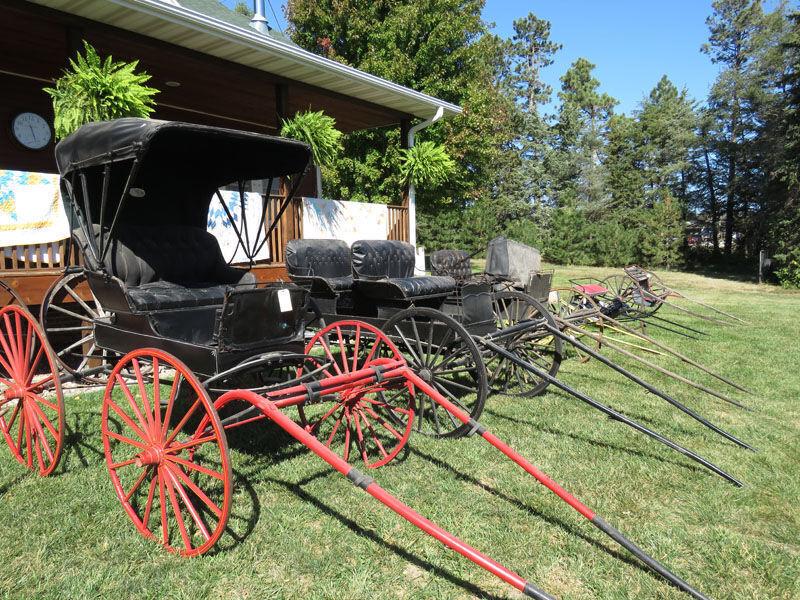 "We never broke him to ride. He enjoyed pulling the buggy. We'd ride the buggy through town, mostly west of town because there wasn't so much traffic out there," she said.
"We'd go maybe 10 miles out and back, around a section of town. We'd go around a section or the high school parking lot to turn him around. He was always good. He knew what to do."
Hobbes is 18 years old now and can no longer pull the spring wagon, so he spends his retirement in a back pasture with Mary's two donkeys, Ju-ju and Jolly.
Time to have fun
Slowed by health issues, Mary retired from her school bus job last November after 34 years of driving in Ravenna. "I hauled kids. I'd hauled their parents. It was so much fun," she said.
Mary called the Junk Jaunt fun, too. It was their first foray as vendors at the 18-year-old, 350-mile yard sale held in central Nebraska the last full weekend in September. "I had a city-wide garage sale earlier this year, but I was disappointed. People told me, 'Wait till the Junk Jaunt.' So I did," she said.
"We nearly sold everything. Knick-knacks and small things, it all sold. We sold a lot of years of accumulation. A few things like a big harness and older stuff didn't sell, so we put it back in the tack shed," she said.
The Perniceks also sold a mule team harness at the Junk Jaunt. The buyer came by Saturday morning with Bonnie and Clyde, his team of draft horses, so the harness could be fitted to them.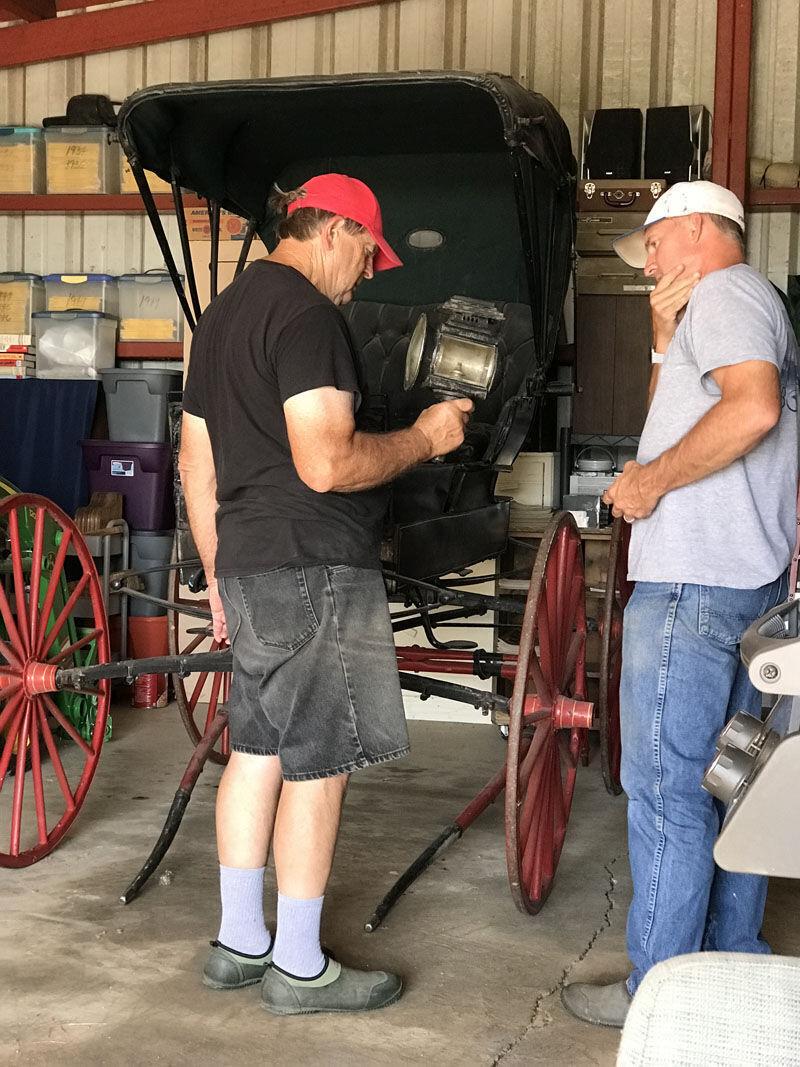 They did not sell the spring wagon or the four pony carts, but they have no regrets. "We had a lot of people from out of town. We had customers from as far away as Arizona and Colorado," Mary said.
As for the Schullers, they are thrilled with their doctor's buggy. Their son-in-law transported it from the Pernicek lawn to their farm five miles outside Ravenna. "We owned a buggy once and we wanted one again," Ron said. "We'll just use it as an investment."
Shirley Schuller, an educator who retired in 2019, said they'll use it for family pictures and leave it to their four grandchildren. "Did we need it? No. But we worked hard all our lives. Now it's just time to have fun," she said.