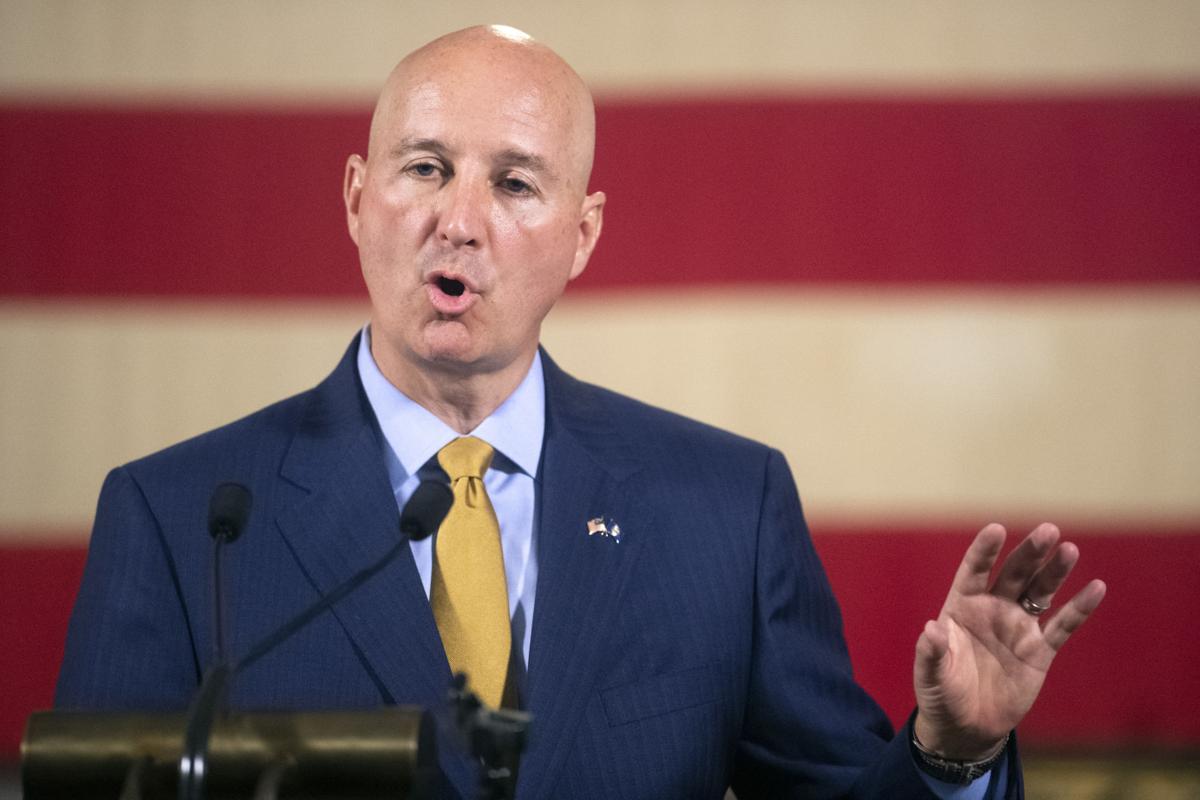 Gov. Pete Ricketts announced Wednesday that the state will open a hospital transfer center on Saturday to help mitigate the stress on hospital beds and staff in Nebraska caused by hospital overload fueled only in part by COVID-19 patients.
The Nebraska Department of Health and Human Services center will be able to "move patients around to provide beds" as needed, the governor said at a news briefing.
Delayed care patients account for much of the growing hospital overload, said Ricketts, who announced at last week's briefing that some elective surgeries would be temporarily suspended, following the lead of some of the state's larger health care systems.
As of Wednesday, Nebraska had 342 COVID-19 patients hospitalized, up 9% from the previous week.
Ricketts opened his briefing by urging Nebraskans to get vaccinated.
"The vaccine will help you generate antibodies to fight the virus," he said.
More than 1 million Nebraskans now are fully vaccinated, the governor said, representing 52.8% of all Nebraskans. Another 5.1% of the state's residents are partially vaccinated.
During the briefing, Ricketts vigorously repeated his opposition to mask mandates in schools and to the Douglas County Health Department's request last month to reinstate a mask mandate in Nebraska's largest county -- one that was denied by the state.
"I'm 100% against mask mandates," he said.
"Kids are no more at risk for coronavirus than ordinary flu," the governor said. "I believe it is a parental decision."
Though the number of pediatric COVID-19 cases in the state is small, health professionals have said the delta variant seems to be infecting children at a higher rate and is possibly making them sicker.
Dr. Gary Anthone, the state's chief medical officer, said Nebraskans should also be aware of the value of monoclonal antibody treatment, which may be available "if you're symptomatic and if your doctor decides there's a high risk (or) if you've been in close contact with someone with COVID-19."
"It's very, very effective therapy," Anthone said of the treatment, which, to date, has received emergency use authorization but not full approval from the FDA.
Treatment can be administered by infusion or subcutaneous injection, he said, adding that "it's most effective when given early."
These 10 charts show you vaccination and virus trends in our state and nation
COVID-19 case tracker by state
US counties, new cases by 7-day average
Coronavirus deaths by county
Coronavirus spread by state
COVID-19 testing, ranked state by state
Coronavirus spreads across the United States