After a bout with Hodgkin's lymphoma left the 220-pound man weighing in at 110, Tim Hicks' outlook on life changed. 
The Nashville native and his wife, Jamie, were suddenly less interested in their "forever home," which they built themselves only four years ago.
Instead, in December, they sold the house in Tennessee and set out on a road trip that this week led to Lincoln, where Tim and Jamie are camp stewards at the National High School Finals Rodeo, watching over a pseudo city of thousands at the Lancaster Event Center. 
"My wife worked 27 hours straight," Tim Hicks said, describing the process of checking in 1,188 RVs and trailers and guiding contestants and families who had driven from every corner of the country to their new neighborhood last weekend.
"I worked 20," Hicks, 56, added. "She's a trooper. She's got me beat."
The endless rows of elaborate RVs and modest trailers are divided into three campgrounds surrounding the arena where rodeo performances take place twice daily. The largest campground, bordering Stevens Creek, was built specifically for the national event — an addition of 900 camping spots needed to house the rodeo's 1,592 competitors from 42 states, as well as Canada, Mexico and Australia.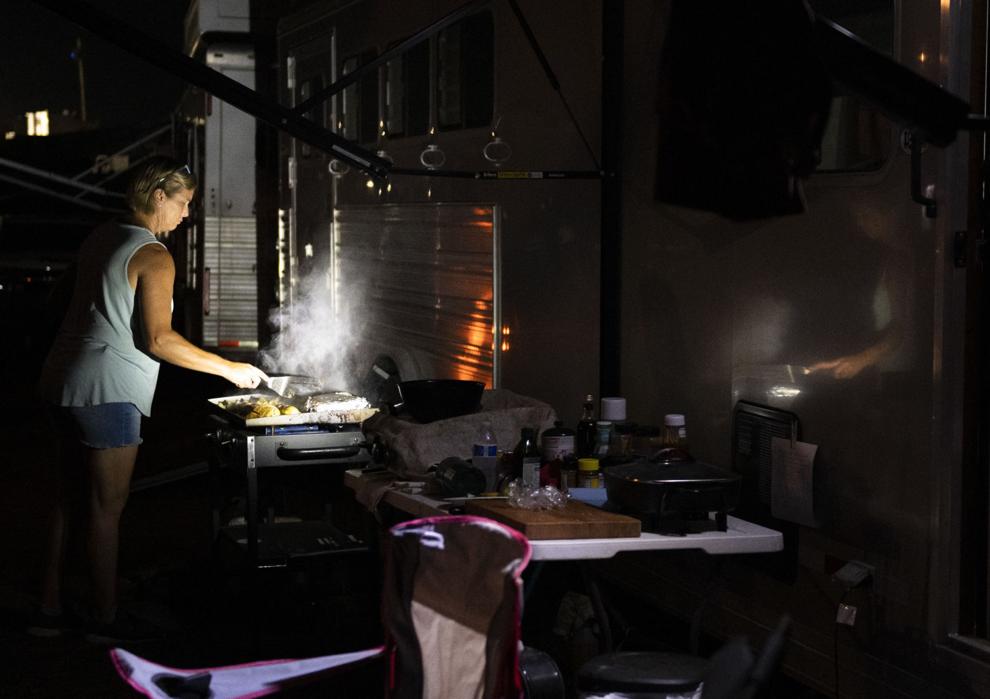 At times, the check-in process was a "headache for campers and a headache for us," said Erin Witte, an intern at the event center who since March has helped to manage campground logistics. 
Witte, a University of Nebraska-Lincoln student studying hospitality, worked to coordinate campground assignments by state, voltage requirements and neighbor preferences.
In the end, she handled what amounts to urban planning for a small city. 
"The campground's the town of York," she said. 
In this pseudo city, however, room to roam is scant and the day starts early for most residents.
Layla Overly, a Florida cowgirl competing in pole bending, got out of bed at 3:30 a.m. Tuesday to be at the horse stalls by 5. Between competing, supporting teammates and taking care of horses, downtime, she said, is not on the schedule this week. 
By 8 a.m. she was back at her family's RV in the eastern portion of the campground, frying bacon for breakfast that offered a temporary respite from lingering scents. Country music blared from the rodeo's grandstand hundreds of yards away. 
Most campers seem to keep to themselves, socializing with their own families and those like them who traveled from faraway places. Overly hangs out with others Floridians. Isabelle Wright and Margaret Rogers, competitors from Kentucky, attend nightly potlucks with other contestants and families from the Bluegrass State.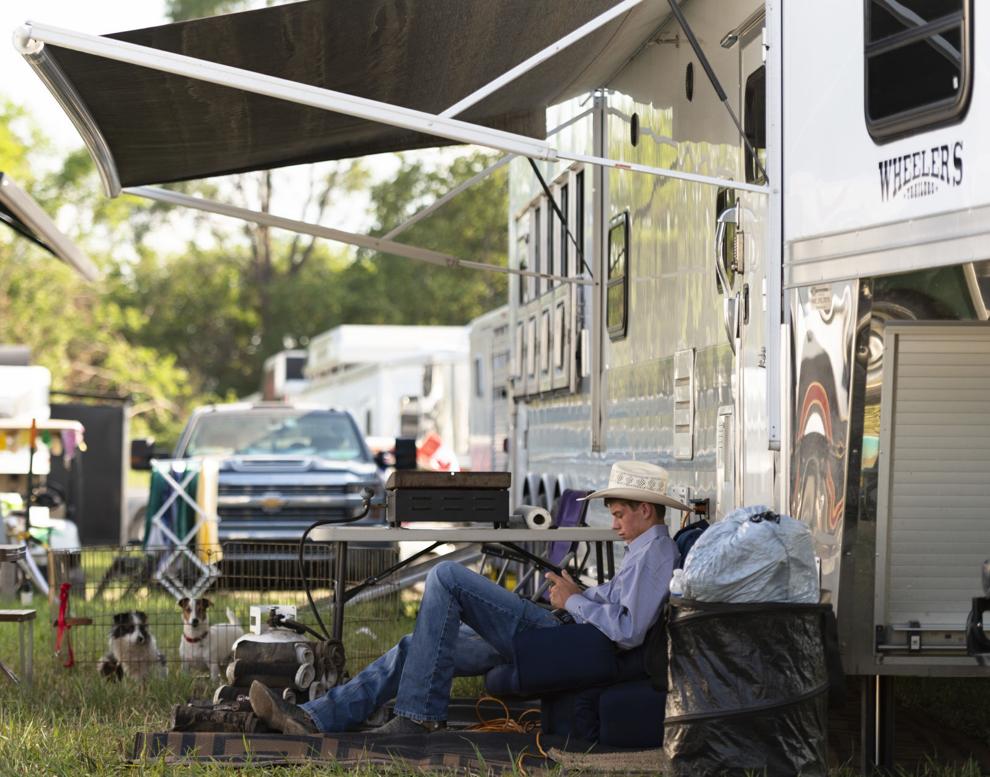 The camp stewards serve as a "catch-all," Tim Hicks said, working as greeters, ice salesmen and a concierge service. But when they turn in for the night, alert only to knocks on the door, undoubtedly some horseplay ensues. 
Wright, competing this week in goat tying, said she's seen the storied golf cart races that occasionally take place after dark.
It's this kind of high jinks that Tim and Jamie Hicks have to battle against, correcting competitors who already know better, playing the role of town cop. 
"Kids will want to ride 14 people on a four-person golf cart," Tim Hicks said. "'Don't do that.' Please keep all four tires of the golf cart on the ground."