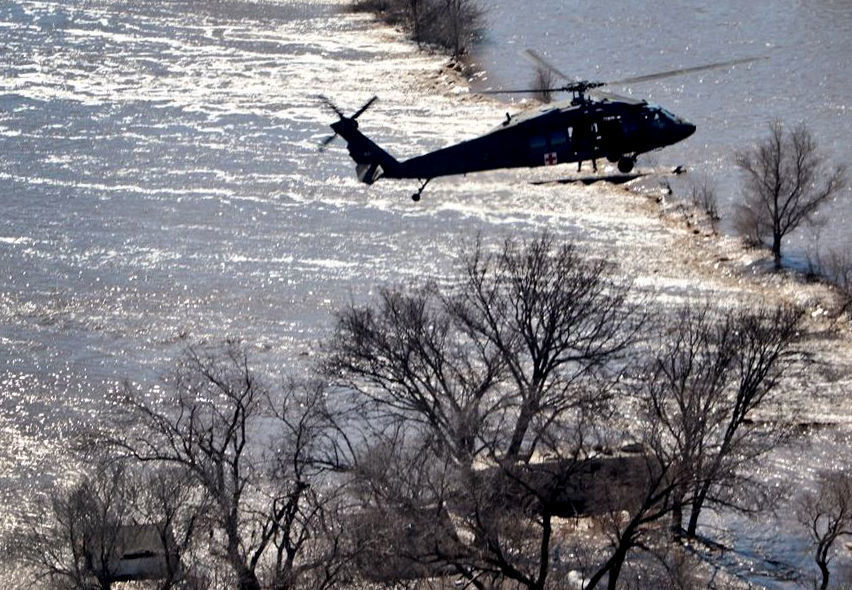 Historic floodwaters that have devastated so much of Nebraska rose quickly, within mere hours in some areas.
But one unstoppable force swelled at perhaps an even faster rate: the state's people. They responded to heartbreaking images of widespread damage and people in need by offering anything and everything they had to help their fellow Nebraskans through this trying time.
As of this writing, three lives have been lost. Countless more lives and livelihoods have been affected by the floodwaters that have ravaged eastern and central Nebraska – not to mention the blizzard that battered the Panhandle at the same time – demolishing homes, roads and farms. Sixty-five of Nebraska's 93 counties have declared an emergency, with a federal designation expected soon.
Yes, Mother Nature's wrath is deadly and destructive. But even it can't stop Nebraskans from aiding one another during this crisis.
Sure, it's a hashtag now, #NebraskaStrong. But the generosity extends far beyond social media.
Scores of schools, churches and social organizations across the state — joined Tuesday by Nebraska Athletics — are raising funds and donations to help victims of these conditions. People far from this disaster offered everything from their time filling sandbags to private airplanes that could ferry people to and from cities such as Fremont, cut off from roads by floodwaters.
In Peru, people drove bottled water to those unable to get it, after its water supply was compromised. In Dannebrog, strangers showed up to help residents dig out of the mud and muck. In Pierce, sheriff's deputies spirited a boat to aid a car swept off a road by raging waters.
The Lincoln-based Urban Search and Rescue Nebraska Task Force 1, generally deployed to hurricane zones, this time aided people far closer to home. "It's especially special where we can go help our communities, our friends," Team Leader Dan Ripley said.
Most of all, remember the name James Wilke.
The Columbus-area farmer volunteered to ride in on his tractor to help rescue a stranded motorist, only to lose his life on a rescue mission while trying to save a stranger, as the bridge he was on collapsed into swollen Shell Creek. Family and friends say his final act embodied the giving type of person he was – the same type of person so many Nebraska communities have seen arrive in force over the last few days.
No doubt more stories of heroism and altruism will emerge as the waters continue to recede, as the focus of efforts turn more to relief and recovery than rescue on the long road ahead.
Regardless of how much of Nebraska is underwater, nothing can take that spirit from us. We will grieve, but we will rebuild – with the help of neighbor and stranger alike – and we will emerge on the other end. That exemplifies the true character of #NebraskaStrong.
Catch the latest in Opinion
Get opinion pieces, letters and editorials sent directly to your inbox weekly!