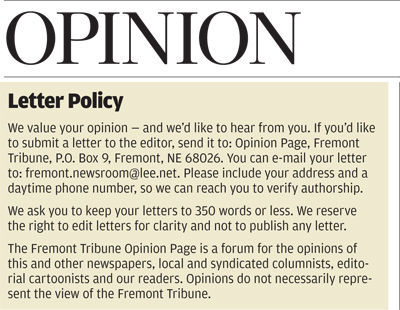 I want to thank the Mayor, City Council representatives and City Finance Director that were in attendance at the Aug. 3rd Special Meeting. They all gave up their time with their families in order to listen to the concerns of the citizens of Fremont as to how their tax dollars are budgeted to be spent in the next two years.
It was very enlightening to be able to listen to City Council discussion of concerns brought forward by citizens. As many know, at regular City Council meetings, this doesn't happen. An adjusted budget plan was put forth by Glen Ellis to accomplish a lot of improvements without adding any additional taxes to citizens.
One problem is runaway city spending in some areas and disregard for needs in others is public apathy and lack of information. We elected city council representatives and we should go through them with our concerns, however, as many know from past experience, this accomplished very little to deter any change in course from past councils and city administration spending.
Public safety and respect for our fire and police departments seems to have been ignored by past councils and some current administration personnel. The city hasn't hired any additional firemen since 1969 while the city area of coverage and increase in population has exploded in growth just within the past 10 years alone. Public, do you feel safer knowing the same number of firemen are trying to protect you now as 50 yrs. ago? I understand there is also a great need for facility maintenance & update in both depts.
Citizens, please attend the next two meetings planned for you to voice your concerns politely. Meetings schedule: 6:00 PM Aug. 13th and 6:30 PM Aug. 17th. Citizens, please attend and let our council & staff know we do care about our city! Insufficient fire & police personnel and crumbling city streets aren't safe for anyone.
I do have to give a very loud thank you for the job our police and fire personnel have done to keep us safe !!!!