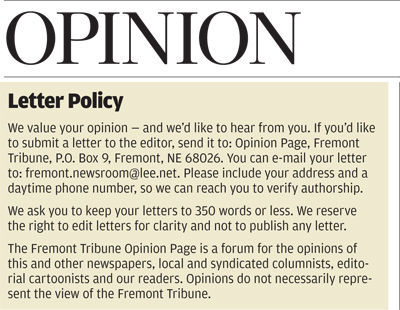 A recent letter to the editor attempted to "expose a lack of fiscal responsibility" by the City Administrator in setting the price for Tech Park lots. That letter indicated 80 lots, with the streets, sewer, gas and electricity, etc. installed, cost the taxpayers about $4,000,000, or $50,000 each; they're being sold for $20,000. As a taxpayer and a property owner, this makes no sense to me. Selling city-owned lots for less than ½ what they cost is not the only example of poor judgement/wasteful spending. The recent handling of the DCHS mess is another.
When the DCHS contract got terminated, the city sought a bid for animal control and sheltering services. However, the City Administrator apparently sent the $227,000 bid back, requiring that animal control be separated out. It came back, $190,000 for sheltering; $37,000 for animal control.
Why the split—the administrator apparently thought the city could do animal control cheaper by using its police force. The problem—three Community Service Officers are needed for 24-hour coverage at a cost of about $35,000 each; w/benefits $49,000 each or $147,000 total. These CSO's are supposed to split their duties between animal control and other police work 1/3 – 2/3, putting the animal control cost at $49,000 versus $37,000. Adding to this overspending, the officers require a specially equipped vehicle, other equipment, and special animal control training. This stuff could easily add up to another $50,000-$75,000. This would mean the city's animal control cost would be pushed to over $100,000 versus the $37,000 bid.
This wasteful spending doesn't make any sense. I would prefer this excess spending be put to better use by raising police officer salaries, so the department could fill "real Police" vacancies and retain officers who are underpaid and overworked.
So I ask this, who's minding the taxpayers' money and watching out for our safety? It appears that the City Administrator, and some elected officials, need math help or spending training. If taxpayers weren't routinely treated like cash-cows, and funds weren't being repeatedly wasted, perhaps the city could fix its police station without issuing more bonds.