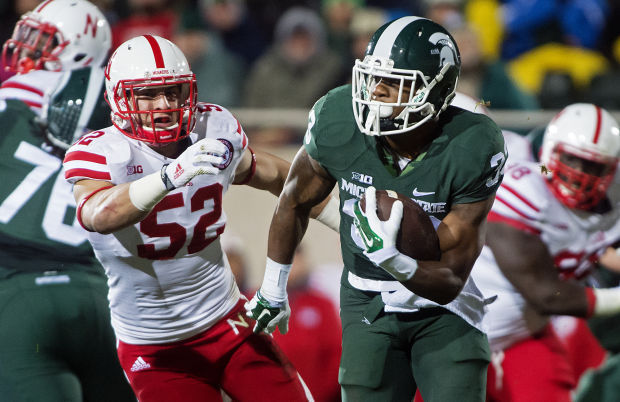 He tapped the reset button back in December. After two seasons that at times probably felt as much roller-coaster ride as football, Josh Banderas was starting a new game.
As the Huskers prepared for a bowl game amid a coaching transition, it was time to move some of the pressure aside. "It was just time to play and go have fun," Banderas said.
In the Holiday Bowl, knowing he'd play all night with Nebraska down to just three available scholarship linebackers, Banderas got back to playing the way he felt he could, piling up a team-high 14 tackles.
"I think it helped me gain a lot more confidence in my play, to show myself I can do it, and just kind of get that back under my feet," the linebacker said.
He came to the program less than two years ago as a highly touted in-state prospect, the son of a former Husker, jumping into the pool so quick that, yep, that was Banderas out there at middle linebacker during Wyoming's last-minute drive of a way-too-close season opener in 2013.
Banderas had been on campus only since the summer. Now he was quarterbacking a complex defense in a three-point game the first week of the season. Ready for this? Not always.
"It was just being on that stage, that young, with that kind of defense that was expected to be that perfect every time," Banderas said Monday, six practices into a spring that has featured him as the team's top middle linebacker. "This is another chance to be faster and not think as much and just kind of go back to the original roots and just play football."
New Husker linebackers coach Trent Bray watched the film of Banderas last season and says he saw a player hesitant to just go and make a play.
Stop worrying about making mistakes so much out there, Bray told Banderas. You make one, we'll correct it. But if you're going to make it, make it playing fast.
The word "react" gets brought up a lot by these Husker defensive coaches. "See it and go, instead of, 'See it, think about it, then go,'" Banderas said.
So far, so good for Banderas. Bray praised the junior from Lincoln Southwest for his strong start to the spring.
Defensive coordinator Mark Banker echoed the thought.
"I knew Bando had the ability in watching him play, but really, he's (had) good leadership and he's made several plays for us out here," Banker said.
This comes after an up-and-down sophomore campaign in which Banderas saw his playing time dwindle as the games became more serious.
While he ended the 2014 season seventh on the team in tackles (50), bolstered by that big bowl-game finish, he didn't start any of the final six regular-season games, losing out on snaps to outgoing senior Trevor Roach.
With Roach and Zaire Anderson now gone, and only five healthy scholarship linebackers practicing this spring, the Huskers are undeniably thin at the position. It's fair to put a sizable question mark next to it.
Yet Banderas is confident it can be a pretty salty group by the time the fall rolls around.
"As soon as (David) Santos gets back, I don't see us being too much different than we were last year," he said. "Obviously we lose Roach and Zaire. But I don't see us taking too much of a hit if not growing a bit because we've had the experience."
Two seasons ago, Banderas was the one asking for tips from elders. He now finds himself giving them out when one of the freshmen like Dedrick Young is looking for help.
"I've been in the game, I've seen little things, I can kind of throw my two cents in and let them grow as players," Banderas said.
And instead of competing against Michael Rose-Ivey for reps at the middle linebacker spot as they've done in the past, they're now out on the field together at the same time.
Rose-Ivey and Marcus Newby have been working on the outside of Banderas with the top-unit defense.
"We've always been good friends, we always talk on and off the field," Banderas said of Rose-Ivey. "It's definitely nice to be on the field with him now and get to play with him and work with him instead of taking turns."
Spring is hope season. A chance to move on from whatever ills came before. Only the fall sorts all that out for sure.