alert
featured
breaking
spotlight
2018 Football Preview
The 2018 Fremont Tribune Football Preview.
Tigers plan to build on 2017 success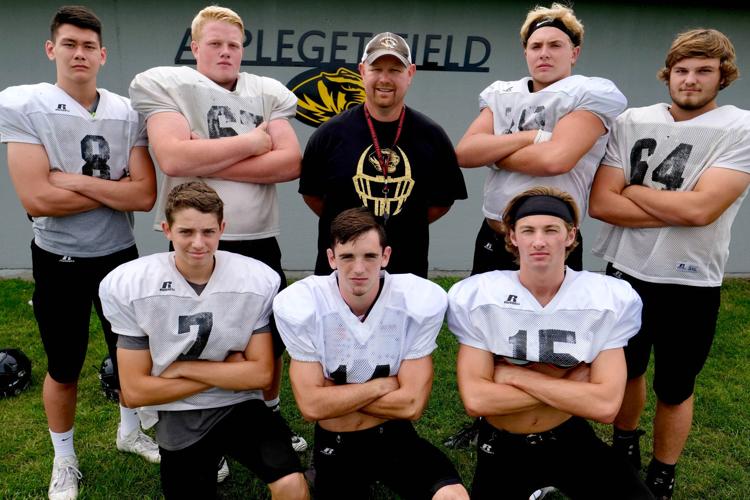 Fremont High School ended a nine-year postseason drought last fall by qualifying for the Class A state playoffs.
Now the Tigers are focused on making a return trip to the postseason party.
"That was a great boost for the program," Fremont coach Seth McClain said. "It was big to get there and do the things we did, but like I told the guys this year is their time. Do they want to be one-hit wonders or are they going to be the real thing? To get back there it has to be a day-by-day deal. I think we have the talent to do it, but it will take great effort on the players' part and also on our parts as coaches."
The Tigers finished 5-5, including an opening-round playoff loss to eventual Class A champion Omaha North.
Gone from that team are Fremont Tribune All-Area picks Riley Harms (quarterback), Jake Sellon (receiver) and Bergan Hofer (offensive line). Harms (University of Nebraska at Kearney) and Hofer (Washburn) are playing college football while Sellon is a pole vaulter at the University of Nebraska.
"I'm sure with those guys gone some people in Class A will think Fremont will be down," McClain said. "But we've got guys that we can plug in and get after it. We lost some really good players, but we also have a lot of guys with playing experience. I think we also have young kids that have a lot of talent."
McClain believes the strength of the Tigers may be on the interior lines.
"We have large and physical guys that love to play football," he said. "They love to mix it up. We have some other places that are coming along that could be right up there with those guys, but right now our offensive and defensive lines are the strengths for us."
Spencer Fitz, a three-year starter, will be at left tackle.
"He is a really good offensive lineman," McClain said. "As good as he is on offense, he is just as good if not better on defense. We just have to find a spot to give him a break now and then."
Juniors Carter Richmond (6-1, 260) and Keegan Menning (6-4, 270) will be the guards while while Jackson Ritchhart (6-4, 295) will be at center.
"He started on defense last year and he'll be our rock in the middle," McClain said.
Junior Kade Richardson (6-4, 290) will be at right tackle. He is a returning starter.
"Kade is very physical and is a road grader out there," McClain said. 
Sophomore Boone Gray (6-2, 250) was slated to be the right tackle, but he suffered a fractured ankle a day before the annual sports drink scrimmage and is lost for the season. 
Seniors Evan Glosser and Jared Fisher will provide depth on the line. 
Senior Brody Sintek, a backup to Harms the past two years, moves into the starting role at quarterback.
"We've told him he just has to be the best player he can be and don't try to be something else," McClain said "He had a great summer as a baseball pitcher (for the First State Bank Seniors) and football-wise he has picked up the offense. We've tweaked things here and there to fit his strengths, but he has done a great job and we're excited to see what he can do this year."
Three sophomores -- Jack Cooper, Aidan Queen and Colt Inselman -- are in the running as Sintek's backup.
The backfield returns senior Cody Carlson (5-7, 140), who rushed for 694 yards and four touchdowns as a junior. Also back is senior Dylan Kor (6-2, 200), who rushed for 239 yards and five scores. Kor suffered a knee injury in June, but is expected to be ready for the opener.
Logan Mueller, a senior, will also help the Tigers' running game.
"Logan was a quarterback, but he is a strong runner and we thought he could help us more at running back than quarterback," McClain said. "Cody does some things well, but he isn't the type you give the ball to 30 times a game. Mueller gives us more depth there."
Sellon and Nate Grimm, who also graduated in May, combined for 100 catches last fall. Senior Dillon Dix missed last year due to a broken ankle, but is ready to lead the receivers.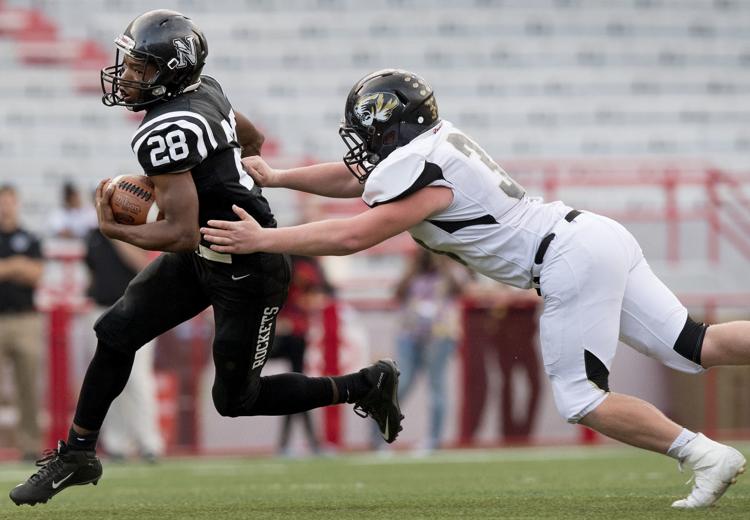 "Dillon is smooth," McClain said. "He is fast and has phenomenal hands. He is this year's version of Jake. He knows every route that everyone is supposed to be doing every play."
Senior Austin Everitt and juniors Spencer Sorensen and Jon Kment will also figure into the passing game.
The Tigers have three veteran tight ends. Junior Carter Newill started last season. Senior Tate Moeller started as a sophomore, but missed last year due to injuries. Senior Jake Heineman also has experience.
"We are running some special sets with those guys. Hopefully we'll get some mismatches and it will give us some advantages in the run game," McClain said. "They are fun to work with."
Defensive coordinator Lee Jennings will utilize a 4-2-5 defense, McClain said.
"It is very similar to what we've been doing," McClain said. "Some of the terminology is different."
Senior Jordon Woehrer (6-8, 335) joins Richhart at defensive tackle. Richardson, Menning, Fisher, Glosser and senior Trevin Escamilla could also see time at DT.
Heineman returns at defensive end.
"He has long arms and is hard to block," McClain said. "He'll do anything to get to the football and he plays with a mean streak on defense."
Fitz will be at the other end, but Glosser or Escamilla could also see action.
At the Rover spot, which McClain said is primarily outside linebacker, is Kor. He earned All-Area honors while recording 76 total stops as a junior. He will be backed up by Mueller.
Gabe Schindler will be at Joker, which is a combination of outside linebacker and safety. Senior Hunter Wallace, junior Mitchell Baxa and sophomore Connor Stone are also pushing for playing time. Junior Colton McCurdy returns at Sam linebacker where he recorded 71 tackles in 2017.
"He is like a demolition derby car out there," McClain said. "He just likes to go and hit things."
Ty Sookram, a senior, will be at the Will backer.
"Ty has worked his tail off and is looking good for us at that spot," the head coach said.
Moeller has the versatility to play Rover, Will or Sam. Newill will compete at Sam or Will.
Carlson and Everitt are the cornerbacks, but Kment will see significant minutes. Dix will be at free safety where he will be backed up by Cooper.
Senior Nate Dillon will handle the punting and kicking chores. He attended various camps during the summer.
"He has a strong leg," McClain said. "He made a 53-yard field goal at one camp and then 56 yards at another."
The return specialists include Everitt, Carlson and sophomore Dawson Glause. The latter may also help the Tigers at receiver and in the secondary.
"The kid is electric," McClain said. "He has wheels we haven't seen here in a while."
McClain believes the potential is there for the Tigers to have another solid season.
"We have to keep improving," he said. "If we do that and stay healthy with the right attitude, we have a chance to be special."
Fremont opens its season at 7 Friday night against Lincoln Northeast at Beechner Field. 
Heineman: Tigers want to host playoff game
Jake Heineman doesn't want the Fremont High School football program to regress from its success of 2017.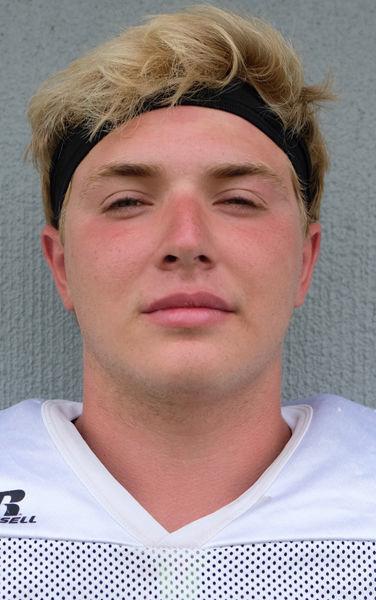 The Tigers improved their regular-season record from 1-8 in 2016 to 5-4 and a Class A state playoff berth last year. A group of 2017-18 seniors that included quarterback Riley Harms, offensive lineman Bergan Hofer and receiver/defensive back Jake Sellon, helped lead the turnaround.
"We're changing the culture around here," said Heineman, a defensive end/tight end for the Tigers. "It helps that we had a great senior class last year that motivated us. We're trying to do that this year, too."
The 2018-19 senior class that includes players like running back/linebacker Dylan Kor, running back Cody Carlson, defensive lineman Jackson Ritchhart and lineman Spencer Fitz wants to keep FHS heading in the right direction.
"We've actually talked a lot about goals already," Heineman said. "We want to work our hardest so we can host a playoff game this year. Fremont hasn't done that in a lot of years so that would be pretty special."
The 6-foot-4, 230-pound Heineman had 31 solo tackles and 20 assists as a starter at defensive end in 2017.
"I think I took a pretty big step from when I was as a sophomore, both physically and mentally," he said. "Making the playoffs was huge and I thought I had a good season last year. I hope do even better this year."
Heineman recalls his first start for the Tigers as a sophomore. Fremont suffered a 47-7 road loss to Kearney.
"That was an eye opener for me," he said. "A lot of the seniors this year were starters on that team, too. We've all grown up playing football together."
The 2018 schedule doesn't include the Bearcats or perennial power Omaha Creighton Prep, but Heineman said the Tigers will still face formidable opponents.
"We've had to play some of the powerhouses in Class A, but this year it is a little more favorable," he said. "Don't get me wrong, it is still Class A football ... hopefully we can compete with the likes of (Omaha) Burke and Millard North. I think we can."
Heineman already has offers from Washburn and Morningside to play football in college. He is hopeful he will generate more recruiting interest as the season unfolds.
"Hopefully during my senior year I'll impress more college coaches and I'll have more to choose from, but Washburn and Morningside are both great colleges and football programs," he said.
Heineman comes from an athletic family. His father, Paul, helped Fremont Bergan win the Class C-1 state championship in basketball in 1987 before competing at Midland University in basketball and baseball. Jake's sister, Allison, was a multi-sport athlete for the Tigers and graduated in 2016.
"My dad might not have the football background, but he has always been willing to take me to camps and workouts," Heineman said. "I've got a big support system with my dad, mom and sister."
Heineman hopes the Tigers give his family a lot to cheer about this fall.
"As a team we're really excited about this season," he said. "We hope we can do even better than we did last year and get a couple more wins."
Grandfather sets example for Ritchhart
Phillip Griffey of Fremont has served as a role model for his grandson, Jackson Ritchhart.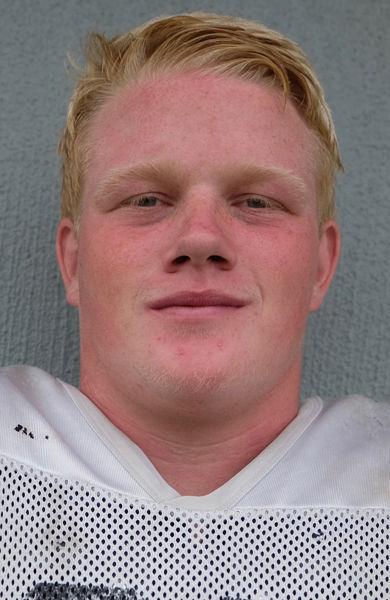 Griffey, a truck driver, has demonstrated to his grandson, who starts at center and defensive tackle for the Fremont High School football team, the value of a strong work ethic.
"My grandpa is definitely someone I look up to," the 6-foot-4, 295-pound Ritchhart said. "I don't get to see him much because of his driving, but it is always good to talk with him when he is home. He has definitely been inspiring to me. Each morning you wake up, then you work hard at what you do."
Ritchhart has used that work ethic in his preparation for the 2018 season. He is part of a returning defensive group that includes Jake Heineman and Spencer Fitz at ends, Jordon Woehrer at tackle and Dylan Kor at linebacker.
"I thought our defense was good last year and I think we'll only get better this year," he said. "We have a lot of returning guys, including having our whole line back. We have fast corners so I think it will go well for us."
Fremont coach Seth McClain said Ritchhart has done a good job preparing for his final prep season. 
"Jackson become really good leader," he said. "He gets on guys if they need it, but he has been pretty good with everyone. On the offensive line, you need a guy who gets them organized and he does that at center."
Ritchhart said the Tigers have some solid depth on the offensive and defensive lines.
"We still have a few guys that are playing both ways, but our depth is pretty good," he said. "It is moving in the right direction."
Ritchhart was impressed with the development of several underclassmen, including Boone Gray. The sophomore was scheduled to start on the offensive line before breaking his ankle earlier this month.
"We've got seniors that are competing for spots because they know the junior or sophomore right behind them is going to work their butt off, too," he said. "A guy like Boone has really stepped up this summer and gotten a lot stronger."
Ritchhart has drawn the attention of college recruiters. He already has a football offer from Southwest Minnesota State.
"There are a couple of other schools in Minnesota -- that is where I want to end up -- are waiting for my senior film," Ritchhart said. "Hopefully after the season something will work out for me."
Ritchhart knows a strong senior year will only help him in his quest to get more scholarship offers.
"I definitely want to play college football. It will just come down to how my senior season goes," Ritchhart said. "I want to play at the highest level possible."
Ritchhart, who competes in club hockey during the winter and track in the spring, said his flexibility and strength have improved during the offseason. He is focused on helping the Tigers return to the Class A state playoffs.
"We'd like to host a first-round game this year," he said. "I think last year's senior class was one of the best around and that is why we ended up in the playoffs. The seniors this year have kind of followed what that group did for us. Hopefully we can lead the way (in 2018) and help the younger guys, too."
The Tigers open their season Aug. 24 against Lincoln Northeast.
"We're just going week by week," Ritchhart said. "We're focusing on the Northeast game and we'll go from there. I think, and some of the other seniors think, we could 4-0 in the first four games. The Northeast game is important so we can get off to a good start."
Dix eager to get back on the playing field
After spending the 2017 season as a spectator, Dillon Dix of Fremont High School can't wait for the 2018 campaign to begin.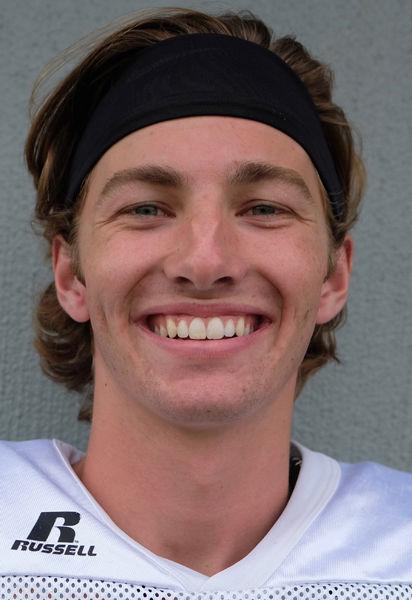 The Tigers were counting on Dix to be a key contributor last fall, but his junior season ended before it started.
Fremont was participating in a 7-on-7 tournament in Kansas City in June of 2017 when misfortune struck.
"It was our first game and we were about 10 minutes into it," Dix said. "Someone just landed on my leg and I broke my ankle."
The initial prognosis at the emergency room in Kansas City was that surgery wouldn't be needed. It was discovered later that Dix would have to undergo an operation on the ankle.
"We were hoping in the beginning that I would be good to go by the first couple of weeks of August, but it didn't work out that way," Dix said.
With a veteran quarterback in Riley Harms leading the offense, the Tigers eventually finished 5-5 on their way to a Class A state playoff berth. Dix suited up the final two games of the season, but didn't play. Missing last year has only made him more determined for this fall.
"I was pretty excited for my junior season because we had Riley and (receiver) Jake Sellon and guys like that," Dix said. "I can't even explain how pumped I am for this season. I can't wait for the first game since I haven't played since my sophomore year."
Dix healed up in time to be a starter for Coach Mark Williams' basketball team. He also started in baseball for Fremont Bergan and the First State Bank Seniors.
"I love all of the sports I play, but I think that baseball is my favorite," Dix said. "That is my sport."
Dix would like to play collegiate baseball, but his top priority these days is helping the Tigers to a successful football season.
Harms is playing football now for the University of Nebraska at Kearney while Sellon is pole vaulting for the Nebraska track team in Lincoln. The offense will have a different look, but Dix is confident the Tigers will have success.
"We have some big shoes to fill, but Brody Sintek will be our guy at quarterback," he said. "I'm pretty excited about that. I know he can step up into that role for us. Our defense is what teams will have a lot of trouble with because we have a lot of experience back."
Dix is expected to help the Tigers on both sides of the ball. He is part of a receivers' group that includes fellow senior Austin Everitt and juniors Jon Kment and Spencer Sorensen. On defense, he has experience as a cornerback, but is expected to play safety.
That defense includes veterans like Jake Heineman at end, tackles Jackson Ritchhart and Jordon Woehrer and linebackers Dylan Kor, Colton McCurdy and Carter Newill.
While Dix enjoys being a receiver, his favorite spot is on defense.
"I like defense and being a little nasty," he said.
Dix said he was pleased with the Tigers' summer commitment to 7-on-7 and also the strength and conditioning workouts. He made sure he did his part in leading younger teammates.
"If you work hard, people will follow you," he said. "If you are a senior and not working very hard, then people think they don't have to and it goes downhill for everyone from there. I just think the summer went really well for us."
Being a three-sport athlete, especially at the Class A level, isn't easy, but Dix makes it work with time management.
"Sometimes you have to choose between two sports and coaches aren't going to like that, but generally they understand," he said. "You can't be everywhere at once. ... I love all the sports that I play so it is definitely worth it."
Knights set sights on making postseason
After missing the postseason the past two years, the Fremont Bergan football team is poised to get back to the Class C-2 state playoffs.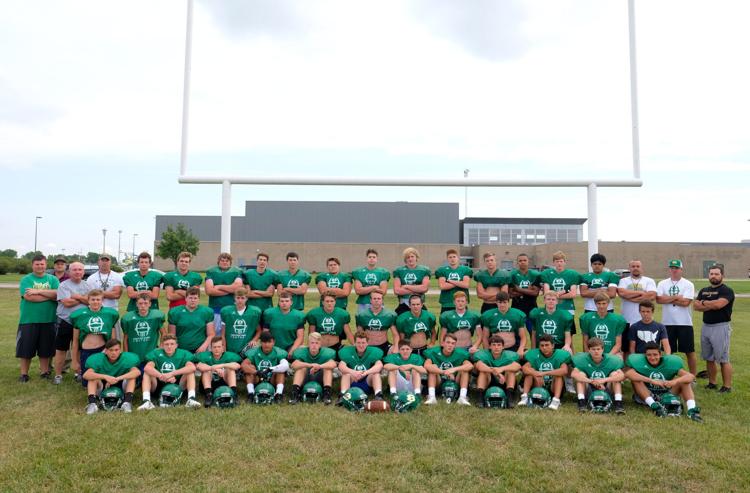 The Knights have posted back-to-back 5-4 seasons. Last year the Knights were hindered by key injuries, including to starting quarterback Nick Burger and offensive/defensive lineman Caleb Villwok.
"The players know the expectation in our school is to make the playoffs," Bergan coach Seth Mruz said. "Everyone works toward that goal and it doesn't get old. Now that it hasn't happened the past two years, it is something you really want and you thirst for it more."
Even with the injuries to Burger, Villwok and others, the Knights were painfully close to making the postseason.
"If we beat BRLD (Bancroft-Rosalie/Lyons-Decatur), we make the playoffs," Mruz said, referring to a 20-14 setback on Oct. 13. "We beat Logan View (12-7 on Sept. 29) and they made it. It is just the way it goes. I know the kids are working toward getting to the playoffs. It is on their minds and it should be. I don't want to be a part of a program that is complacent on making it just once in a while."
Burger graduated in May, but backup Jake Ridder returns.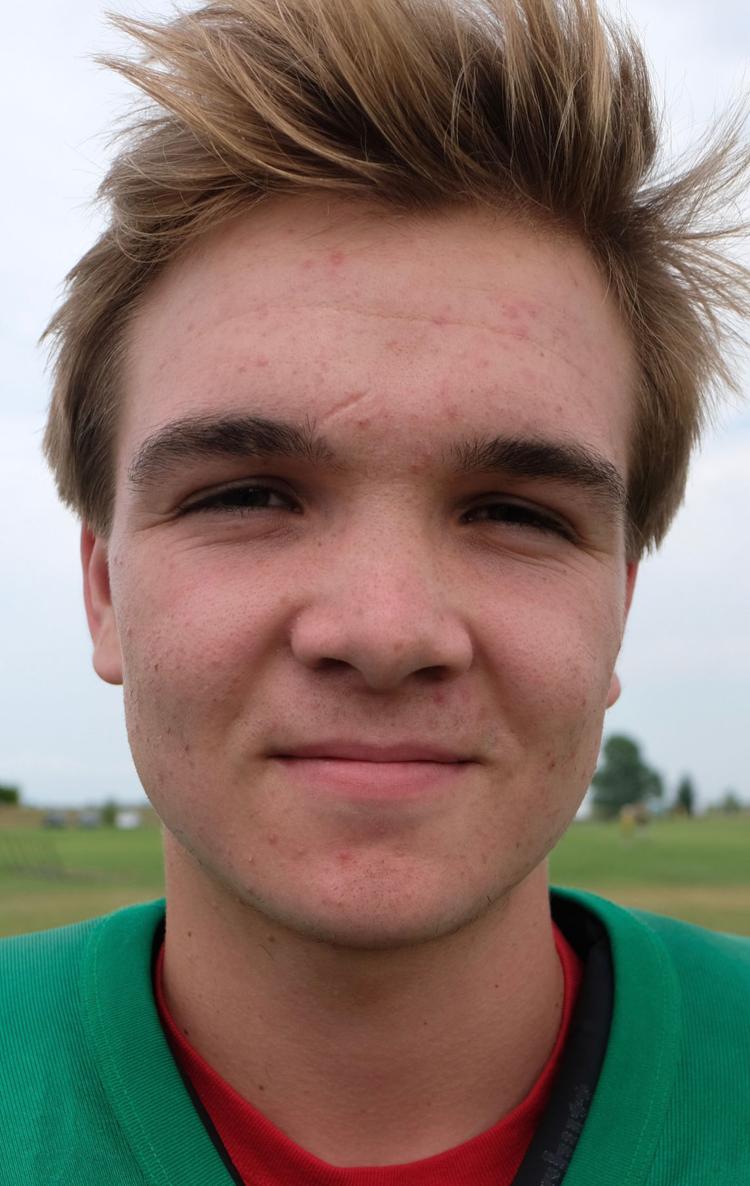 "We were super disappointed for Nick and his teammates after the injury last year," Mruz said. "But the benefit was that Jake got more playing time and experience."
The 6-foot-1, 175-pound Ridder is more poised behind center this year.
"I think he feels more comfortable in making decisions and is quicker in making those decisions," Mruz said. "The big thing with Jake is just staying up and not getting down if something negative happens. His talent can take him far."
Freshman Koa McIntyre and senior Jacob Johnson could also see action at quarterback.
'Jake has separated himself pretty well, but Koa and Jacob are both talented," Mruz said. "We're using Jacob at receiver and Koa might see time at receiver as well."
Ethan Villwok returns at running back. The 5-11, 185-pounder rushed for 488 yards and six touchdowns last fall.
"We'll use multiple people back there, but he'll be one of the main dudes," Mruz said. "He is a strong kid and squats over 400 pounds. He isn't afraid of contact and is a physical player. We want to take advantage of his athletic ability and get him in space. I think he is ready for a pretty good year."
Other running back candidates include sophomore Jacob Cook and freshmen Alex Painter and Chris Pinales.
The Bergan junior high team went undefeated last year and may have players that could help at the varsity level this year.
"Those kids are definitely talented and skilled," Mruz said. "But there is a difference between playing against other 14-year-olds and then moving up and playing 17- or 18-year-olds. It is a challenge, but they'll take it head on. They'll face some bumps and lumps along the way, but they'll adjust and get over it."
Caleb Villwok, at tackle, will be one of the leaders of the offensive line.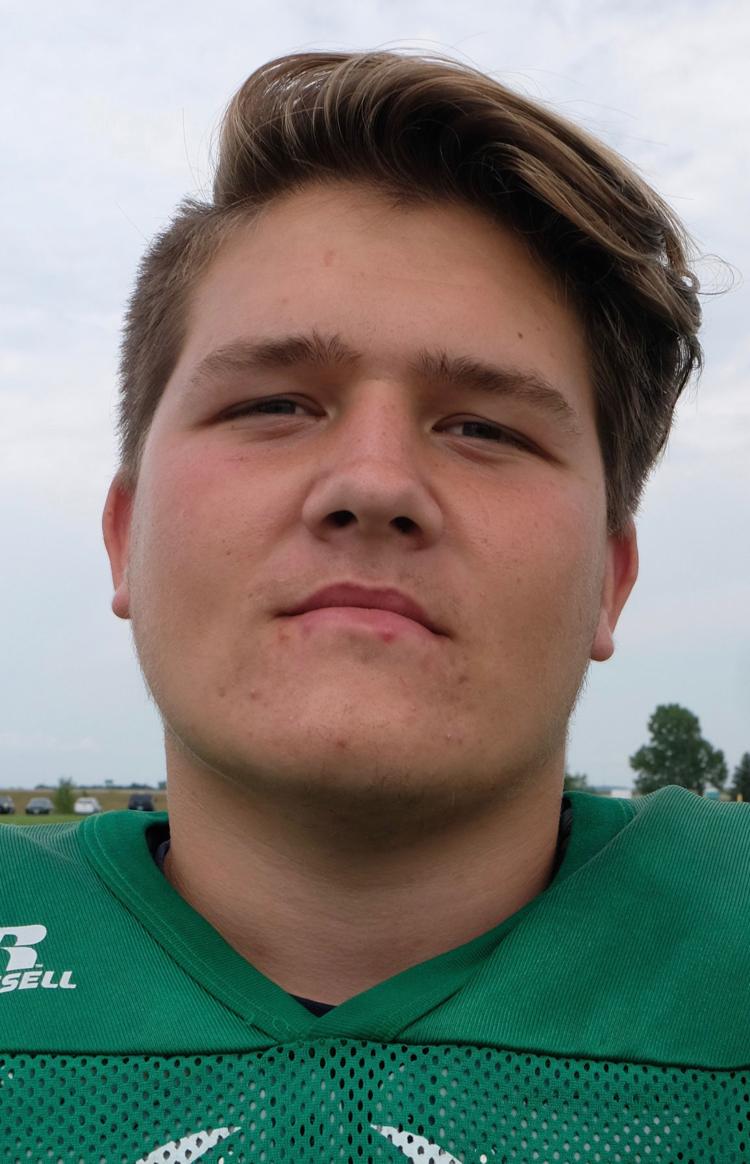 "He has gotten pretty strong and has put on some weight," Mruz said. "He'll be able to move people on offense and defensively he will be tough to move. I think he is anxious to get out there and end his career on a good note."
Eli Simonson (6-7, 240) will be at the other tackle. He went to various football camps during the summer, including at the University of Nebraska.
"He just goes out there and works hard every day," Mruz said. "He has a lot of potential with his size. He moves well, is physical and he is a pretty smart kid so that helps having him on the offensive line. I think he is ready for a breakout year."
A.J. Walter will be at center while Riley Lindberg will man right guard. Martin Meraz, Peyton Cone and Jared Gibney are in the running for the other guard spot.
Former Fremont High and Gretna head coach Dave Shrader is working with the offensive line. Shrader retired as the head coach of the Dragons following last season.
"It is a good group and Coach Shrader has been a tremendous help there being their mentor," Mruz said.
Eli Herink, Johnson and Dylan Gartner headline the group of receivers. Jackson Gilfry, the son of former Bergan and Midland University receiver Jeremy Gilfry, transferred from Millard West during the offseason. Kaeden Thomsen and Shae Gossett could also contribute.
"That group is coming along," Mruz said. "They put in a lot of work in 7-on-7. "Jackson has looked pretty good."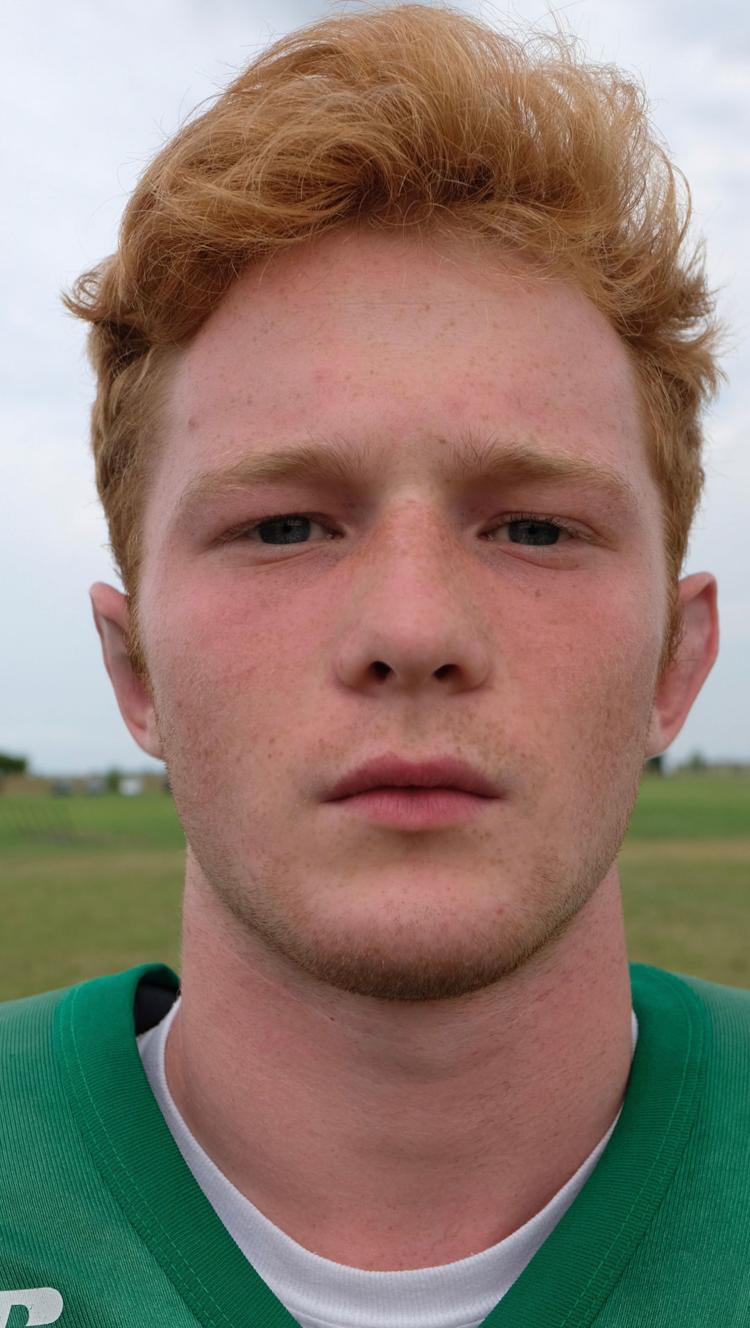 Following the injuries last year, the Knights relied primarily on their running game. Mruz said he is striving for a more balanced attack in 2018.
"I want to play fast and we have a bunch of (substitutes) available so I don't think fatigue will be a factor," he said. "I think we'll look more like the offense we had four years ago than what we've had the last two years. We'll spread it out more and take advantage of our athletic ability. Obviously we still want to run between the tackles to establish the running game, but hopefully the kids can get out in space and make plays."
The Knights will employ a 3-5-3 defense with Caleb Villwok (end), Herink (inside linebacker) and Johnson (secondary) as leaders.
"They are vocal and do a good job," Mruz said. "They encourage others and set the tone."
Simonson will be at nose guard while Meraz or Walter will be at the other end. Lindberg could also move from linebacker to be on the d-line.
"We'll fly around on defense," Mruz said. "We just need to play disciplined football and understand out keys."
Thomsen will be punting with Ridder handling the kickoff duties. Jobe Sullivan or Thomsen will do the extra-points and field goals.
The Knights open the season Aug. 24 at home against Logan View/Scribner-Snyder.
"It is a tough schedule, but the kids are up to the challenge," Mruz said. "We don't shy away from good competition. The guys will play with confidence each week."
Herink hopes to help Knights to playoff berth
Eli Herink hopes his success in the weight room will carry over to the football field this fall.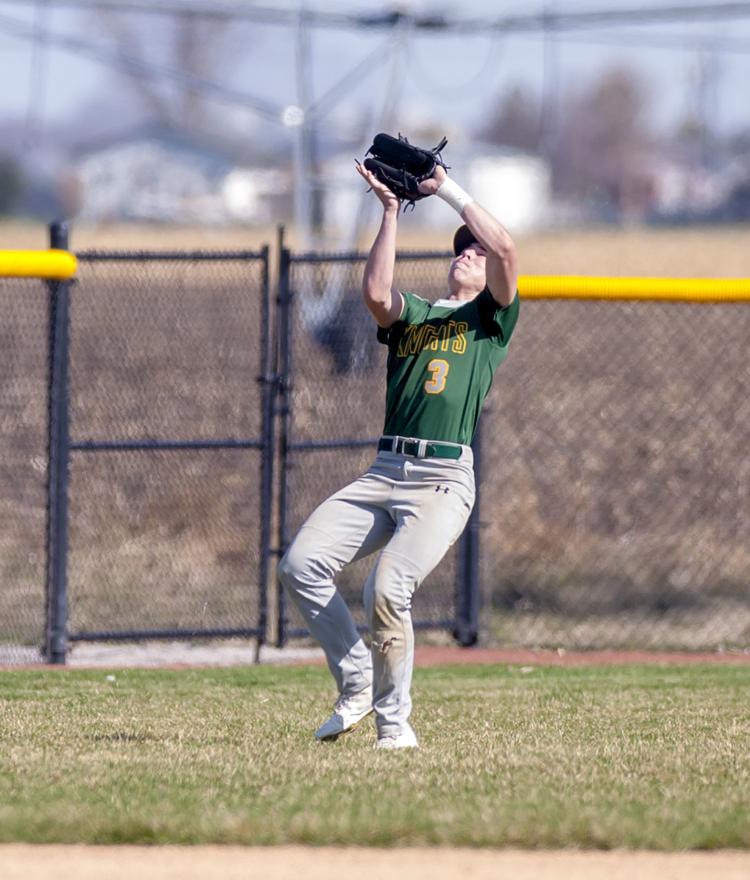 Herink, a senior wide receiver/linebacker for Fremont Bergan, had a memorable offseason.
He broke Derek Smith's school record in the 165-pound division by squatting 375 pounds in February. After putting on some weight, Herink then broke the school mark in the 181-pound division with a squat of 440 pounds.
Herink believes he is just one of dozens of Bergan athletes that put in a lot of time and effort improving during the offseason.
"I think it will help me this season just knowing that I've worked harder than just about anybody that I'll face this year," Herink said. "It gives me confidence and I have confidence in our team because they've worked just as hard as I have. We're going to put together a good season."
Herink was one of several key players for the Knights that were sidelined last year due to injuries. He missed time after his older brother, Nick, accidentally fell on his ankle during warmups prior to the Knights' 21-0 win at Ashland-Greenwood in Week 3. He missed three weeks.
"It kept me out a good chunk of the season," Herink said. "Even in the winter it still hurt a bit."
With quarterback Nick Burger and tackle Caleb Villwok among the injured, the Knights finished 5-4 and missed the state playoffs for the second-straight year.
Herink said the Knights are intent on returning to the postseason party.
"Bergan has a great history of being in the playoffs, but we had some bad injuries that affected us" he said. "We've missed out the last couple of years. I think what we're trying to do is build a good foundation so the younger kids can work off of it. I believe we'll be in the playoffs this year, but what we are really focusing on is bringing back the Bergan name to just being dominant."
Herink plans on helping the Knights on both sides of the ball. He hopes to join Jacob Johnson and Dylan Gartner as key receiving targets for quarterback Jake Ridder.
"Jake has worked hard and has got his footwork and throwing down," Herink said. "We were really jelling toward the end of 7-on-7. Dylan and Jacob have both put in a lot of time and effort."
On defense, the Knights lost Fremont Tribune All-Area pick Kolby Boggs. Herink will move from the outside to Boggs' old spot in the middle.
"Those are big shoes to fill, but I'm hoping through hard work — like all of the guys have put in — I will be able to fill those shoes and just be a hammer in the middle," Herink said. "Kolby was a player everyone looked up to. He was hard working and mean on the field — off the field he is super likable and a great guy — but he was super competitive and wanted to win. A lot of people wanted to emulate him and a lot of us looked up to him."
Herink said he was a leery about making the defensive move when Coach Seth Mruz first presented it to him.
"I was a little skeptical at first because I didn't think I could do it, but once we got into 7-on-7, I realized it was a pretty easy switch," he said. "The spots are pretty similar."
Herink is also a starting outfielder on the Bergan and First State Bank Seniors baseball teams. He hopes to play that sport in college.
"I love the competitiveness of football, but baseball is probably my favorite sport," he said. "I've been thinking about playing college baseball somewhere."
His focus, however, is Aug. 24. That is when the Knights host Logan View/Scribner-Snyder in the season opener.
"I'm pretty ecstatic to get back on the field," he said. "I can't wait to see what we can do this year."
Bergan senior Lindberg excels in multiple sports
Riley Lindberg enjoyed a hectic summer.
The Fremont Bergan senior competed for his AAU basketball team based out of Gretna while also preparing for the the Knights' 2018 football season.
"It was a very busy summer for me," the 6-foot-5, 205-pound linebacker/offensive guard said. "The AAU team helped me with my skill development for basketball. Football is fun. I see ourselves going far this year because we have a lot of potential in our seniors all the way down to our freshmen. We've got more players out this year and I think we can go far in the playoffs."
Lindberg began 2017 as the starting right guard for the Knights. In the third game at Ashland-Greenwood, he was put into the starting lineup at linebacker. It was a good match for him as he finished the season with 35 total tackles, including 24 solo stops.
"I felt like I did pretty well at linebacker," Lindberg said. "It kind of surprised me, but that is my favorite position and I'm trying to get better at it."
While Lindberg believes the defense is a team strength, he thinks the offense will be better in 2018.
Running back Ethan Villwok returns as does quarterback Jake Ridder. Eli Herink, Jacob Johnson and Dylan Gartner also return as receivers. Lindberg also likes the potential of the Knights' offensive line.
Left tackle Caleb Villwok is back after missing several games last fall due to a knee injury. His absence was a key blow to the Knights.
"That messed up our scheme and we had to move guys around on the line," Lindberg said.
The rest of the line includes center AJ Walter, left guard Martin Meraz and right tackle Eli Simonson, Lindberg said. Other players are also contending for playing time. 
That group has gotten bigger and stronger via offseason work in the weight room.
"I think that was the first priority for everyone," Lindberg said. "All of us makes sure everyone is working hard."
Lindberg has done his part with the weight training. He said he has shown gains from last year, including a 35-pound improvement in the squat.
"Coach (Seth) Mruz has been a big factor for me," Lindberg said. "He has inspired me to get in the weight room more. He stresses that the only way the team will succeed is by getting stronger."
On the field, Lindberg hopes to serve as a calming influence for his teammates.
"I think I have really good mental toughness," he said. "Even if the team is down, you have to keep your head up because anything can happen. I'm a team player and I try to keep my teammates up and not bickering with each other or officials. I just try to help them focus on what they need to do in order to succeed."
Lindberg has received recruiting interest from Simpson College in Indianola, Iowa, for football and basketball. Mount Marty (basketball) and Hastings (football) have also shown interest.
He hopes his senior football season gets off to a good start when the Knights host Logan View/Scribner-Snyder on Aug. 24. Last year, Bergan beat Logan View 12-7.
"They are going to want to come here and beat us since we won last year," Lindberg said. "I think it should make for a good opening game."
Eagles look to improve in 2018
ARLINGTON -- At the core of Steven Gubbels' coaching philosophy is one simple word: improvement.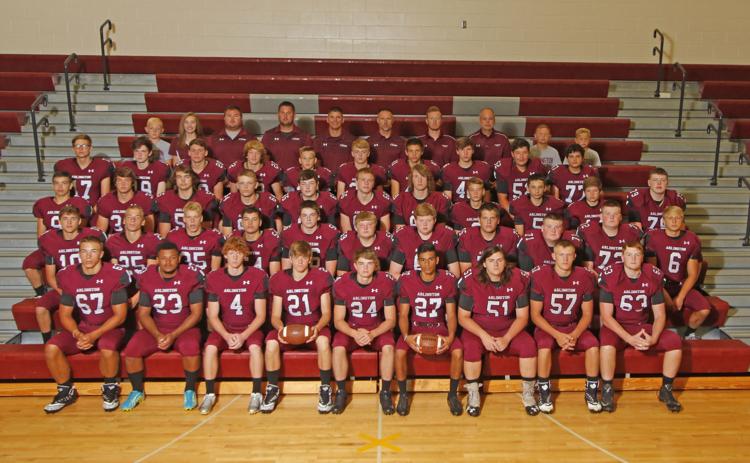 Simply put, Gubbels challenges his players to get better every single day. If that happens, he believes the team will also make steady progress.
Well, in order for the Arlington varsity football team to improve upon last year's 3-6 record, Coach Gubbels said the Eagles must get better in four key areas (two each on offense and defense) during the 2018 season.
On the offensive side, Gubbels said: "We want to see improvement in both explosive plays and red zone offense."
Last year, Arlington averaged over 250 yards on offense while piling up well over 2000 yards in total offense against opponents that included four Class C-1 playoff qualifiers.
Even with all of that offensive production (between the 20s), Gubbels said: "We did not have enough big plays, or red zone conversions, to record more wins."
On the defensive side, Gubbels said: "We have to do a better job getting off the field on third-and-short, as well as create more turnovers." The Eagles forced only eight takeaways in 2017.
With those four areas of improvement clearly identified, Gubbels said he will rely heavily on his five returning starters (seniors Talon Mues and Trevor Smailys, juniors Remington Gay and Kobe Wilkins and sophomore Josh Miller) to lead the team.
"We will return a number of players with experience on both sides of the ball, as well as several who served on special teams and in back-up roles (in 2017)," Gubbels said. "We will have to develop depth on the offensive and defensive lines, as well as replace some key players in the backfield lost to graduation."
Miller, who started one game at quarterback last year, will compete with junior Tanner Pittman (who was hurt in 2017) to earn the starting signal-caller duties this year.
Smailys, who started seven games at fullback and two at tailback in 2017, will become Arlington's featured running back this fall. He rushed for 360 yards on 73 carries and scored one touchdown during his junior season.
"Trevor is a great student of the game," Gubbels said. "He picks-up on things very quickly and has a great combination of strength and quickness, which is exactly what we are looking for in our ball carriers."
Juniors Logan Kirk and Casy Kirk, along with sophomore Jesse Thompson, are three players who Gubbels said will provide solid depth at the running back position.
Gay and Wilkins will anchor the offensive line, while Mues will return at tight end. Two other players that Gubbels expects to see plenty of playing time this season are senior Trent Borgman at tight end and sophomore Nolan Thompson on the offensive line.
"Having to replace most of our backfield going into the season, and a third of our offensive line, will be a challenge," Gubbels said. "However, unlike this time last year, we will have at least some returning linemen with a full season of experience to lean on as we fill the gaps going into the season."
The four starters the Eagles return on defense (Wilkins on the defensive line, Gay and Smailys at linebacker, plus Mues in the secondary), provide Gubbels with some optimism on that side of the ball.
"Based on just who we have returning," Gubbels said, "we feel good about our experience, depth and capability at the linebacker and defensive secondary positions. We also feel good about our returners on the defensive line. But, as is the case almost every year, a team needs particularly good depth at those spots to be successful in the long term, so we will be working hard to develop players to provide that depth."
Even with all those unknowns, Gubbels said he is confident that his players will continue to make the improvements necessary to have a successful season.
"The keys to our success will be capitalizing on the experience and the leadership of our returners," Gubbels said, "both starters and those who saw a fair amount of varsity playing time late last season."
The Eagles open the 2018 season Aug. 24 at West Point-Beemer.
Smailys looks to continue AHS running back tradition
ARLINGTON -- Trevor Smailys saw the look every day at practice during the 2017 football season. The Arlington High School senior also saw it on nine consecutive Friday nights last fall. The look, Smailys says, mixes a hint of fear with heaps of resignation and a trace of dread.
It didn't matter whether he was coming at opposing defenders as a lead blocker, or as a ball carrier, would-be tacklers all looked the same when the 5-foot-10 and 170-pound Smailys came barreling toward them: Their shoulders slumped, faces sagged and bodies tensed in anticipation of the collision to come.
"It's like doing something you know is going to be unpleasant, but you do it anyway," Smailys said. "That's a good look to see from the opposing defense. I would like to say that tacklers' faces look scared all the time, because that would make my job a lot easier."
It certainly would, and Smailys hopes to see that look a lot more in 2018.
Smailys, who started the first seven games at fullback and the last two at tailback last year, ended his junior season gaining 360 rushing yards on 73 carries. Just like the look, Smailys expects those rushing numbers to go up in 2018 as well.
Arlington Coach Steven Gubbels said Smailys gives "100-percent on every snap." He said that's why Smailys started every game in the backfield last year and will be more of a primary ball carrier this season.
"His skill sets and work ethic are what led him to the varsity field as a junior last season," Gubbels said. "We will call upon his experience to help our offense this fall."
As the Eagles prepare for their season-opener at West Point-Beemer on Aug. 24, Smailys said he's excited to be Arlington's featured running back in 2018.
"I feel like it's going to be tough," Smailys said, "but I think I can handle the extra reps and work. I'm ready for the challenge."
The reason for that confidence stems from the amount of time Smailys spent in the weight room during the off-season. Smailys said he's improved his bench press from 185 pounds (in 2017) to 225 (in 2018) and his squat went from 270 to 340.
"I have gotten a lot stronger and heavier this year," Smailys said. "I think that will help my body take the pounding a running back receives a little better this season."
Smailys is confident that he can become the Eagles latest 1,000-yard rusher, just like his brother Jonathan did for AHS back in 2013 and 2014. A total of 12 Arlington running backs have become 1,000-yard rushers over the last 15 years.
"I want to be able to help my team win every game this year," Smailys said, "even if that means rushing for 1,000 yards and scoring a touchdown a game."
Coach Gubbels believes that's a real possibility because he sees plenty of similarities between the Smailys brothers.
"Without a doubt, Jonathan and Trevor are among the toughest running backs we have had here over the years, and we have had a lot of good ones," Gubbels said. "Like his brother, Trevor is capable of taking a lot of carries in a game and is also a very capable blocker, especially given he spent a season in the fullback role of our offense (as a junior)."
Tigers make the move to C-2
NORTH BEND -- There are a lot of things that make North Bend coach Ryan Stieren optimistic about the 2018 season.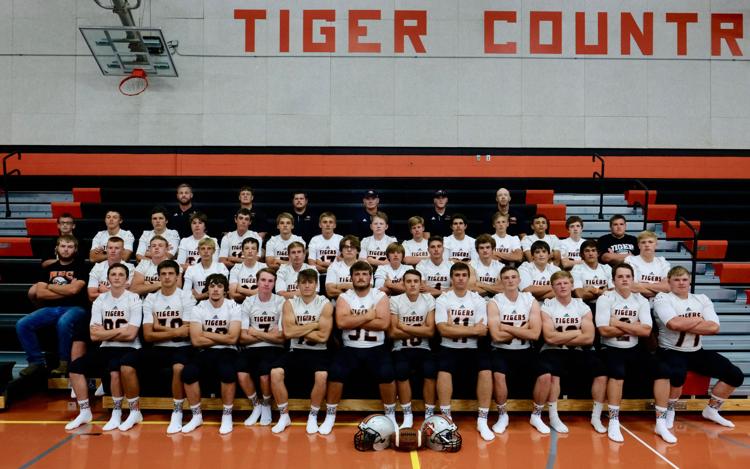 The Tigers are making the move from Class C-1 to C-2. While David City Aquinas remains on the schedule, the Tigers don't have to play traditional C-1 powers like Wahoo High and Wahoo Neumann. The only C-1 team on this year's schedule is Logan View/Scribner-Snyder.
"I think when you go from the bottom of enrollment (in a class) to the top of enrollment there are some advantages," Stieren said. "In football, some of it is predicated on numbers and depth. We have good kids that compete with those schools, but they just had so much more depth. I feel like the script has flipped this year. We believe we have as much depth or more than any team we play.
"That doesn't necessarily mean that we're better than them, but we can play more kids than a lot of teams on our schedule and that should be an advantage of us."
Stieren was also impressed with the Tigers' work during the offseason.
"This has been our best attended summer since I've been here," he said. "We had a large number of kids that reached the goals we set for them as far as the number of lifts to get in. Hard work sets you up for success, but it doesn't guarantee it, but we had a good offseason and have looked good in fall camp. There is a lot of energy and we feel like we're in good shape."
Last fall, Stieren has to patch together an offensive line that, as a unit, was short of varsity experience. That shouldn't be a problem in 2018.
"We only return two veterans on the line, but I feel like we have five guys returning because they have played varsity at other positions," he said.
That line is led by senior Trevor Nelson (5-11, 225). Junior Cole Johnson (5-11, 190) also returns.
"He was our sixth man on the line and he got a lot of playing time," Stieren said. "He has gotten bigger and tougher."
Former receiver Ben Rolenc makes the move to tackle. Stieren also likes the potential of senior Cole Kluthe (6-2, 190) and junior Gavin Peterson (5-11, 200). The latter is a defensive leader at linebacker and played fullback in the past. He will be at center this year. Jeremy Doernemann (5-9, 215) also has experience.
Austin Endorf returns at quarterback.
"When you have a quarterback the quality of Austin, that makes you feel pretty good as well," Stieren said.
Endorf possesses a lot of traits you want in a quarterback, his coach said.
"He is just really smart and sees the game really well," Stieren said. "We run a lot of edge screens so the sooner we can get the ball to our playmakers the better. He has a quick release which helps and he is mobile in the pocket. He isn't a running quarterback, but he can avoid the rush and does a nice job of keeping his eyes down the field and makes plays."
Jacob Ray (5-10, 180) is expected to be the main running back, but sophomore Ethan Mullally (5-9, 170) will also play a prominent role.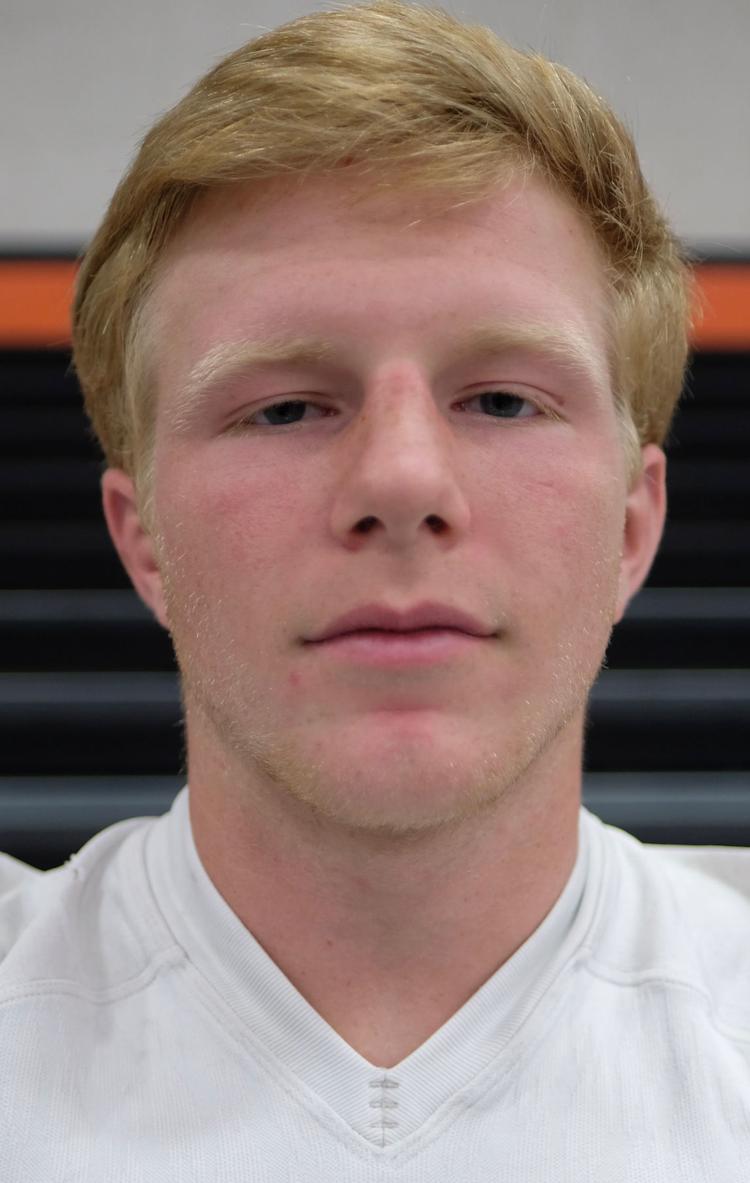 "We have not just one, but two good players there," Stieren said. "We've got some depth in the backfield."
Due to the inexperience on the offensive line, the Tigers struggled with its rushing game last fall.
"We have to run the ball better," Stieren said. "We tried to get the ball on the edge because we thought we matched up well there and didn't match up as well on the offensive line. This year I think we match up well with other teams up front. Our run game will be much better."
Endorf will have plenty of options at receiver, including seniors John Emanuel (6-3, 185), Sam Buckingham (5-9, 170) and Joe Howser, who finished second in the Class C 400 meters as a junior at the 2018 state track meet.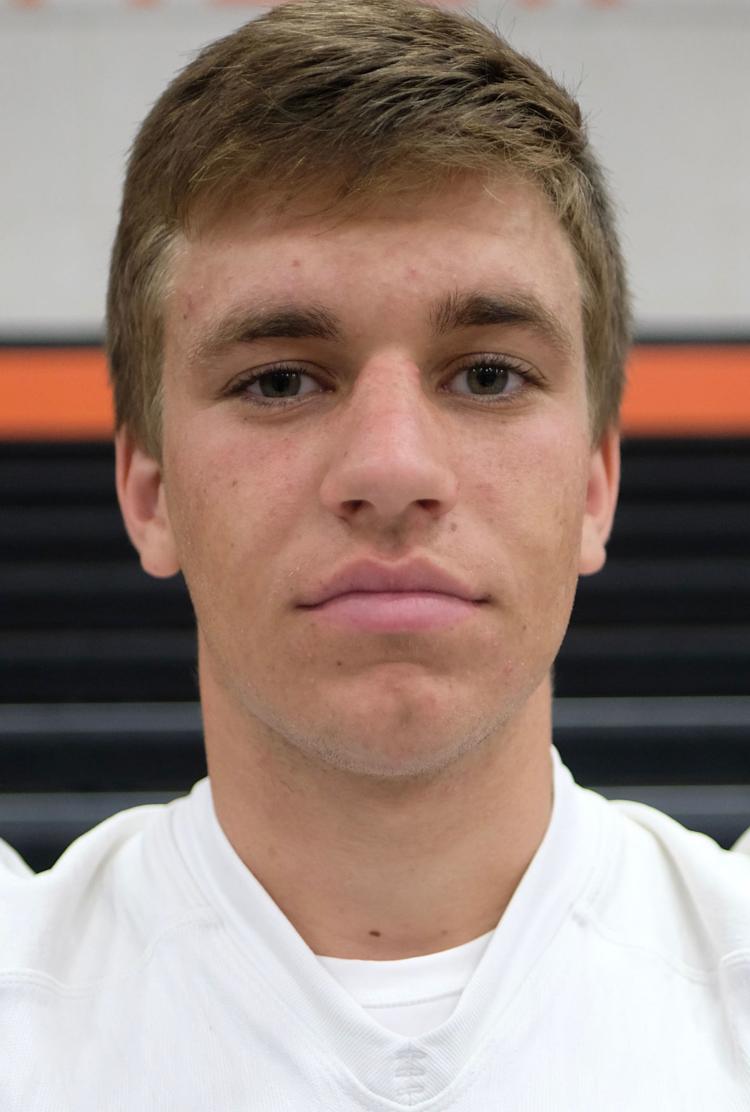 "John and Sam are both very explosive guys and will catch a lot of footballs for us," Stieren said. "Joe is a real home run threat for us. He didn't play last year, but he is fast and has good ball skills. I'm looking forward to what he can do."
Doernemann, Rolenc and Nelson will be at the front of the Tiger's 3-5-3 defense.
"They are a strong group," Stieren said. "They are pretty big, pretty fast and pretty tough."
Emanuel will anchor the secondary.
"He has a nose for the football," Stieren said. "I think he can get some turnovers, which is something we need to improve on as a team."
Jacob Ray, Howser, Mullally, Zach Ortmeier and Cody Prohaska could also see time in the secondary.
On defense, the biggest question mark is at linebacker where the Tigers must replace Tribune All-Area pick Brock Ray.
"Replacing Brock is tough, but those guys are coming along for us," Stieren said.
Peterson returns after making 35 stops last year. Other linebacker candidates include Kluthe, Breckin Peters and Cody Pospisil.
The Tigers will be looking to improve on last year's 2-6 record.
"I know it is a new season and every team is optimistic, but this just feels a little different this year," the coach said. "The intensity is much better. We've got good leadership and they are hungry (for success). We'll see what this season brings, but we're definitely excited."
Rolenc following in Ray's path as a leader
NORTH BEND -- Ben Rolenc admired what North Bend teammate Brock Ray did during his four-year football career for the Tigers.
Ray, an Fremont Tribune All-Area linebacker, graduated last spring, but he influenced his former teammate who is beginning his senior year.
"Brock was our defensive leader last year and he did a great job," Rolenc said.
In 2017, Ray made the switch from running back to offensive line because the team needed him there. Rolenc is following a similar path this fall.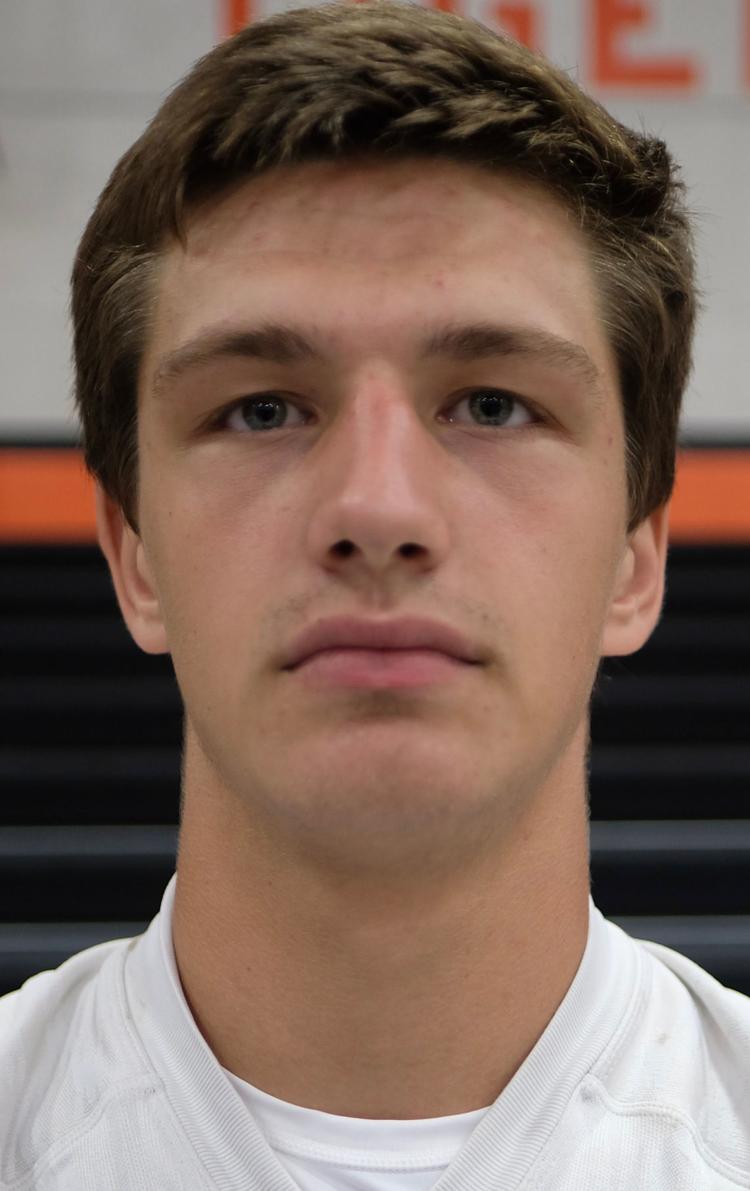 "I was a wide receiver last year but we lost a bunch of linemen so they are moving me to left tackle," Rolenc said. "It isn't what I exactly wanted, but I want to help the team more than anything. If that is where Coach (Ryan Stieren) wants to put me, then that is where I'll be."
Teammates and coaches know that Rolenc isn't the type to duck a challenge. They voted him the team's "Weight lifter of the Year" as a junior.
"It meant quite a bit to me to get that," he said. "I was dedicated and showed up for weights every morning. I think it has made everyone work harder to try and get this award."
Rolenc said he has adapted to the move to the offensive line.
"Learning the blocking patterns were kind of hard, but I'm starting to get them down after attending a couple of camps this summer," Rolenc said after the first day of fall practice.
Rolenc will also play defensive end for the Tigers.
"I like defense a little more" he said. "It brings out the leadership factors in most people and that is why I like it."
Stieren said the senior does a good job for the Tigers. 
"He is definitely going to be one of the best players on the field," he said. 
The Tigers finished 2-6 last season, but were in Class C-1. They move to Class C-2 this fall with some adjustments to the schedule.
Perennial power David City Aquinas also moves from C-2 to C-1 and remains on the schedule, but gone are the likes of Wahoo High and Wahoo Neumann.
"I think we'll have a stronger team than last year," Rolenc said. "We'll still play tough teams, including Aquinas, but we have a better team this year. We've learned Coach Stieren's offfense so I think we have a better shot at winning more games this year."
The Tigers' offense will include quarterback Austin Endorf and running back Jacob Ray.
"We'll be pretty balanced, but we're a faster paced team," Rolenc said.
Defensively, Rolenc thinks the Tigers will be solid.
"Last year we had a pretty good defense," he said. "We'll miss Brock, but we have other guys that can step up like Jacob Ray and Gavin Peterson."
Rolenc also plays basketball for the Tigers, but football is the sport he enjoys the most. He would like to play football at the next level.
"I've heard from a few colleges," he said.
Rolenc hopes the Tigers can get off to a good start when they host Johnson County Central in their opener Aug. 24.
"We'd like to start out by beating a good team like JCC and keep moving from there," he said. "We hope to win a little more around here."
Raiders reload with help from S-S
HOOPER -- A lot of things have changed for the Logan View/Scribner-Snyder football team since last year.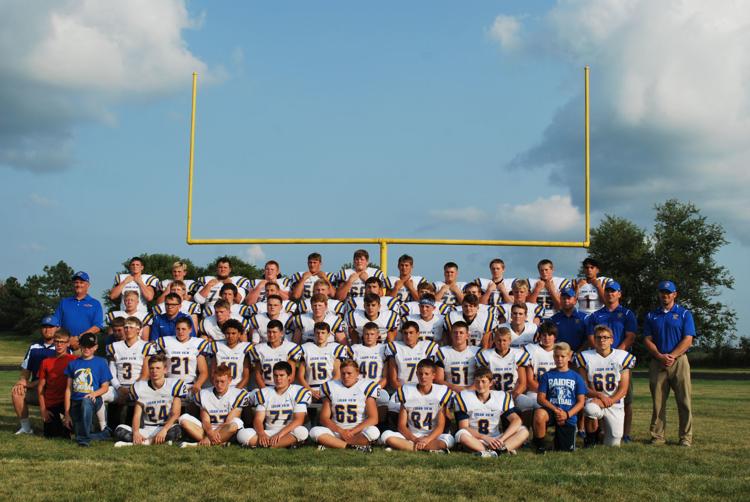 After finishing 5-3 to earn a berth in the Class C-2 state playoffs, the Raiders will feature lots of new faces, face new opponents, and compete in a new class in 2018. The Raiders have also joined forces in a co-op with Scribner-Snyder for football.
Although some of the players, schedule, and class (C-1) are new, head coach Dustin Sealey is still focused on the task at hand: winning football games. 
"It really hasn't been that big of change," he said. "I haven't noticed much difference other than having some more guys on the roster." 
While the co-op may created growing pains for players and coaches at some schools, Sealey says his guys have taken it in stride. 
"A lot of these guys have already played basketball together, and known each other, so its been a really smooth and easy transition," he said. "The guys have been working together all summer in the weightroom so have been able to build some of that camaradie pretty quickly." 
The new-look Raiders will still rely on a few familiar faces, especially at running back as returning starter Brady Hull will again look to make a big impact for the offense. 
"He's played a lot of football for us over the past few years, and now that he's a senior we'll continue to rely on him with the ball in his hands," Sealey said. 
Sealey says he will also rely on Hull to be a leader on and off the field. 
"He's a great athlete and even a better person," he said. "He was elected captain when he was a sophomore, so he really has the respect of the other guys." 
There are several linemen returning to help create running lanes for Hull and his backfield mates. 
Sealey will look to  seniors, Lucas Schneck, Nathan Wacker, James Hudson, and Eric French, as well as junior Alex Miller to shore up both his offensive and defensive lines in 2018. 
"Lucas (Schneck) is the strongest kid on our team, and is just a great athlete playing up front," he said. "Alex (Miller) is a great technician on both sides of the ball, and just really gets after it at practice." 
Sealey says his team will go as far as his veteran line can take them this season. 
"You have got to be able to win at the line of scrimmage, and we really think we've got a good strong group that can make that difference for us," he said. 
All in all the Raiders return a lot of experience with eight returning starters on offense and nine on defense. 
Senior Austin Peters will take over under center and will look to get the ball outside to wide receivers Connor Larson, Ty Miller and Michael Luther. 
Although Larson is only a sophomore, Sealey says he has already shown the potential to be a force in the receiving game. 
"Connor is just a really good playmaker," he said. "He's super quick and knows how to make plays on the ball. He can really be a special talent and someone other teams will have to take note of as the season goes on." 
With the move up a class, to Class C-1, Sealey says he is excited to see how the kids respond to the new challenge. 
"They're really just focused on playing good ball and controlling what they can control," he said. "I haven't heard one complaint or worry from them about moving to C-1, they're ready to compete." 
LVSS will kick off the season close to home as they head to Heedum Field to take on Fremont Bergan on Aug. 24. The Raiders will host North Bend on Aug. 31.  
Hull not afraid of working hard
HOOPER -- After setting a school record for most points scored in a single season last year, Logan View/Scribner-Snyder senior Brady Hull is back for an encore.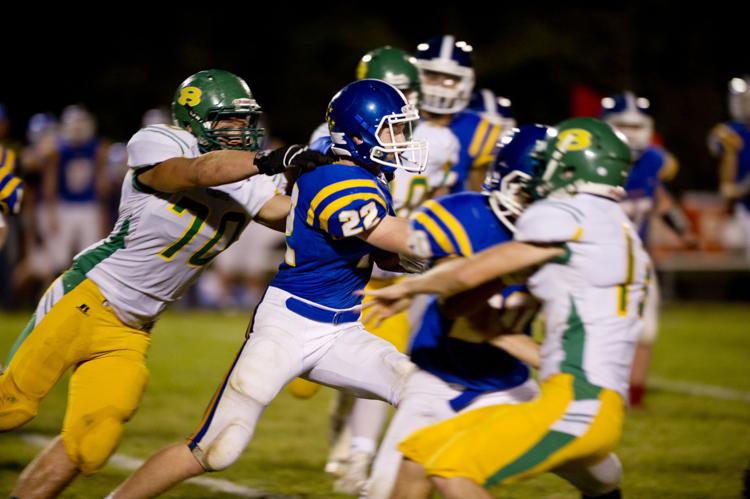 The 5-foot-11, 180-pound Hull earned Fremont Tribune All-Area honors as a linebacker, but he also was a key piece to the Raiders' offense. He rushed for more than 1,000 yards and scored 19 touchdowns on the ground. He also caught 13 passes for 133 yards and one score. He added a two-point conversion to finish with 122 points, breaking Eric Meyer's record of 110 set in 2005.
"I honestly have to give credit to the weight room and the (offensive) line as far as my offensive statistics are concerned," Hull said. "Lifting has helped me a lot. I've been doing that since seventh grade and that has kept me going, working hard."
Hull isn't afraid of hard work. During the summer, he would lift weights early in the morning and then head off a construction job.
"Afterward I would lawns or I might go fishing," he said. "I'm always busy. I guess working hard is in my nature. That has been a huge part of my success. I wrestle during the winter and that has taught me a lot about working hard and being tough."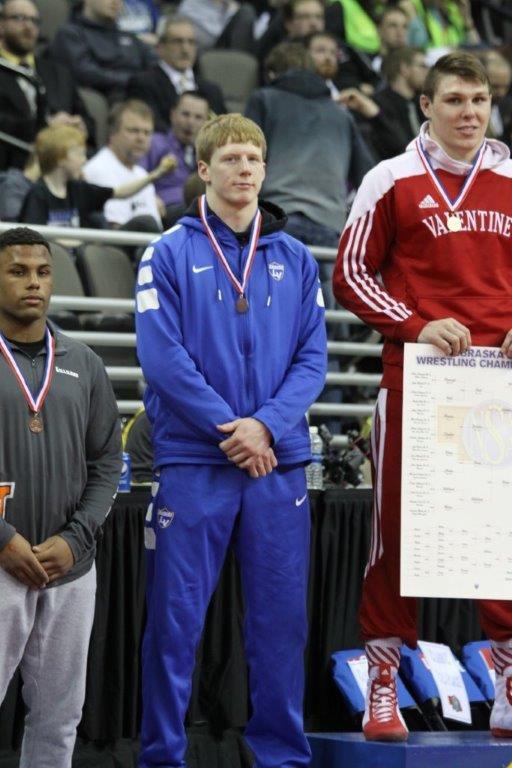 The Raiders finished the regular season with a 6-3 record before losing 28-13 to Centennial in the Class C-2 state playoffs.
"I think making the playoffs is a good motivator for us," Hull said. "It carries us into the season well. We know we have a lot of talent back and nothing is guaranteed. We have goals in mind, but we can't look back to last season. We can't change that. We just have to look forward to the future and keep working on where we want to go."
While the Raiders will miss All-Area pick Nathan Taylor, four other starting linemen return. Senior Eric French is back at guard. Sophomore Brett Uhing returns at center while senior tackle Nathan Wacker and junior guard-tackle Alex Miller are also veterans.
"I have a lot of confidence in them," Hull said. "Nathan (Taylor) was a pretty good asset, but we have quite a few guys that can go into that spot. All of those guys on the front line are best buds. They have good chemistry together and they communicate well."
The Raiders move up to Class C-1 this season, but additional help will come from the Scribner-Snyder players in the first year of the football co-op.
"There are definitely guys there that will help us," Hull said. "There are a couple of guys starting on defense. We've played with a lot of these guys in (youth) ball so this is really nothing different for any of us."
After helping the Raiders to success in football last season, Hull went on to excel in wrestling He finished third in the Class C 170-pound division in February at the state wrestling meet.
"Wrestling has taught me to be a tough son of a gun, for lack of a better term," Hull said. "It has also taught me to bounce back from failure."
As a sophomore, Hull was hoping to qualify for the state wrestling tournament with his older brother Brett, who was a senior. Brett did qualify, but Brady fell short of his bid at the district tournament.
"It set me back, but then I built myself back up and realized in order to get where I needed to be, I needed to work hard in the weight room and at practice," Hull said.
Hull is grateful to the tutelage he has received from head wrestling coach Dan Mowinkel and fellow coaches Bill Booth and Dalton Jenkins. The latter is a former cornerback for the Midland University football team.
"Coach Mo has taught me a lot about bouncing back from adversity and Coach Booth has pushed me to do well in life," Hull said. "Coach Jenkins really pushes me in practice. I wouldn't be as tough as I am without those people."
Football coach Dustin Sealey has also been a big influence in the multi-sport standout's life.
"Every Friday after weights we would watch videos and he would talk to us about how to be a leader and how to respond to events," Hull said. "It has helped the team so much because we've eliminated complaining and blaming people. We're really good about staying positive and doing the right thing. We hold each other accountable. We have a good thing going because of our head coach."
Hull hopes that guidance will help the Raiders return to the state playoffs.
"We'd like to win our first playoff game in school history," he said, referring to the school's 0-9 record in the postseason. "I'd like to break the school record for rushing in a single season (1,445 yards)."
The Raiders open the season on Friday night at Fremont Bergan.
"We're approaching it just like any other game," Hull said. "In the past, we've gotten so worried about it and it ended up not going our way. We need to approach it as a normal game because there are a lot more down the road."
Wildcats alter training regime
CEDAR BLUFFS -- The Cedar Bluffs football team has gone through a transformation this offseason.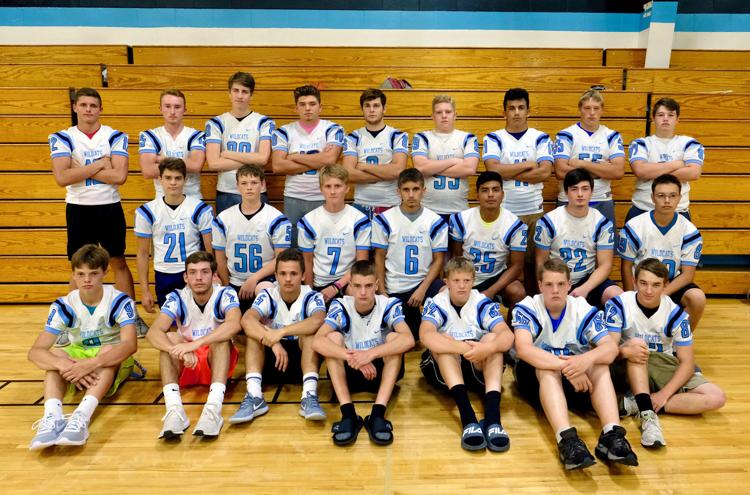 Much like the Nebraska football team's strength and conditioning training has been overhauled this year, so too has the Wildcats' training regime.
And second-year Cedar Bluffs head coach Justin Cloyd hopes it pays off on the field this fall.
"We implemented a new workout regime this summer focusing more on trying to get the guys more agile and to add quickness and flexibility and those kind of things along with the weight and strength training," Cloyd said.
While it's been an adjustment for the Wildcats, Cloyd believes the players are seeing the benefits.
"It's tough with a lot of these football guys," Cloyd said. "They think, 'I just want to bench four days a week and stuff like that.' It took them a little while, but I think they started to understand what we were trying to get them to do and they bought in. They definitely made some progress from the baseline tests we did in the beginning of June. I think that was nice for them to be able to see that."
Those fitness gains should be beneficial as the Wildcats are changing up their offense this season as they look to improve upon the 2017 season in which they finished with a 2-6 record.
"We're going to try and run a fast-temp offense. … We had them do a lot of endurance runs and mile runs and stuff like that," Cloyd said of Cedar Bluffs' offseason training. "I think we're in a lot better shape than we were last year at this point, so that's been exciting to see."
The Wildcats also went to three different pass camps and one full-contact camp to prepare for the upcoming season.
A trio of players is battling for the starting quarterback position that was vacated by the graduation of Zach Zakovec.
Senior Joey Defenz, junior Xandir Greve and Dylan Marchand, a junior transfer from Fremont High School, are in the mix to direct the Wildcats' offense.
"Those guys know that they have to work every single day, that no position is guaranteed," Cloyd said. "I think even at times, it might not be a terrible idea for us to use all three of the guys. I think they'd be willing to do that and they're not very selfish kids.
"They're probably three of the most athletic guys on the team. They're all smart and they're all in good shape and good athletes. They fit in pretty well."
The signal caller will be operating behind an offensive line that includes three players who Cloyd commended for their hard work in preseason practices.
Sophomore Gabe Anaya and junior Tanner Kiefer are slated as guards while sophomore Brody Ptomey, who Cloyd said has stepped up as a leader, will line up at center.
"Brody is a kid that I think for the next three years, he's going to be a leader around here," the head coach said. "He does the right things and he's here every day. … He's easy to coach."
Leadership also has been coming from senior Mason Thiesen, who will play both sides of the ball as well as special teams. Nick Smith and Lane Siems are expected to contribute this season at one of the skill positions.
After allowing about 40 points a game on defense a year ago, a lot of time has been spent in practices on tackling fundamentals.
"Scheme-wise, we'll do a lot of the same things (as last season), but we just need to tackle better," Cloyd said. "We need to understand our responsibilities on defense. We need to fill lanes and fill gaps properly, take the right steps and have good footwork to put ourselves in the position to make tackles."
While the team's overwhelming youth will help add depth for Cedar Bluffs this year, it also figures to be one of the Wildcats' biggest challenges.
"We have a lot of players that their first experience will be on (Aug. 24)," Cloyd said. "Ideally, you wouldn't have to start any sophomores and freshmen, but for us, the biggest thing will just probably be those guys are going to have to learn on the go.
"That's a tough thing to ask a 15-year-old to do. I remember being there and I remember my first game was kind of scary actually. That's probably the biggest challenge. It's going to take a game or two for some of these guys to get acclimated to this level."
Cedar Bluffs opens the season Friday by hosting Allen, one of just two teams that will be a repeat from the Wildcats' 2017 schedule. Mead, who edged Cedar Bluffs by two points a year ago, is the other repeat opponent.
The Wildcats' schedule also features Riverside, the reigning four-time 6-man champion who is moving up to 8-man this season. Two other Cedar Bluffs opponents – Omaha Brownell-Talbot and Omaha Christian Academy – had to forfeit their football seasons last year due to low participation numbers.
"I think the schedule gives us an opportunity to meet our goal of going to the playoffs," Cloyd said. "We have to control the reigns and we have to take care of the things that we can control."
Deep senior class to lead Oakland-Craig
OAKLAND -- Oakland-Craig Head Coach Joe Anderson will look to a deep senior class to lead the Knights to another successful season after finishing 8-3 last fall. 
"We will have a lot more quality depth than what we have had in the past," Anderson said "We will have a chance to put another solid team on the field."
The Knights will rely on the group of 11 seniors to lead the way on both sides of the ball, with a trio of three-year starters on the offensive line setting the tone.
Cole Bures, Justyn Hale, and Tyson Harney are all three-year starters along with junior Laurence Brands who will also return to the offensive line after starting throughout his sophomore year.
"I feel we will be much better up front this year," Anderson said. "We have four offensive linemen returning and four or five others that will compete and give us good depth. We have a lot more size than we have had in the past"
The Knights offensive line will look to make some room for senior running back Robby Mayberry who finished his junior season with 321 yards of total offense.
According to Anderson, Mayberry will look to take over the lead back role with junior Ian Lundquist also in the mix for carries.
"Robby (Mayberry) will look to take over at running back. He's a smart player that does a little bit of everything for us," he said.
The Knights defense will be anchored by a stable of defensive linemen that along with Hale, Harney, Bures and Laurence Brands will also include a rotation of Mike Brands, John Werner, Michael Maline and Max Ward.
The Knights linebacking group will be led by returning starters Werner and Lundquish, while Mayberry and Jefferson McNeill will head up the defensive backfield.
According to Anderson, his team's depth has allowed for some intense early season practices that he hopes will translate into physicality throughout the season.
"We've had a lot of competition early on in practice and as a group defensively we've already looked a lot more physical," he said. "Throughout the summer the kids did a great job of getting in the weight room, getting stronger and it's shown so far in practice."
While the Knights have plenty of experience on both sides of the ball, Anderson will look relatively inexperienced Jared Mulder to take over under center.
While Mulder only has two starts at quarterback under his belt, he made the most of those opportunities as he threw for a total of 490 yard and five touchdowns.
"We have a lot of confidence that Jared can come in and be successful, especially from what he showed when he has had opportunities," Anderson said. "He'll have a chance to get his feet wet early."
Mulder will rely on Garrison Dodge, McNeill and Wyatt Uhing to make plays at the receivers spots, and will also have a big target at tight end in 6-foot-6, 230-pound Wyatt Seagren.
Anderson says that while his team has the depth and experience to be successful, they will have to come together early on as the Knights start the season against Crofton, Hartington Cedar Catholic and Ponca over the first three weeks of the season.
"We need to put it all together quickly," he said. "That's what I keep telling the guys about being strong defensively early. When you're still getting your rhythm offensively your defense can carry you."
The Knights kick off the season at home against Crofton on Aug. 24, before hitting the road to take on Hartington Cedar Catholic on Aug. 31.
Area Capsules
At present school: 38th year
Bishop Neumann turned to a large group of juniors and sophomores last year following a state runner-up finish in 2016. Now the Cavaliers are looking to take advantage of their experience. They return all of their skill-position players, including quarterback Eli Vedral, who threw for 545 yards and rushed for 602 yards. Fullback Luke Fairbanks (556 yards last year) and running back Brandon Blum (579) also return. They'll be running behind an offensive line anchored by Caden Johnson. The defense returns several key pieces, and head coach Tim Turman said he thinks it will be the strength of the team. The Cavaliers will be without returning starting junior safety Taylen Pospisil because of a season-ending ACL injury this summer.
Brandon Blum, RB/C, 5-9, 150, Sr.
Luke Fairbanks, FB/B, 6-0, 190, Sr.
Caden Johnson, T/E, 6-3, 240, Sr.
Conrad Saner, C/N, 5-11, 240, Sr.
Juke Unger, R/C, 5-10, 150, Sr.
Eli Vedral, QB/DB, 6-1, 180, Sr.
Caden Johnson is one of the more dominant two-way linemen in the state, and he's gaining Division I attention. He finished with 75 tackles last season, including a team-high 12½ behind the line of scrimmage.
Bishop Neumann finished with 2,177 rushing yards last year, with 2,009 of those yards coming from underclassmen.
At present school: 17th year
With one of the more talented rosters in the state, Wahoo made a deep run in the 2017 playoffs. The Warriors will miss the contributions of players such as Cameron Quick, Dylan Egr and Brendan Lacy, but plenty of experience returns in the trenches. Sam Kolterman, Jack Sutton, Gunnar Vanek and Brandon Swahn have starting experience up front. The Warriors must find a quarterback to replace Quick, but as many as five running backs are ready to contribute, including junior Trevin Luben, who averaged 8.1 yards per carry in a backup role last year. The Warriors will look to rely on their defensive front seven while the secondary builds experience.
Zane Bennett, RB/DB, 5-9, 170, Sr.
Sam Kolterman, OL/LB, 6-0, 205, Sr.
Jack Sutton, OL/DL, 6-3, 235, Sr.
Gunnar Vanek, OL/DL, 6-3, 230, Jr.
Brandon Swahn, OL/DL, 5-11, 210, Jr.
Sam Kolterman is a force on the wrestling mat and on the gridiron. The state champion wrestler had 114 tackles last year, including a school-record 13 sacks. He also caused five fumbles and blocked three kicks.
2018 Area High School Football Schedules
Aug. 24 at Lincoln Northeast
Sept. 20 at Millard North
Sept. 28 vs. Papillion-LaVista
Sept. 13 at Lincoln Southwest
Sept. 28 vs. Millard North
Oct. 12 vs. Papillion-LaVista
Sept. 7 vs. Omaha Skutt Catholic
Sept. 21 at South Sioux City
Oct. 5 vs. Mount Michael Benedictine
Oct. 19 at Omaha Roncalli Catholic
Aug. 31 vs. Gross Catholic
Sept. 7 at Omaha Concordia
Sept. 28 vs. Omaha Roncalli Catholic
Oct. 12 vs. South Sioux City
Aug. 24 vs. Nebraska City
Sept. 7 vs. Douglas County West
Sept. 14 at Gross Catholic
Sept. 21 at Elkhorn Mount Michael
Oct. 12 at Omaha Roncalli Catholic
Oct. 19 at South Sioux City
Aug. 24 at West Point-Beemer
Sept. 14 vs. Boone Central/Newman Grove
Sept. 21 vs. Omaha Concordia
Oct. 19 vs. Douglas County West
Aug. 30 at Lincoln Lutheran
Sept. 14 at Lincoln Christian
Sept. 21 vs. Columbus Lakeview
Sept. 28 at Columbus Scotus
Oct. 12 at Raymond Central
Aug. 24 at Raymond Central
Aug. 31 vs. Columbus Lakeview
Sept. 14 at West Point-Beemer
Sept. 28 at Omaha Concordia
Logan View/Scribner-Snyder
Aug. 24 at Archbishop Bergan
Aug. 31 vs. North Bend Central
Sept. 21 at Boone Central/Newman Grove
Oct. 12 at Columbus Scotus
Oct. 19 vs. West Point-Beemer
Aug. 31 vs. Nebraska City
Sept. 21 vs. West Point-Beemer
Sept. 28 vs. Raymond Central
Oct. 12 vs. Columbus Lakeview
Oct. 19 at Columbus Scotus
Sept. 7 at Columbus Scotus
Sept. 14 vs. Douglas County West
Sept. 28 vs. Boone Central/Newman Grove
Sept. 7 at Wilber-Clatonia
Oct. 19 at Tekamah-Herman
Aug. 24 vs. Hartington Cedar Catholic
Sept. 14 vs. Norfolk Catholic
Sept. 28 at Tekamah-Herman
Oct. 12 vs. Archbishop Bergan
Aug. 24 vs. Johnson County Central
Oct. 5 at Aquinas Catholic
Oct. 12 at Shelby-Rising City
Aug. 31 at Hartington Cedar Catholic
Sept. 21 vs. Tekamah-Herman
Oct. 5 at Archbishop Bergan
Sept. 21 at Oakland-Craig
Oct. 19 vs. Fremont Bergan
Sept. 14 vs. Johnson County Central
Sept. 28 vs. Archbishop Bergan
Oct. 5 vs. Tekamah-Herman
Guardian Angels Central Catholic
Sept. 7 vs. Omaha Brownell Talbot
Sept. 21 vs. Wisner Pilger
Aug. 24 at Clarkson/Leigh
Sept. 21 vs. Lutheran High Northeast
Sept. 28 vs. Neligh-Oakdale
Oct. 12 vs. Laurel-Concord-Coleridge
Aug. 31 at Omaha Brownell Talbot
Sept 21 at Emerson-Hubbard
Oct. 12 vs. Omaha Christian Academy
Aug. 24 vs. Parkview Christian
Sept. 7 at Elmwood-Murdock
Sept. 21 vs. Omaha Christian Academy
Sept 28 at Emerson-Hubbard
Oct. 12 at Clarkson/Leigh
Warriors ready to take the next step
The Midland University football team went back to high school for the opening days of fall camp.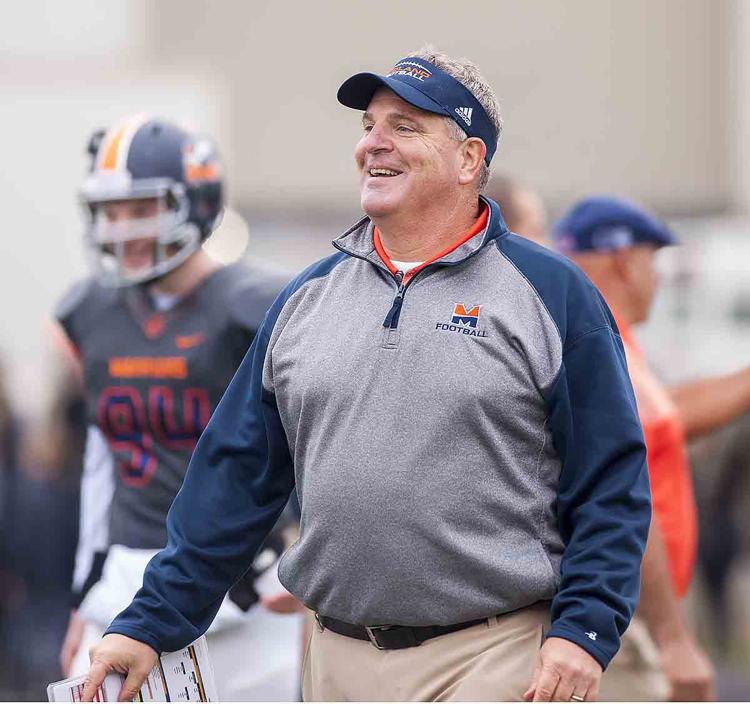 Head coach Jeff Jamrog took the Warriors to Elkhorn Mount Michael for four days earlier this month to focus on football and to build team chemistry.
"I think it was a good experience for our guys," said Jamrog, who is beginning his third season with the Warriors. "It brought us closer together as a football team. There are no distractions there and you don't have to worry about someone oversleeping who is living in an apartment or a house. We thought it would build camaraderie and it has."
The Warriors, coming off a 6-4 season, were picked third in a Great Plains Athletic Conference poll of league coaches. That is just fine with Jamrog.
"We don't spend much time on that," he said. "I think that is more for fans, parents and others."
Jamrog recalls the 1996 season when he was defensive coordinator at the University of Nebraska at Omaha. The Mavericks were picked to finish last in the North Central Conference. They went on to win the league title outright for the first time in school history and finished 10-1 in the regular season.
"I haven't paid much attention to those things ever since," Jamrog said. "It isn't where you start, but where you finish. That is the important thing. We were kind of the laughingstock when we took over the program. We're not where we want to be, but hopefully when it is all said and done, our goal is to win a championship. We're getting closer as far as our talent level and commitment level. We hope this year we take another step in the right direction."
The Warriors return several starters on offense, including sophomore quarterback Payton Nelson. In just seven games last year, Nelson threw for 976 yards and eight touchdowns. He also rushed for 135 yards and four more scores. 
"Our expectations are super high for Payton," Jamrog said. "He knows how to lead a team and he has talented guys around him." 
That talent includes the backfield. Blair native Lukas Vopnford rushed for a team-best 488 yards and scored four touchdowns as a junior. Former quarterback Garry Cannon rushed for 378 yards and four scores. Jamrog also likes the potential of sophomores Adrian Kellogg and Sean Lambert. The latter is a Fremont High graduate and a transfer from the University of Nebraska. 
"Adrian might be the most explosive out of the group," Jamrog said about the Washburn transfer. "When you throw Sean in there we have a pretty good situation." 
The offensive line returns intact. Senior center Alex Boyer is one of the team captains. Guard Daniel Jahn (6-1, 290 pounds) was a second-team All-GPAC pick last season. Jahn and fellow Millard North product Ethan Butler, a junior tackle, are beginning their third year as starters. Also back are senior tackle Brett Egner (6-2, 285), junior guard Riley Williams (6-1, 314), senior Lamarr Good (6-0, 300), junior Clayton Wittmayer (6-5, 330). and junior Zachary Wilson (6-1, 316). 
"We feel like we have eight or nine linemen that are really talented," Jamrog said. "It is great to have that depth and experience." 
Senior Mike Seawell (5-9, 175) led the Warriors in receiving last year. He caught 27 passes for 396 yards and four touchdowns. 
"He has had an awesome camp and is kind of our Wes Welker receiver on the team," Jamrog said, referring to the former NFL standout. "We want to get him the ball in different ways. He'll be our No. 1 punt returner, too."
Senior Charles Apuna (6-1, 185) also returns. Freshman Dylan Egr, a Wahoo High graduate, is expected to help at the slot receiver. Two other freshmen, Jaden Collins (6-1, 170) from Papillion-La Vista, and Dalton Harris (6-3, 190) from Millard West, could also make key contributions. 
"Obviously these young guys haven't played yet, but we're excited about what they've done in practice," Jamrog said. 
Tom Brinkman takes over as the defensive coordinator.
"He has done a good job of molding this group together," Jamrog said. "I've been pleased with how he goes about his day-to-day business." 
While 2001 Heisman Trophy winner Eric Crouch is coaching the running backs, another former University of Nebraska player, Ross Dzuris, is coaching the defensive line. 
"Ross has done a great job with those guys," Jamrog said. "It all starts up front." 
Jamrog is excited about the potential of Johan Williams (6-4, 290), a transfer from Mateo (California) College. 
"He has't played in a year, but he has all the tools in the world," he said. 
Papillion native Tyler Koch, a senior transfer, and Schuyler Schweers (6-1, 202), a junior, will also help on the front line. Darlondo Hill, a 6-4, 200-pound sophomore from Omaha Westside and Jake Lenagh (6-7, 255) of Millard North have both "really improved at the defensive end spot," Jamrog said. 
On the interior, junior David Hansen (6-3, 255) and Jackson Kratina (6-3, 288) of Gretna are both performing well. 
Wyatt Tremayne heads the linebacker crew. He earned second-team All-GPAC honors as a junior. Wahoo native Theo Blum (6-1, 215) is expected to take over the other inside backer spot. They will be backed up by seniors Zach Gates (5-11, 230) and Donovan Johnson (5-10, 210). The latter is a Fremont High graduate. 
At the Jack linebacker is Soga Eli. The 5-10, 205-pounder was fourth on the team in tackles with 45 and had six tackles for loss. Junior Jason Martin is another veteran presence while sophomore Keylan Beller is also in contention. 
Junior Jett Hampton, a transfer, (6-0, 200) has impressed at the nickel position. 
"He is very disciplined and picked up the defense quickly," Jamrog said. "He is very athletic."
Jason Arnold and Logan Paasch are also pushing for playing time. 
Houston native Ashton Ellis (5-10, 175) returns at safety where he finished third on the team in tackles with 47. Broc Larsen (5-8, 180) appeared in eight games last fall while Alex Dubas (5-7, 180) and Aurora freshman Cal Narber, who played in the Shrine Bowl, have also impressed. 
Omaha native Joey Martin played nine games at corner last year and finished with 30 tackles and an interception. New Orleans native Tyler Blanco (5-9, 170) joined Martin in playing as a true freshman. The two are being pushed by Ronnie Taylor (6-2, 185), a junior from Omaha Concordia. 
"He has had a great spring and summer," Jamrog said. "If he doesn't start, he'll be right there in the mix." 
Fremont native Chandler Lipsys has moved to corner from nickel while freshmen Crash Woodle and Ray Rush are also contending for action. 
Jacob Ellis, a captain, returns as the long snapper and also plays tight end. Camdon Griffiths will punt and is battling Austin Heim for the kicking duties. 
Jamrog said the GPAC will be challenging once again. 
"You better show up each week and ready to play," he said. "We have excellent coaches in this league and the talent level is very strong." 
The Warriors open the season at 3 Saturday afternoon against MidAmerican Nazarne at Heedum Field. 
Tremayne stands tall for MU defense
Wyatt Tremayne isn't the biggest linebacker in the Great Plains Athletic Conference, but that hasn't stopped him from becoming one of the best.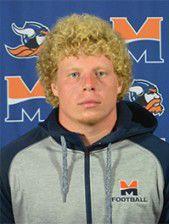 The Midland University senior captured All-GPAC second-team honors last fall after leading the Warriors in total tackles (80) and solo stops (40).
Tremayne is 5-foot-9, 204 pounds, but always seems to be around the football.
"I've grown up kind of being a ball hawk," the Homer High School graduate said. "Once I was in college, I realized I was kind of small, but I just think you need to know the system you are in and be a smart player. Also, it is just a matter of being tough. If you know what you are doing and have toughness, you can make up for that lack of athleticism. If you do that, it doesn't really matter how big or small you are or how fast or strong you are."
Tremayne makes sure he is well prepared by studying film of the Warriors' opponent each week. 
"I study film and plays to learn what the other team is doing," he said. "I do that and then when we are out on the field I just try to be tough and sacrifice my body out there."
Tremayne came to Midland in the fall of 2015 -- one season before current head coach Jeff Jamrog was hired.
"When I first came here, discipline was really lacking," he said. "I think communication and the team building kind of things weren't really there. When Coach Jamrog came in, he really pushed discipline on everyone and that is why you've seen us improve each year."
Tremayne and his classmates were joined by Jamrog and some of his staff on a senior trip to Colorado. The MU contingent went to a Colorado Rockies baseball game, viewed a Denver Broncos practice and went white water rafting.
The linebacker said the trip helped strengthen the bond between the seniors.
"The family aspect on this team is out of the roof," he said. "Everyone is a brother to everyone."
The Warriors finished 6-4 last season, but ended the year on a two-game winning streak. Tremayne was one of five MU players to earn second-team All-GPAC honors.
"I think for myself 2017 was a good season, but not a great one," Tremayne said. "I don't think I was quite the leader I wanted to be, but during the offseason I've moved into a leader role."
During the spring, teammates selected Tremayne as one of four captains for the team. The others are running back Lukas Vopnford, center Alex Boyer and tight end/deep snapper Jacob Ellis.
"Earlier in my (career) I was a lead by example type," Tremayne said. "But after getting selected as a captain, I knew I had to be more vocal. I think all four of us are more vocal now and want to lead the team. We call guys out if they do something wrong and encourage them when they are doing something right."
Tom Brinkman was promoted to defensive coordinator in the spring. Tremayne said the Warriors' defense won't be dramatically different from last season.
"We'll keep our base 3-4 defense and we'll do a lot of the same things," he said. "We'll tweak some things, but I think it will be a pretty similar defense. Coach Brinkman is a pretty good coach and we're excited for the fall."
Elkhorn native Bryan McLaughlin, who also earned All-GPAC second-team honors at inside linebacker last season, graduated in the spring. Tremayne is confident others can step up to fill the void, including Wahoo native Theo Blum and Fremont High School graduate Donovan Johnson.
Tremayne said he has a specific individual goal for this season.
"The top one for me is to always be a better teammate," he said. "If everyone is a better teammate, then this team can only succeed. That is always my No. 1 goal."
Vopnford eager for any role in MU offense
Lukas Vopnford thinks the Midland University offense could be good this season.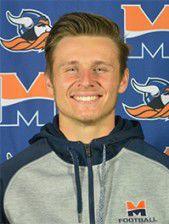 "I think our offense will be unbelievable this year," the senior running back from Blair said. "We have a lot of returning players and a ton of great new athletes."
Vopnford should know about MU's offensive talent. He led the Warriors in rushing last fall with 488 yards on 98 carries and scored four touchdowns. He also tied for fourth on the team in receptions with 18 and finished with 294 yards and two scores.
"Lukas is a very explosive and smart running back," Midland coach Jeff Jamrog said. "Plus, he has a lot experience." 
The Warriors return all five starters on the offensive line, including center Alex Boyer. The Plano, Texas, native is one of four captains on the team along with linebacker Wyatt Tremayne, tight end/deep snapper Jacob Ellis and Vopnford.
"It is awesome to have everyone back on the line and we obviously have a great talent at quarterback," Vopnford said. "Payton Nelson is a stud."
Nelson, an Omaha North graduate, threw for 976 yards and eight touchdowns in just seven games last year as the Warriors finished 6-4. While Nelson will be back at quarterback, the Warriors have plenty of options at running back. Vopnford said Adrian Kellogg, former quarterback Garry Cannon and University of Nebraska transfer Sean Lambert of Fremont have all been impressive.
"We have a lot of great talent at running back," the 2015 Blair High graduate said. "I feel like five or six of us can handle that work load. Whatever the coaches decide with me -- whether I'm a starting running back or they put me in to block or whatever -- I'm going to give it all I've got. I hope to be the lead back. I just have to work for it."
After starting 4-0 in 2017, the Warriors lost four straight before ending the season with wins over Hastings and Doane. Vopnford believes the Warriors, who were picked to finish third in the Great Plains Athletic Conference by league coaches, are ready to take the next step as a team.
"I honestly believe that," he said. "We will prepare hard and take on anybody. We're not scared of anybody. That is the big thing. I think we have a great opportunity to go out and win every single game this year, especially based on the commitment we had during the summer."
Vopnford said the number of participants in the summer workouts have steadily climbed in the three years that Jamrog has been head coach. He estimates 80 to 100 players showed up on a regular basis in 2018.
"It is a five-day commitment and a lot of dudes have to work, yet they made the time to come to our workouts and put in the time," he said. "I'm extremely pleased with how dedicated our team has been and I think it is going to take us a long way."
Vopnford came to the Warriors in the fall of 2015, but redshirted while recovering from a couple of shoulder surgeries.
"I just filmed practice and things like that, but it was a great opportunity to learn what college football was like and just see the different pace of play at this level compared to high school," he said.
The Warriors only won one game in 2015, but Jamrog arrived that winter. Since then they have combined for 13 wins in the past two seasons. As a redshirt freshman in 2016, Vopnford was third on the team in rushing behind Deon Ransom and Cannon with 354 yards. He also scored five touchdowns.
Vopnford is on pace to graduate in May, but he could actually return next year. He is studying biology and pre-med.
"It is up in the air right now," he said. "The coaches have talked to me about it, but I have a bigger picture to look at. I'm studying for the MCATS to get into graduate school. If I get accepted in 2019, I can't really pass that up for my future career, but I am keeping my options open."
If this is his last season at MU, Vopnford wants to do everything he can to help the Warriors succeed.
"My role has increased since I was voted as one of the captains," he said. "Obviously I'm working and looking forward to running and catching the ball, but I look at myself as more of a leader now."
Boyer provides solid foundation for MU line
Alex Boyer doesn't recall the late fall of 2015 very fondly.
Boyer, then a freshman center for the Midland University football team, began the season as a starter, but was sidelined for most of the season with a severe concussion. The Warriors finished 1-10 that year and head coach Josh Gehring was relieved of his duties in late October.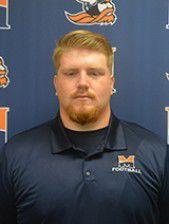 Boyer, a Plano, Texas, native was hundreds of miles from home and wasn't happy. He thought about leaving MU.
"I talked to my mom (Michelle) and told her I wanted to leave," Boyer said. "It was a tough time. My mom just told me to give it one more semester and see who they would hire as coach. Luckily, I took her advice and stayed. It has been a huge blessing working with this current coaching staff."
Midland hired Jeff Jamrog as coach that winter and he immediately began to turn the Warriors' fortunes. MU went 7-4 in 2016 and 6-4 last season.
The Warriors are looking to do even better things in 2018. Quarterback Payton Nelson and running backs Lukas Vopnford and Garry Cannon (a former quarterback) are among the skilled position returnees. Boyer is part of an offensive line that returns intact.
"I've told the guys several times that this is the most excited I've ever been about any football season that I've been a part of," he said. "We have the weapons to be the most dangerous offense in not only the GPAC (Great Plains Athletic Conference), but the nation. We have a real cohesive group. We have strong chemistry with really no cliques or anything."
After a 4-0 start last year, Midland lost four straight. In the fourth loss, however, the Warriors played well at fourth-ranked Morningside. The Warriors then beat Hastings and Doane to close out the season.
"I think we really built some momentum in those last three games," Boyer said. "We have something to prove this year and we've worked really hard in the offseason. We're going to take what is ours."
While the Warriors are intent on unseating Morningside as the league champions, the GPAC coaches picked MU to finish third — behind the Mustangs and Northwestern — in a preseason poll. GPAC media members also had the same top-three finish.
Boyer realizes that such polls are more window decoration than anything.
"I try not to look too deep into them," he said. "A lot of it is just assumptions that things will just fall into place the way that people think. To a lot of people, Morningside is always going to be the top dog, but I think of all the teams in the GPAC besides Morningside, we have the best chance to make a run and win conference."
A league title would be extremely satisfying to the Texas native, who has family in Nebraska. Four years ago when he was looking for a college, he sent film to Midland. Gehring's staff reached out to him and he opted to make the trek to Fremont.
As a sophomore, Boyer was expected to be the starting center, but he tore the MCL in his knee in fall camp. The injury caused him to miss all but two games. Last fall, he started nine games for MU and was an All-GPAC honorable mention selection.
Boyer isn't the only veteran on the interior line. Senior right tackle Brett Egner, junior guards Riley Williams and Daniel Jahn(a second-team all-league pick) and right tackle Ethan Butlerall return.
"Our line is back and they all do a really good job," said Vopnford, who led the team in rushing in 2017. "They are a solid group up front."
Boyer makes the calls for the line — something he did back in high school.
"I kind of enjoy that responsibility," Boyer said. "You kind of feel like an air traffic controller in that you make sure that everyone knows what is in front of them and where they need to go."
Teammates have noticed that Boyer isn't one to shirk responsibility. He was named one of four team captains — Vopnford, tight end Jacob Ellis and linebacker Wyatt Tremayne are the others.
"Not many people get to be a captain of their team and I consider it a great honor to get to be in a group with Jacob, Wyatt and Vop," Boyer said.
Boyer is studying secondary education and social sciences. He is on pace to graduate in May and is considering pursuing a graduate assistant job in the college ranks.
"I think I might try that somewhere and climb the ranks," he said.
The four-year starter is anxious for the season opener Aug. 25 against MidAmerica Nazarene University at Heedum Field. It is unsettling for him to think about how close he came to leaving MU before Jamrog and his staff arrived on campus.
"Taking my mother's advice was the best thing I could've done for myself," he said. "I don't think I could've ever forgiven myself for giving up on the program. ... It is crazy to see how far we've come as a unit. At the end of the day, this has been the best experience of my life and I wouldn't change it for anything."