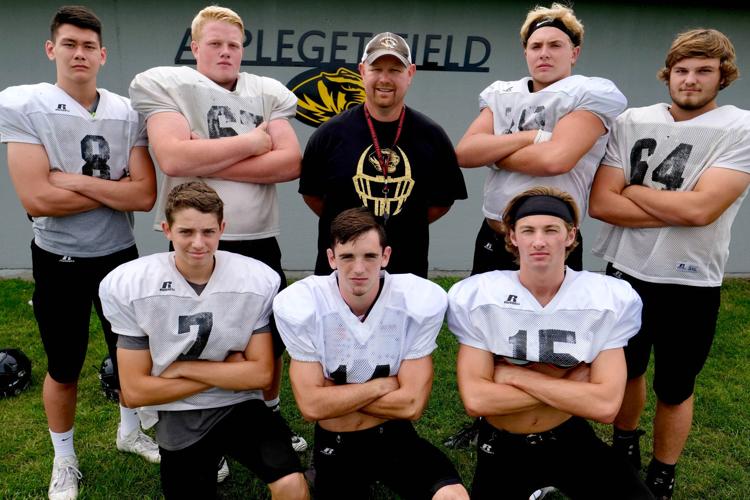 Fremont High School ended a nine-year postseason drought last fall by qualifying for the Class A state playoffs.
Now the Tigers are focused on making a return trip to the postseason party.
"That was a great boost for the program," Fremont coach Seth McClain said. "It was big to get there and do the things we did, but like I told the guys this year is their time. Do they want to be one-hit wonders or are they going to be the real thing? To get back there it has to be a day-by-day deal. I think we have the talent to do it, but it will take great effort on the players' part and also on our parts as coaches."
The Tigers finished 5-5, including an opening-round playoff loss to eventual Class A champion Omaha North.
Gone from that team are Fremont Tribune All-Area picks Riley Harms (quarterback), Jake Sellon (receiver) and Bergan Hofer (offensive line). Harms (University of Nebraska at Kearney) and Hofer (Washburn) are playing college football while Sellon is a pole vaulter at the University of Nebraska.
"I'm sure with those guys gone some people in Class A will think Fremont will be down," McClain said. "But we've got guys that we can plug in and get after it. We lost some really good players, but we also have a lot of guys with playing experience. I think we also have young kids that have a lot of talent."
McClain believes the strength of the Tigers may be on the interior lines.
"We have large and physical guys that love to play football," he said. "They love to mix it up. We have some other places that are coming along that could be right up there with those guys, but right now our offensive and defensive lines are the strengths for us."
Spencer Fitz, a three-year starter, will be at left tackle.
"He is a really good offensive lineman," McClain said. "As good as he is on offense, he is just as good if not better on defense. We just have to find a spot to give him a break now and then."
Juniors Carter Richmond (6-1, 260) and Keegan Menning (6-4, 270) will be the guards while while Jackson Ritchhart (6-4, 295) will be at center.
"He started on defense last year and he'll be our rock in the middle," McClain said.
Junior Kade Richardson (6-4, 290) will be at right tackle. He is a returning starter.
"Kade is very physical and is a road grader out there," McClain said. 
Sophomore Boone Gray (6-2, 250) was slated to be the right tackle, but he suffered a fractured ankle a day before the annual sports drink scrimmage and is lost for the season. 
Seniors Evan Glosser and Jared Fisher will provide depth on the line. 
Senior Brody Sintek, a backup to Harms the past two years, moves into the starting role at quarterback.
"We've told him he just has to be the best player he can be and don't try to be something else," McClain said "He had a great summer as a baseball pitcher (for the First State Bank Seniors) and football-wise he has picked up the offense. We've tweaked things here and there to fit his strengths, but he has done a great job and we're excited to see what he can do this year."
Three sophomores -- Jack Cooper, Aidan Queen and Colt Inselman -- are in the running as Sintek's backup.
The backfield returns senior Cody Carlson (5-7, 140), who rushed for 694 yards and four touchdowns as a junior. Also back is senior Dylan Kor (6-2, 200), who rushed for 239 yards and five scores. Kor suffered a knee injury in June, but is expected to be ready for the opener.
Logan Mueller, a senior, will also help the Tigers' running game.
"Logan was a quarterback, but he is a strong runner and we thought he could help us more at running back than quarterback," McClain said. "Cody does some things well, but he isn't the type you give the ball to 30 times a game. Mueller gives us more depth there."
Sellon and Nate Grimm, who also graduated in May, combined for 100 catches last fall. Senior Dillon Dix missed last year due to a broken ankle, but is ready to lead the receivers.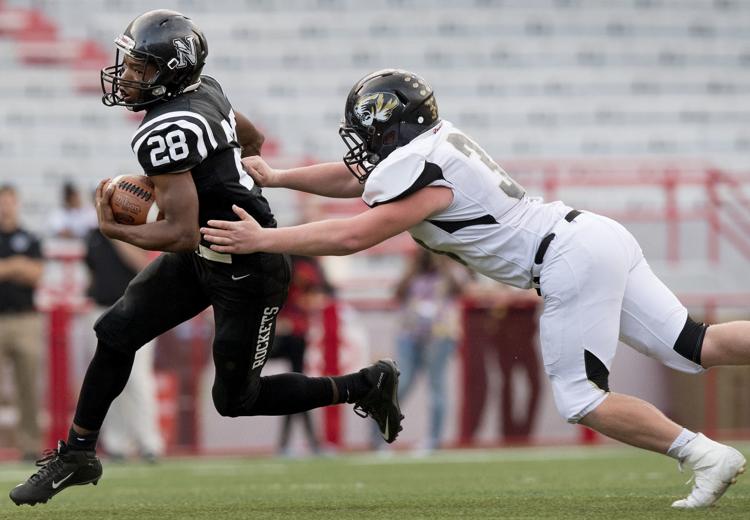 "Dillon is smooth," McClain said. "He is fast and has phenomenal hands. He is this year's version of Jake. He knows every route that everyone is supposed to be doing every play."
Senior Austin Everitt and juniors Spencer Sorensen and Jon Kment will also figure into the passing game.
The Tigers have three veteran tight ends. Junior Carter Newill started last season. Senior Tate Moeller started as a sophomore, but missed last year due to injuries. Senior Jake Heineman also has experience.
"We are running some special sets with those guys. Hopefully we'll get some mismatches and it will give us some advantages in the run game," McClain said. "They are fun to work with."
Defensive coordinator Lee Jennings will utilize a 4-2-5 defense, McClain said.
"It is very similar to what we've been doing," McClain said. "Some of the terminology is different."
Senior Jordon Woehrer (6-8, 335) joins Richhart at defensive tackle. Richardson, Menning, Fisher, Glosser and senior Trevin Escamilla could also see time at DT.
Heineman returns at defensive end.
"He has long arms and is hard to block," McClain said. "He'll do anything to get to the football and he plays with a mean streak on defense."
Fitz will be at the other end, but Glosser or Escamilla could also see action.
At the Rover spot, which McClain said is primarily outside linebacker, is Kor. He earned All-Area honors while recording 76 total stops as a junior. He will be backed up by Mueller.
Gabe Schindler will be at Joker, which is a combination of outside linebacker and safety. Senior Hunter Wallace, junior Mitchell Baxa and sophomore Connor Stone are also pushing for playing time. Junior Colton McCurdy returns at Sam linebacker where he recorded 71 tackles in 2017.
"He is like a demolition derby car out there," McClain said. "He just likes to go and hit things."
Ty Sookram, a senior, will be at the Will backer.
"Ty has worked his tail off and is looking good for us at that spot," the head coach said.
Moeller has the versatility to play Rover, Will or Sam. Newill will compete at Sam or Will.
Carlson and Everitt are the cornerbacks, but Kment will see significant minutes. Dix will be at free safety where he will be backed up by Cooper.
Senior Nate Dillon will handle the punting and kicking chores. He attended various camps during the summer.
"He has a strong leg," McClain said. "He made a 53-yard field goal at one camp and then 56 yards at another."
The return specialists include Everitt, Carlson and sophomore Dawson Glause. The latter may also help the Tigers at receiver and in the secondary.
"The kid is electric," McClain said. "He has wheels we haven't seen here in a while."
McClain believes the potential is there for the Tigers to have another solid season.
"We have to keep improving," he said. "If we do that and stay healthy with the right attitude, we have a chance to be special."
Fremont opens its season at 7 Friday night against Lincoln Northeast at Beechner Field.