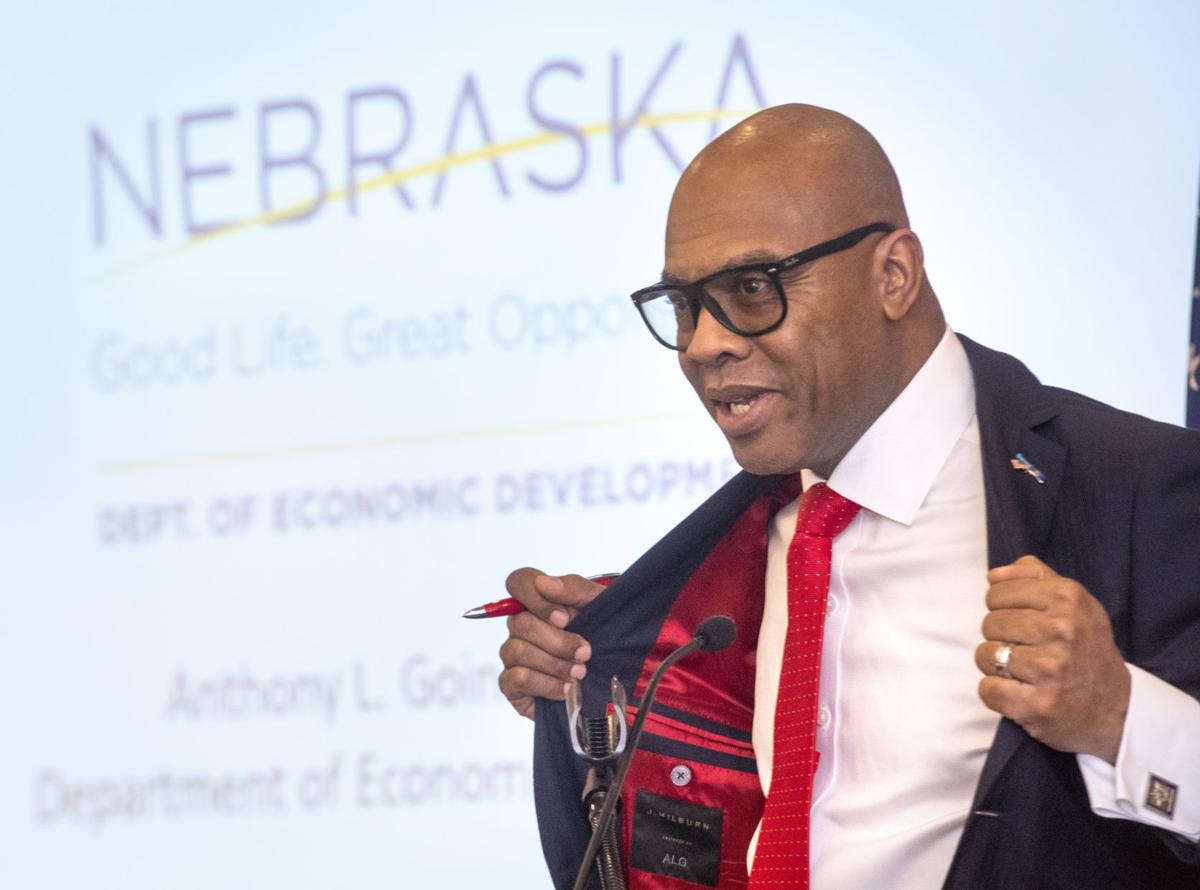 Growth is the word; growth is the goal.
It's clearly the focus for Tony Goins as Nebraska's new director of the Department of Economic Development, a position he has held since October.
In announcing his appointment last July, Gov. Pete Ricketts pointed to Goins' "executive experience and entrepreneurial drive."
Goins is a relatively new Nebraskan, having moved to the state with his family in 2014, but he's a cheerleader now.
"If you want to work hard, have fun and raise a family in a growing state, then Nebraska is for you," Goins says.
"There is something in the water here in the middle of everywhere and it's time for the entire world to know what makes our state special."
Goins comes to his new position after a career that he describes as "a strategic, results-driven business executive."
Blend that with the discipline and drive of a former U.S. Marine Corps sergeant.
And now, he told a Lincoln Chamber of Commerce luncheon audience in February, he wants to "make it easy to do business in Nebraska," clearing the runway for economic growth.
His goals as the state's economic development director are focused on growing "high-wage, high-demand jobs," Goins said, while supporting Nebraska's farmers and ranchers along with its small businesses.
And that includes helping build export markets for Nebraska agriculture.
"We all wear the same jersey," he told the big Chamber luncheon audience at the Country Club of Lincoln.
Goins is an entrepreneur himself, a partner who opened the Capital Cigar Lounge in southwest Lincoln.
His wide experience as a business executive specializing in the financial services industry includes positions with KeyBank, Ford Motor Credit Co., CertusBank, JPMorgan Chase and Cabela's World's Foremost Bank.
At the time of his appointment, Goins was director of branded projects for Lincoln Industries.
It all began with a job as a security guard at American Express.
During his career, Goins has lived in 14 cities in 10 states.
At his confirmation hearing with members of the Legislature's Banking, Commerce and Insurance Committee in January, Goins described the offer he received from the governor to serve as the state's economic development director as "the call of a lifetime."
"None of this was on my radar," he told the Lincoln Chamber audience.
Goins said he will focus now on winning another Governor's Cup from Site Selection Magazine, which would mark the fourth year in a row that Nebraska has demonstrated the highest economic development per capita of any state. It's an award the governor cherishes.
Other goals include regional development of high-speed connectivity and broadband service, which has been an ongoing challenge for portions of rural Nebraska.
In addition to recruiting and supporting new economic development projects, Goins said he will focus on capital investments, support for growing exports for Nebraska's farmers and ranchers, growing small businesses and recruiting talent "with an emphasis on our hiring military veterans from around the country."
Goins told state senators he also wants to "strengthen partnerships" with educators, business leaders and community leaders "with the endgame of creating substantially more internships and apprenticeships."
And, he said, he wants to promote Nebraska by creating "a new narrative about our state" that highlights its Silicon Prairie tech startups, "the urban swag" of new developments in Omaha and Lincoln, and the beauty and attraction of the Sandhills and other outdoor destinations in central and western Nebraska.
"Our story has been under-told and undersold," he said. 
"He has a global view of economic issues," Sen. Patty Pansing Brooks of Lincoln said in supporting Goins' confirmation by the Legislature.
"He's visionary. Tony looks outside the box. He looks at what can we do that we haven't done yet."
At the time of his appointment, Goins said he believes Nebraska is "positioned to attract new talent and investment from across the nation and around the globe."
In the Marine Corps, which he joined when he was 18, Goins was a machine gunner in the infantry.
Now, he has his sights directed at new targets.
Be the first to know
Get local news delivered to your inbox!