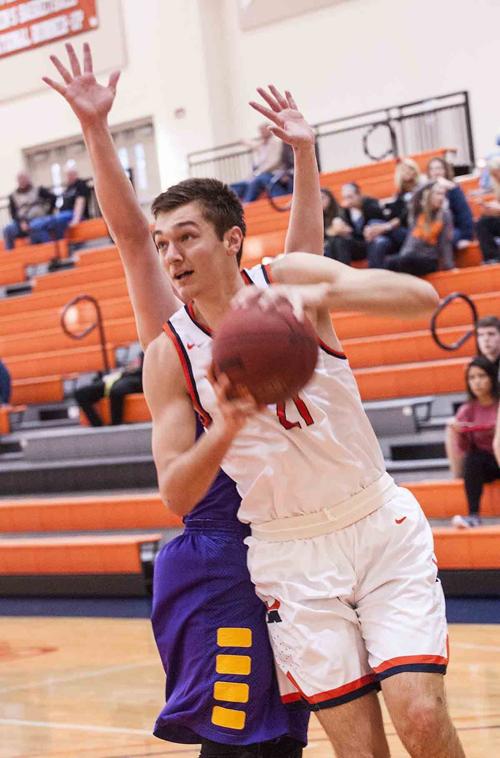 Midland University has no seniors on its men's basketball roster, but you won't find Warriors' coach Oliver Drake hitting the panic button.
The Warriors return starters in sophomore guards Malik Martin, Bowen Sandquist and Dillon Faubel. Also back is 2018 All-Great Plains Athletic Conference pick Ryan Williams. Back surgery limited the former Fremont High School standout to just one game last year, but he is healthy for 2019-20.
"We're excited about this group," Drake said. "They have certainly gotten stronger and they certainly have more experience. We started the three freshmen last year and the jump they've made from last year to this year is very noticeable. Everyone has gotten better, now it is time to put it to the test."
The Warriors, who finished 10-19 last season, will open the 2019-20 campaign at 7 Saturday night against Bethany College at the Wikert Event Center.
The 6-foot-8 Williams averaged 17.2 points and 6.8 rebounds per game during his all-conference season as a sophomore. His career was in jeopardy following the surgery, but following a redshirt season doctors gave him the OK to play in the spring.
"I can't say enough good things about Ryan and the changes he made from a mentality standpoint," Drake said. "He has changed tremendously, more so in just the way he approaches things. He is significantly better than he was a year ago at this time and that is scary because Ryan was pretty good then. As I've said before about him, the sky is the limit."
Martin, a 6-2 sophomore from Dallas, averaged 13.0 points, 4.2 rebounds and shot 49.3 percent from the field last season. He burned — at the time — 14th-ranked Bellevue University for 50 points during a 90-88 win by the Bruins last November. He was also second on the team in assists with 53.
The 6-3 Sandquist, a native of Johnston, Iowa, averaged 13.1 points and 2.0 rebounds per game last season. The 6-2 Faubel, a native of Treynor, Iowa, contributed 7.2 points and 2.4 rebounds per game.
"I think Malik, Bowen and Dillon are physically better and mentally stronger," Drake said. "A year of experience helps a lot. All three have changed their bodies and games, but most importantly their mentality."
Drake is also excited about a promising group of freshmen.
The 6-3 Kylan Smallwood can play anything from the 1 to the 5 for the Warriors. The Creston, Iowa, native already competes like a veteran.
"He's not built like a freshman and he doesn't act like a freshman," Drake said. "He is a great rebounder and a great defender. He has the ability to score in multiple ways. He has a maturity in the way he carries himself and the way he works. I can't say enough great things about him."
Jake Rueschoff, a 6-1 point guard from Millard North, is also talented.
"He was a tremendous get for us," Drake said. "We really think he has a huge upside. He carries himself well and has done an outstanding job."
Sam Mailloux, a 6-6 forward from Pender, is expected to help on the frontline.
"Sam is one of those guys that came in green, but has worked hard and will see time for us," Drake said. "He is a great shot blocker and he has good range. ... He is just scratching the surface on how good he can become."
Drake also likes the potential of Hunter Mengel, a graduate of Bellevue East.
"He is a 6-5 jumping jack," he said. "He is really, really athletic."
Additional help could from 6-8, 250-pound Jacob Lenagh. The junior played prep ball at Millard North and has competed in football at MU.
"Our frontline went from not being one of our strengths to now definitely being a strength with Ryan back and having Sam, (Lenagh), Hunter and Smallwood," Drake said. "We feel as good as you can about a frontline. Jake is mobile, strong and a good player. He has been an awesome addition."
Drake said time will tell how well the veterans and newcomers mesh together.
"The unknown for us is that this group hasn't played together," he said. "We have five freshmen (including Fremont Bergan graduate Dre Vance), five sophomores and three juniors on varsity. You worry a bit about experience, but we have the three guys that started as freshmen and we have Ryan so we do have some experience. They have more minutes than maybe their age indicates."