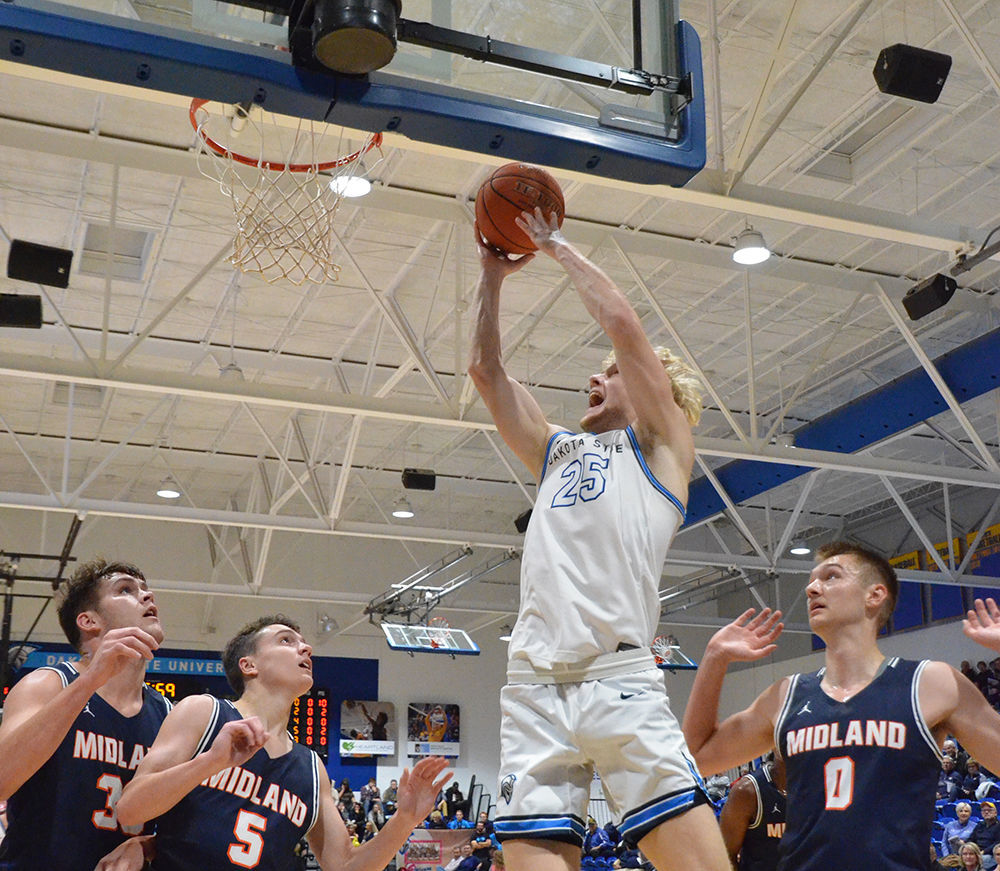 MADISON, S.D. – Midland University dominated the overtime period on its way to knocking off Dakota State 77-68 on Wednesday night in men's basketball.
"We were really proud of the way our guys responded in the second half and overtime," Midland coach Oliver Drake said. "Any time you go on the road it's going to be a battle and tonight was just that."
Kylan Smallwood's basket to open overtime put the Warriors ahead for good. The Warriors outscored the Trojans 12-3 in the extra session.
The Warriors trailed 36-26 at halftime, but Smallwood's basket a 3-point apiece from Bowen Sandquist and Jake Rueschhoff pulled the Warriors within two with 17:51 left in the second half.
Ryan Williams, who scored a game-high 29 points, hit a field goal to put MU up 65-61 with 2:01 left in regulation, but the Warriors didn't score again until overtime.
Williams, a 6-foot-8 junior from Fremont, connected on 10 of 23 shots from the field and added 13 rebounds.
Smallwood and Rueschhoff each finished in double figures with 13 and 10 points, respectively. Both players had six rebounds apiece. Sophomore Emanuel Bryson added a career-high 10 points while adding four rebounds and two steals.
Brady Van Holland came off the bench to lead the Trojans with 21 points. The close loss still leaves Dakota State searching for its first win in 2019-20, with three of their four losses being to Great Plains Athletic Conference schools.
Midland outrebounded the Trojans 44-21 and shot over 50 percent from the field, which was enough to overcome 19 turnovers and a mere 3-for-17 performance from three-point range.
"Any time you win a game when you shoot 17 percent from 3, you have to take it and run," Drake said. "On the flip side, we attacked the glass at a high level and made more free throws than our opponents attempted. Those two stats lead to road wins. This group has a chance. We just have to keep working and getting better."
Midland will host York at 5 Tuesday night in the Wikert Event Center.
Midland — Ryan Williams 29, Kylan Smallwood 13, Jake Rueschhoff 10, Bowen Sandquist 5, Emanuel Bryson 10, Malik Martin 9, Laurence Merritt 1.
Dakota State — Gare Ewefada 12, Josh McGreal 9, Anthony Costello 7, Brady Elder 6, Cole Bruhn 2, Brady Van Holland 21, Gavin Schipper 9, Sawyer Koch 2.
Be the first to know
Get local news delivered to your inbox!