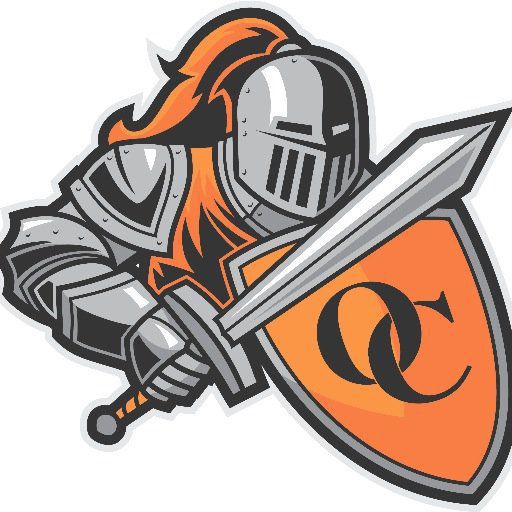 OAKLAND — Joe Anderson is burning the candle at both ends this week, and he'd have it no other way.
The Oakland-Craig football coach also is the Knights' girls basketball coach. With winter sports starting preseason practices this week, he's been serving double duty with girls basketball practice before school at 6 a.m. and football practice after school in preparation for the top-ranked Knights' (12-0) Class C-2 state championship football game against Sutton at 2:45 p.m. Tuesday at Memorial Stadium.
"I go home at night, make up practice plans for both basketball and football, then get up at 5 for basketball practice," said Anderson, whose girls team finished third in the C-2 state tournament in March. "I think we're going to have a good girls team again, and I don't want to shortchange them leading into their first games."
This isn't the first time Anderson has had to do the mid-November balancing act. The Knights reached the C-2 state football title game in 2015, losing in Aquinas. The seniors on this year's team were eighth graders that season, a number of them serving as managers on that squad.
"It's been a dream of ours (the senior class) ever since," said tight end Wyatt Seagren, a 6-foot-7, 250-pound South Dakota State tight end recruit. "We're not going there to play for a silver medal. Some of us had older brothers on that team, and we want to win this for them."
You have free articles remaining.
The Oakland-Craig football facility was under 4 feet of water during the March floods this past spring, but Anderson said a community-wide effort over the summer had it ready to go by August to open the season.
The Knights have seen teamwork produce results on the field this fall. Oakland-Craig, which is in the playoffs for the 12th straight season, has seven ball carriers with 200 or more yards on the season, a group led by junior Jaron Meyer (1,037 yards, 12 touchdowns) and senior Ian Lindquist (759 yards, 18 TDs).
Two sets of brothers — Tom and Mike Maline and Mike and Laurence Brands — along with Jarron Metzler and Seagren anchor an offensive line that helps the Knights average 334 yards per game rushing.
Quarterback Colton Thomsen has thrown for 1,204 yards and 14 TDs in 11 games, but the Knights proved in the playoffs there is depth at that position. Thomsen had to leave the first-round game against Hartington Cedar Catholic with a concussion in the third quarter, and sophomore Grady Gatewood entered to throw a 17-yard TD pass on fourth down to put Oakland-Craig in front to stay in its 28-26 victory.
Gatewood quarterbacked the whole game in the 50-14 quarterfinal over Doniphan-Trumbull before Thomsen returned last Friday for the 54-13 win over No. 2 St. Paul, a game in which the Knights led 38-13 after one quarter.
"That first quarter (against St. Paul) showed what we can do when we're hitting on all cylinders," Thomsen said. "We had tough back-to-back weeks with BRLD (a 40-30 win over the 8-0 Wolverines to end the regular season) and (Hartington) Cedar Catholic, but those got us ready for the rest of the playoffs. We're back on track now."