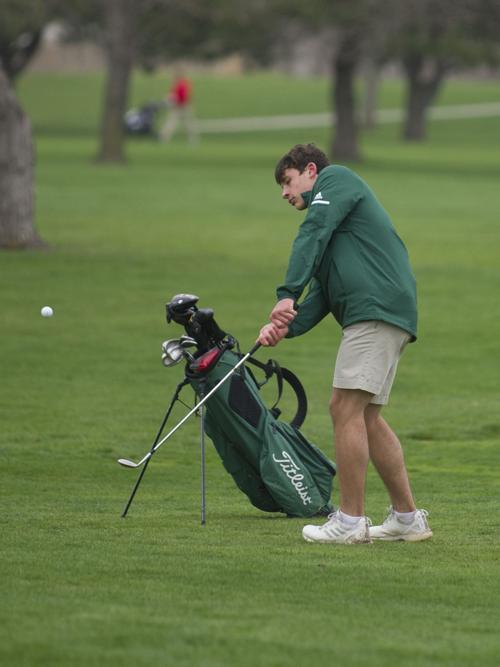 The Bergan golf team started the season with a strong showing at the DC West Invite Wednesday at the Pines Country Club, finishing fourth as a team with a pair of Knights cracking the top 15.
"For our first competition of the season, I'm pleased with how we played overall," Bergan coach Chris Rainforth said.
The Knights shot 343 as a team, finishing seven strokes off team champion Bennington.
Brady Davis was the top finisher for the Knights, carding a +7, 79, for fifth place.
"I thought I played pretty good for the conditions, it was windy and sprinkled here and there, so I was happy," Davis said.
Davis notched a pair of birdies on his scorecard and was three strokes off the leaders.
"I drove it off the tee really well today," Davis said. "My putting wasn't there, but my approach shots and drives really saved me."
Spencer Hamilton rounded out the top 15, matching David City Aquinas' Jaylin Jakup with a +12, 84.
"Brady and Spencer were pretty consistent with their ball striking throughout their rounds," Rainforth said.
Preston Tacy came in just behind Hamilton at +16, 88.
Jarrett Boggs rounded out the Knights team score with a 92, shooting a 40 on the final nine holes of the day.
Jared Forsberg also competed, ending the day with a 103.
Logan View's Jake Hagerbaumer tied for first, shooting a +4, 76, to make Bishop Neumann's Paatrick Kenney and Bennington's Cullen Buscher.
The Raiders finished 10th as a team with a 377.
Kolton Kriete shot a 94, Drrew Hagerbaumer carded a 101 and Caden Licht shot a 106 to make up the team score.
Arlington finished six strokes ahead of Logan View to take ninth with a team total of 371.
Jayden Thompson carded the low round of the afternoon for the Eagles at 90. Josh Iossi was a stroke back at 91 followed by Eddie Rosenthal with a 94 and Josh Hamre at 96.
1. Jake Hagerbaumer, Logan View, 76
2. Patrick Kenney, Neumann, 76
3. Cullen Buscher, Bennington, 76
4. Jacob Goertz, Mt. Michael, 77
5. Brady Davis, Bergan, 79
6. Gavin Martin, Bennington, 80
7. Ethan Zegers, David City, 80
8. Tylen Jakub, Aquinas, 81
9. Gunnar Ray, Oakland, 81
10. Brock Rogers, Tekamah, 82
11. Lauren Thiele, Neumann, 82
12. Boston Pentico, Neumann, 82
13. Carson Thomsen Oakland, 83
14. Jaylin Jakub, Aquinas, 84
15. Spencer Hamilton, Bergan, 84
14. Ashland-Greenwood, 410