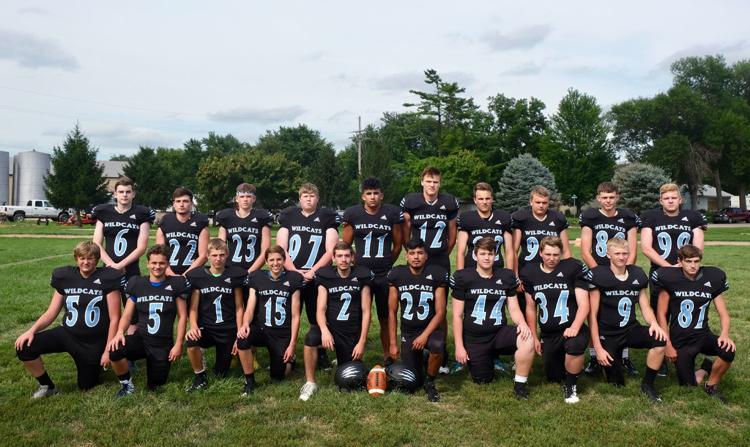 CEDAR BLUFFS -- Adapting to a new coach is something that has become routine for the Cedar Bluffs High School football team.
As this year's seniors prepare for their final season, they're also getting to know their third head coach in four years.
Tom Brinkman was hired by Cedar Bluffs Public Schools this past spring as a social studies teacher and head football coach. He was a substitute teacher at the school this past year and was able to work with the players during offseason training.
The transition has went well for the new coach.
"They've been very accepting of me," Brinkman said. "They're buying in to what we're trying to do. At first the biggest thing was I wanted to build their trust and they were building mine. These seniors want to have a successful football season. They want to have a fun season, so they're really buying in and they're having fun and hoping for the best.
"We're putting the work in and hopefully it ends in our favor. They've been great to work with. I've loved it so far."
Brinkman graduated in 2013 from Grinnell College in Iowa, where he played on the defensive line for the Pioneers. He was an assistant coach for the college for two years.
Brinkman spent the next four seasons on the Midland University coaching staff, including serving as the defensive coordinator for the Warriors in 2018. He also earned his Master's in Education from Midland.
After spending six years at the collegiate level, Brinkman was excited for the opportunity to get into high school coaching and teaching.
"I think it was my passion for wanting to work more closely on the education side of things," Brinkman said of the move to the high school level. "As a college football coach, you're only working as a football coach, hardly working in the classroom with kids. I wanted to get back to that. It was something I loved.
"It's a big time commitment at the college level as well, and obviously is at the high school level, but there's more time for my family. I just got married about a year ago. She loves this time a little more than last year's fall football season."
Brinkman inherits a Wildcats squad which finished with a 1-7 record last season. This year's seniors have won a total of six games the past three years.
Achieving success is just as much mental as it is physical, Brinkman said.
"I want these guys to believe that they can be good and that they can compete. That's a big thing going into each game, believing you have a chance to win because you have to think that way in order to be able to win," he said. "The mental side of things is always a thing that we're always trying to focus on with these guys."
You have free articles remaining.
About 20 players make up Cedar Bluffs' roster this season, a number Brinkman hopes continues to grow in upcoming years. That will allow for junior varsity games in addition to varsity games, helping players gain more experience.
"We actually have quite a few guys that have at least played somewhat in the past, so that's good," Brinkman said, noting every position is an open competition in his first year.
Juniors Brody Ptomey and Gabe Anaya will help solidify the Wildcats' play up front this year as they are both returning starters on the offensive and defensive lines.
Senior Grant Pleskac and sophomore Zephan Kluthe are battling for the starting quarterback spot.
"Whoever doesn't play quarterback will probably be a starter at another position for us, too. Both of those two are very competitive kids," Brinkman said.
Brinkman also is looking to seniors Chris Vasquez and Dominic Goodwin for solid contributions this season.
"Our senior class is excited and I'm excited about them. … I want to help these guys end their high school career with something they can be proud of," Brinkman said. "It's nice they've come together and they've really tried to improve as much as they can so far. They're kind of the leaders of our team. We're going to go as our seniors go this year is how I see it."
Defense has been a struggle for Cedar Bluffs the last few years. The Wildcats gave up over 60 points a game a season ago, including 92 points to Pender in a 92-70 loss.
With Brinkman's background on that defensive side of the ball, the Wildcats are looking to make some positive strides.
"The No. 1 thing is I believe in keeping it simple, so we're going to try to make sure that we are simple on defense so that guys know what they're doing each play so they can be in the right position," the coach said. "After that it's about changing the culture into a physical, attacking defense. That's something that we're trying to do. With low numbers, obviously you want to be as physical as you can while also being safe, but that's something we're trying to implement."
Assistants Cody Amen from Boone Central and Jeremiah Johnson from Elba round out the Wildcats' new coaching staff.
Cedar Bluffs will open the season Friday at Allen, one of five opponents on the Wildcats' schedule which qualified for the playoffs last season. Their first home game, which also will be homecoming, is Sept. 6 against Omaha Brownell Talbot.
"We're just looking forward to competing every single week," Brinkman said. "It's definitely a tough schedule with a lot of the teams making the playoffs last year, but if we believe that we can compete every single day, we're setting ourselves up for success and that's the biggest thing.
I just want us to get better every single day and if we do that, the scoreboard takes care of itself and I can be satisfied with the outcome no matter what it is."