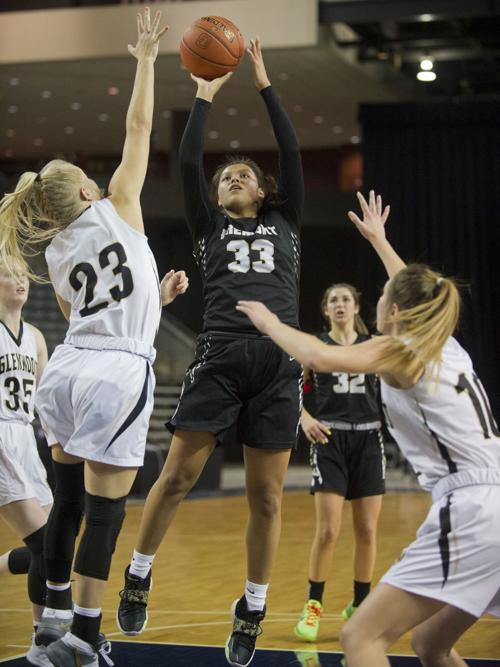 Hunter Sallis and Chucky Hepburn have been high school rivals for four years at Millard North and Bellevue West, respectively.
But on Friday night at Bellevue East, they will be teammates on the White team in the Boost Mobile. Several Lincoln area players will also be participating in the 7:30 p.m. contest. Lincoln Pius X's Sam Hoiberg, Lincoln Southeast's Ajantae Hogan and Norris' Trey Deveaux will be on the White team with Sallis and Hepburn, while Lincoln North Star's Kwat Abdelkarim will play for the Blue.
Deveaux will be honored as the Class B-C-D player of the year, while Sallis and Hepburn will share that distinction for Class A.
The girls game slated for Thursday at Bellevue East (7:30 p.m.) features a pair of future Huskers as Lincoln Pius X's Alexis Markowski is on the White team and Humphrey St. Francis' Allison Weidner headlines the Blue squad.
Markowski has been selected the Nebraska player of the year, which is a boys-girls award combined.
Fremont will be represented by senior Charli Earth.
The Class A girls player of the year is Omaha Marian's Aryannah Harrison.
White: Rachel Culhane, Omaha Gross; Jillian Aschoff, Lincoln Pius X; Miriam Miller, Lincoln Pius X; Kiera Estima, Omaha Benson; CeCe Behrens, Omaha Skutt; Grace Cave, Weeping Water; Charli Earth, Fremont; Kyra Fischer, South Sioux City; Theo Mba, Omaha Gross; Kaysia Woods, Lincoln High; Tia Murray, Elkhorn; Alexis Markowski, Lincoln Pius X.
Blue: CeCe Hacker, Omaha Marian; Sidney Swanson, West Point-Beemer; Hailey Ingram, Omaha Burke; Madalyn Elwood, Bennington; Aryannah Harrison, Omaha Marian; Skylar Pieper, Lincoln Southwest; Kate Dilsaver, Lincoln Southwest; Jenna Hoelscher, Papillion-La Vista; Allison Weidner, Humphrey St. Francis; Hannah Newton, Crete; Aanaya Harris, Omaha Burke; Jada Bennett-Dasher, Omaha Burke; Kaylee Kessler, Millard North.
White: Sam Hoiberg, Pius X; Jaren Marshall, Omaha Central; Dominic DeAngelo-Humm, Millard West; Aidan Graham, Papillion-La Vista; Kallan Herman, Norfolk; Chucky Hepburn, Bellevue West; Ryan Larsen, Millard West; Ajantae Hogan, Southeast; Ja'lyn Spears, Omaha Bryan; Evan Meyersick, Millard West; Hunter Sallis, Millard North; Trey Deveaux, Norris; Ater Louis, Bellevue East.
Blue: Curtis Ogba, Omaha North; Denim Johnson, Omaha Central; Faisaun Germany, Omaha Central; Maijhe Wiley, Creighton Prep; Brendan Buckley, Creighton Prep; Marcus Shakeer, Omaha Benson; Tyler Riley, Platteview; Greg Brown, Bellevue West; Kwat Abdelkarim, North Star; Jadin Johnson, Millard North; Saint Thomas, Millard North; Frankie Fidler, Bellevue West; Tyler Sandoval, Millard North.