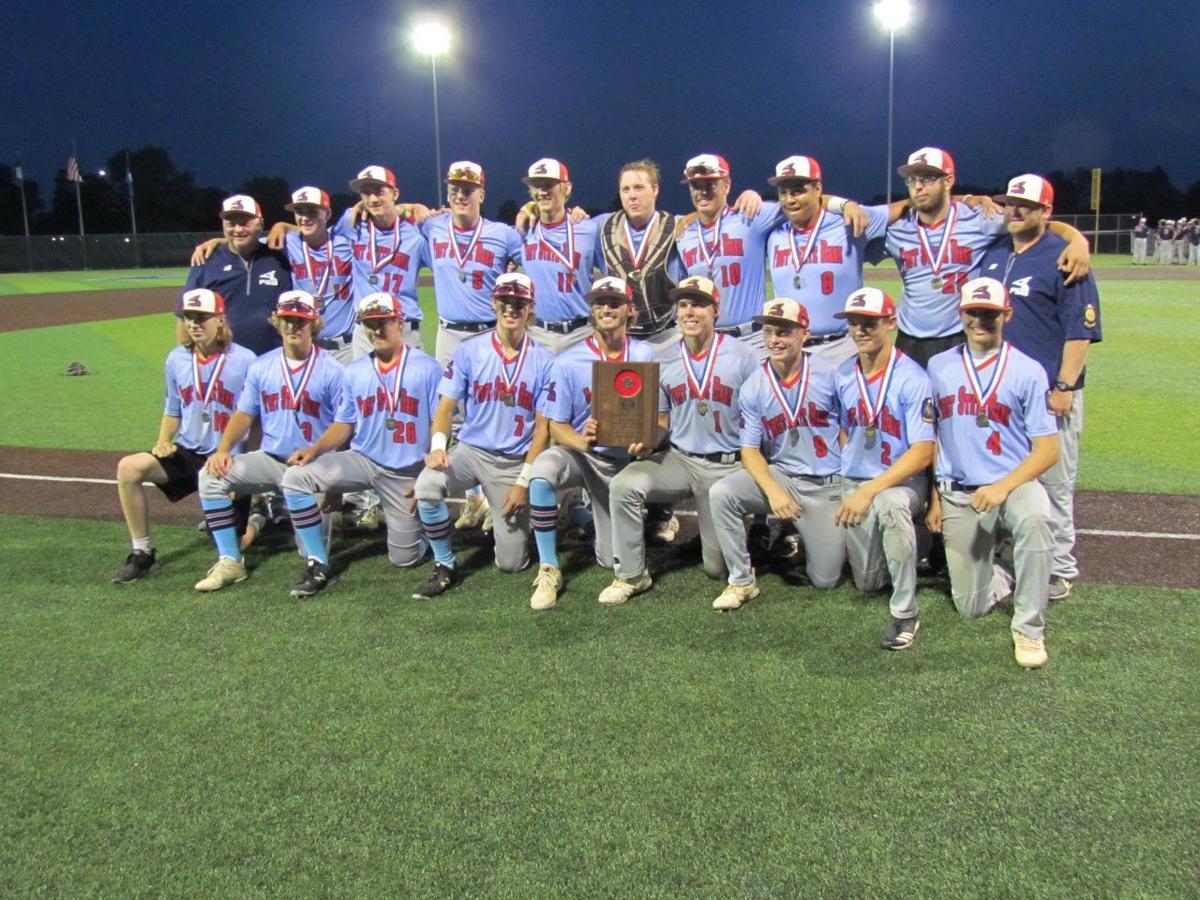 OMAHA -- Thanks to a dominant start by Brody Sintek, the First State Bank Seniors captured the Class A American Division state championship by defeating Millard South 8-2 Wednesday at Jurgensen Park.
FSB advances to the best-of-three state championship series scheduled to begin Friday on the road against National Division champion Gretna. Fremont will be looking for its first state title since 1946.
Sintek, a Wayne State signee, pitched into the seventh while allowing only two runs on four hits and striking out nine. Sintek has a pedigree of big game performances stretching back to when he was a sophomore in the 2017 Class A state high school tournament for Fremont Bergan. FSB head coach Jeff Hayden said Sintek has only gotten better.
"The fun part is watching guys like Brody, who has been with us since he was a sophomore, grow and progress from a young kid when he entered our program and now he's a man." Hayden said. "He is just fun to watch pitch and do his thing. The biggest thing with Brod is he steps up and shows mental toughness in games like this. He tweaked his back a little bit there early on and it was spasming up a little bit but he went out there and battled through and gave us a great performance."
Sintek said he just wanted to do his part in helping FSB on its championship quest.
"I just wanted to go out and throw strikes and let my defense work. I feel that I have the best defense in the state so I am very fortunate for that." he said. "Being able to go to the state championship for the first time since 1946 I think is something everyone is going to be able to look back on and remember for a long time. It felt amazing to be able to be a big part of that tonight."
On the offensive side of the ball it was tied at 1 entering the sixth inning. FSB, though, displayed some firepower plating five runs. Mitchell Glause singled to lead off. After a sacrifice bunt by Brennan Callahan, Donnie Mueller and Dawson Glause hit back-to-back triples that made it 3-1. Jackson Gilfry followed with a run-scoring single. After an intentional walk to Austin Callahan, Dillon Dix slugged a two-run double.
FSB tacked on two more runs in the seventh thanks to a bases-loaded walk to Eli Herink and a run-scoring single from Callahan. Millard South scored its two runs via a TJ Urban RBI single and a Tre Mungin run-scoring single.
Hayden pointed to Fremont's resolve as a big part of being able to put a good team away late.
"Mental toughness is something that we've talked a lot about this week, especially after being beat last night (5-3 to Elkhorn South)," he said. "It is just really fun to watch those guys go out and compete and mental toughness was a huge part of this. We have a senior-laden team and they showed their maturity and came out in a big game and handled the pressure. They played hard and I give all the credit to these guys. It has just been really fun to watch them all summer."
Mungin started for Millard South and worked 5 1/3 innings. He allowed five runs (four earned) on 11 hits and a walk. He struck out three. Jayden Folkers pitched the final 1 2/3 innings. He gave up three earned runs on three hits and four walks. He struck out four.
Gilfry, Eli Herink, Callahan, Dix, Mitchell Glause, Dawson Glause and Mueller had two hits apiece.
Brady Benson followed Sintek and got the final two outs, including a strike out of Tyson Gerdes to finish the game.
The winner of the Fremont vs. Gretna series will advance to the American Legion Mid-South Regional Tournament starting on Wednesday at Duncan Field in Hastings. The Nebraska champion will take on the Missouri champion at 4 p.m. 
The tournament also includes champs from Oklahoma, Texas, Kansas, Missouri and Arkansas. The eighth team is host Hastings Five Points Bank.