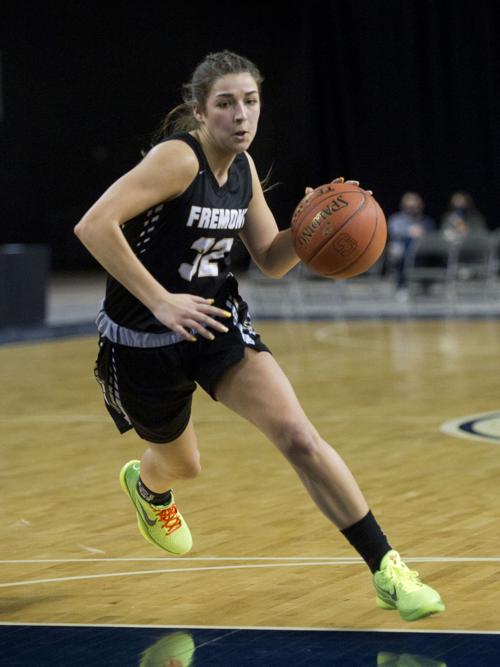 Whatever Fremont coach Kelly Flynn told his team at halftime, he should keep in his back pocket.
After scoring only six points in the second quarter Tuesday against No. 6 Lincoln East, the Class A second-rated Tigers erupted for a 34-point third quarter and a 77-60 victory at East High School.
"We've really been having good third quarters," Flynn said. "Those have been big for us, and I think so much of it was coming out playing with energy and playing with confidence and hitting some big shots."
The speedy Spartans recovered from an early 12-point deficit and closed the first half on an 8-0 run to take a one-point halftime lead.
But Fremont has the state's deepest offensive attack and it didn't take long for the Tigers to regain their offensive touch. They hit 11 of 18 shots in the third quarter, including four threes, and got to the free-throw line. Six different players scored in the frame, and senior Charli Earth capped it with a three-pointer from the top of the key before the buzzer.
Fremont (11-2) turned a 28-27 halftime deficit into a 61-47 advantage.
"We really talked about how we played into their hands (in the second quarter)," Flynn said. "We weren't playing our style. We really wanted to get back to playing our style."
Fremont used a full-court press to create some extra opportunities in the third quarter, and junior Taylor McCabe, known most for her scoring, showed why she also is one of the state's top defenders. Her steals helped the Tigers in the third quarter.
"They picked up the intensity," East coach Dennis Prichard said. "I was pretty happy with what we did tonight, but that was pretty disappointing that when they started pressuring us — that's what we see every day in practice — we didn't handle it well. They went on a run and got some turnovers there.
"They ramped it up a notch, and we didn't."
Third-quarter turns have been the norm for the hot-shooting Tigers this year. They scored 30 third-quarter points Saturday in a 77-73 win against Glenwood, the No. 1 team in Iowa Class 4A.
McCabe, an Iowa recruit, finished with a game-high 24 points, including 16 in the second half. Junior Sarah Shepard had some aggressive drives to the basket in the third and finished with 16 points. The Tigers made 11 three-pointers.
Bella Keaton added 11 points for the Lady Tigers, knocking down three 3-pointers, while Macy Bryant added 10 points and McKenna Murphy chipped in nine.
Lincoln East (5-2), which has games against Columbus and No. 4 Omaha Central later this week, was led by junior Matalynn Campbell, who finished with 24 points.