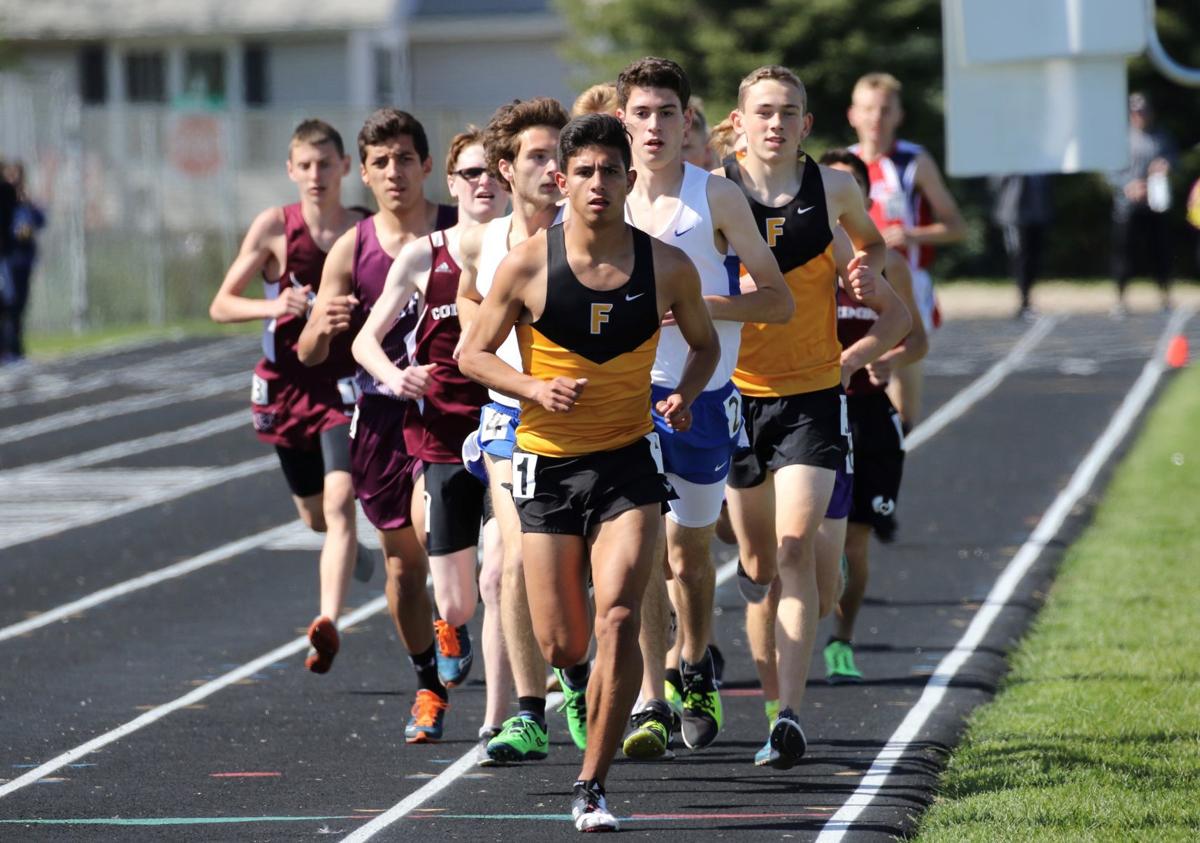 NORFOLK — The usual suspects and some talented underclassmen helped Fremont High School to the A-2 boys district track championship on Friday night.
The Tigers dominant senior class piled up wins in the long jump (Austin Everitt at 21-3 3/4), high jump (Ross McMahon at 6-3), 1,600 meters (Jose Gonzalez in 4:29.11), 400 and 800 (Wes Ferguson in 49.17 and 1:58.43, respectively) and 200 (Lucas Arps in 22.78).
McMahon, Gonzalez, Arps and Ferguson also joined forces to win the 1,600-meter relay in 3:23.91. Seniors Reed Johannsen, Ben Schulz and Matthew Klein were joined by junior Andrew Blocker on the victorious 3,200-meter relay (8:09.31).
Fremont qualified 19 athletes in 13 events for the state track meet on Friday and Saturday at Omaha Burke. FHS won the team championship with 169.50 points — almost doubling the output for runner-up Lincoln East (86).
"It turned out about as well as it could for us," Fremont coach Dave Sellon said. "We didn't have any big disappointments. We got the people qualified that we thought we could along with some bonus qualifiers. We had a great day."
In eight of the events, FHS had multiple qualifiers. The Tigers appear ready to make a strong run at the Class A state championship.
"This team has been one of our stronger groups all the way through their careers," Sellon said. "This season, things have come together nicely and we're in good shape heading into the weekend."
Arps was second to Ferguson in the 400 in 49.95.
"I was very pleased with the times they ran in the 400," Sellon said. "Things are coming around so we should be peaking at the right time, I hope."
The versatile Gonzalez added a runner-up finish in the 3,200 in 9:54.92. Carter Waters was third in 9:57. The freshman was one of several underclassmen to shine for FHS.
Sophomore Mark Mendoza won the pole by clearing 13-4.
"That was great to see," Sellon said. "He has a chance to get a (state) medal."
Waters had some classmates that also turned in quality performances.
Braden Taylor finished third in the open 800 in 2:00.36 (Klein was fourth in 2:02.21). Micah Moore was runner-up to Arps in the 200 in 23.26 (Ty Sookram was fourth in 23.29).
"We're not necessarily known as a sprint school, but we have three qualifiers in the 200 and that is pretty neat for us," Sellon said. "Along with Arps, we knew Ty would have a chance. He has had a great senior year and continues to drop time. Micah's talent is really starting to show through. He has shown glimpses of what he'll be able to do in the future."
Everitt will have company in the long jump as Hunter Wallace finished third at 21-1 1/2.
"Austin and Hunter both jumped very well," Sellon said. "This will be Austin's third trip to the state meet and he has medaled before. We're glad to have him there because he knows what it is all about."
Junior Keegan Menning was second in the discus (155-6) while teammate Jakub Donscheski also earned a berth to Burke with an automatic qualifying mark of 150-11. In the shot put, seniors Tate Moeller (52-8) and Spencer Fitz (50-10) finished 3-4.
Schulz was fourth in the 1,600 in 4:35.34 while Mendoza also was an additional qualifier in the 300-meter hurdles. He placed fifth in 41.67.
Sellon said the Tigers are eager to face the state's best.
"Our goal is to try and win it," he said. "We'll go in and compete hard and add it up. Sometimes there are factors outside of your control. We're going to focus on putting in the performances that give us a chance and we'll see how it goes."
Team Scores — Fremont 169.50, Lincoln East 86, Norfolk 86, Omaha Central 50, Columbus 48, Papillion-La Vista 47, Millard South 40.
Event Winners and FHS Placers
Discus — 1. Tyler Brown, LE, 179-5. 2. Keegan Menning, F, 155-6. 5. Jakub Doscheski, F, 150-11.
Shot Put — 1. Brown, LE, 54-9 3/4. 3. Tate Moeller, F, 52-8. 4. Spencer Fitz, F, 50-10. 7 Meening, F, 45-2 1/2.
Triple Jump — 1. Connor Clayon, N, 45-1 1/4.
Long Jump — 1. Austin Everitt, F, 21-3 3/4. 3. Hunter Wallace F, 21-1 1/2.
Pole Vault — 1. Mark Mendoza, F, 13-4. 5. Andrew Sellon, F, 12-0.
High Jump — 1. Ross McMahon, F, 6-3. 5. (tie) Trevor Synovec, F, 5-11, and Jordan Hart, Central, 5-11.
3,200-Meter Relay — 1. Fremont ( Reed Johannsen, Ben Schulz, Andrew Blocker, Matthew Klein), 8:09.31.
1,600-Meter Relay — 1. Fremont (Lucas Arps, Jose Gonzalez, McMahon, Wes Ferguson), 3:23.91.
400-Meter Relay — 1. Norfolk, 43.70. 7. Fremont (Daniel Godoy, Micah Moore, Zane Klein, Ty Sookram), 45.75.
300-Meter Hurdles — 1. Nick Stoeckle, C, 39.12. 5. Mendoza, F, 41.67.
110-Meter Hurdles — 1. Stoeckle, C, 14.84. 7. Everittt, F, 16.73.
3,200 Meters — 1. Thomas Oliver, LE, 9:54.90. 2. Gonzalez, F, 9:54.92. 3. Carter Waters, F, 9:57.79.
1,600 Meters — 1. Gonzalez, F, 4:29.11. 4. Ben Schulz, F, 4:35.34.
800 Meters — 1. Ferguson, F, 1:58.43. 3. Braden Taylor, F, 2:00.36. 4. Matthew Klein, F, 2:02.21.
400 Meters — 1. Ferguson, f, 49.17. 2. Arps, F, 49.95.
200 Meters — 1. Arps, F, 22.78. 2. Moore, F, 23.26. 4. Sookram, F, 23.29.
100 Meters — 1. Isaiah Harris, MS, 11.06.
Get in the game with our Prep Sports Newsletter
Sent weekly directly to your inbox!