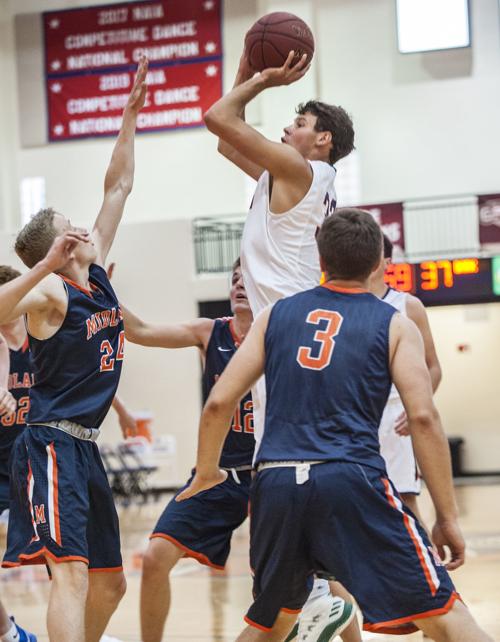 Grant Frickenstein thought his days of competitive basketball were over, but that all changed with a phone call recently.
Frickenstein, a 2019 Fremont Bergan graduate, has accepted an offer to join the University of Nebraska at Omaha program as a walk-on.
"Ever since I was a little kid, my dream was to play (NCAA) Division I basketball," the captain of the 2019 Fremont Tribune's All-Area Team said. "I knew if I got the opportunity to walk on at a Division I program, I couldn't pass it up." Last month, Frickenstein played in the Nebraska Coaches Association All-Star Game in Lincoln. At the time, he said his days of competitive basketball were likely done. He was planning on attending UNO to study business administration.
The Mavericks, however, had stayed in touch with him. UNO assistant Tyler Erwin, a former guard for Coach Rich McGill at Midland University, was the main contact.
"During the basketball season and all spring they had communicated with me," Frickenstein said. "We were talking and then it kind of hit a standstill. Nothing was really said over the summer and I thought it was done. Then two weeks ago, I got a call from (Coach Erwin) and he asked if I still wanted to play. I went for a visit and then last week I got the paperwork finalized and everything in."
The Mavericks' offer made Frickenstein a happy man.
"I was ecstatic because I knew if I didn't play I was going to miss basketball and everything," he said. "When I got the news, I felt great. It gives me the opportunity to play four more years at the highest level possible. I also realized that I needed to get in shape really quick."
Frickenstein, though, didn't exactly loaf after the NCA game.
"I went to the gym a few times a week and kept my skills up," he said. "I just didn't go as hard as I would if I was preparing for the season. These last couple of weeks, however, I've been going really hard and giving it my everything."
Fremont High School graduate Mitch Hahn helped the Mavericks to a 21-11 record last season. Hahn is now playing professionally in Germany for the Kirchheim Knights, but the Mavericks return several veterans, including KJ Robinson and Matt Pile.
"I think it is a great program," Frickenstein said. "They've built a great culture and a winning environment there. They have an excellent group of leaders and the freshmen class they are bringing in is very talented and their transfers are, too."
UNO started classes on Monday, but Frickenstein had already met with team members earlier this month.
"I've been working out with the guys and we've had some team meetings," he said.
The former Bergan Class D-1 all-stater said he enjoyed getting to know Erwin during the recruiting process.
"He's a super personable person and he knows the game of basketball," he said. "He is very familiar with the town of Fremont so he related to me right from the start."
UNO head coach Derrin Hansen told Frickenstein he will redshirt during the 2019-20 season. That is just fine with the newest Maverick.
"I definitely need to improve on every single aspect of my game," Frickenstein said. "I'll be lifting a ton as a redshirt, doing a lot of workouts and practices. I already know that going in and they know I have to get stronger and bigger. I look at it that this extra year is a great opportunity for me."