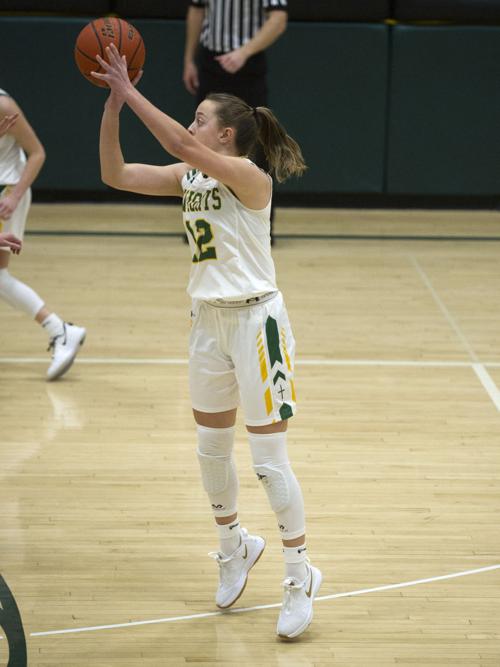 The Bergan Lady Knights took down Blair 46-40 behind 24 points from senior Lauren Baker—including Bergan's first 12 points of the game—to add another victory over a ranked opponent to their resume.
The Bears came into the game ranked No. 8 in Class B while Bergan held the No. 3 spot in Class D-1.
"We know we are usually the little dog in the fight, but it's not the size of the dog in the fight, it's the fight in the dog and I think we have a lot of fight in our dog right now," Bergan coach Nate Pribnow said.
Baker shouldered the early scoring load for the Lady Knights, knocking down her first three shots to get Bergan out to an 8-5 lead.
Blair ended the first quarter on a 7-0 run to secure a 12-8 lead.
Blair pulled out to a 20-12 lead with Baker continuing to be the lone source of offense for Bergan.
"(Baker) does the right thing at the right time and doesn't get too high or too low," Pribnow said. "She is just a calming presence out there."
Adisyn Mendlik lifted the lid off the basket for the other Bergan players with a lay-up . A bucket from Kaitlyn Mlnarik, a 3-pointer from Rebecca Baker and a free throw from Paige Frickenstein allowed the Lady Knights to pull back within three after trailing by as many as eight.
The first half ended with Lauren Baker banking in a fadeaway 3-pointer at the horn to tie the game at 23-23.
The ten seconds that preceded Baker's heroics was at best controlled chaos with a failed pass to the paint knocking off a player's knee into another player's head before ending up in Baker's hands.
"That's exactly how we drew up our play," Pribnow said jokingly.
An evenly matched third quarter saw Mlnarik briefly give Bergan a 32-30 lead with a lay-up only for Blair to answer with a buzzer-beating jumper to knot the game back up.
The stalemate continued until Lauren Baker provided four-straight points then found Summer Bojanski for a lay-up to give the Lady Knights a three-point cushion at 41-38.
Bergan iced away the game at the charity stripe, sinking their last four free throws to secure the six-point win.
Get unlimited access to local news on FremontTribune.com and our apps.
Mlnarik was the only other Lady Knight in double-figures, ending the game with 10 points.
Bergan moves to 7-2 with the win.
"Those are the kind of games that you love to win and when you're on the losing end that you hate to lose," Pribnow said. "It was a fun game and our girls stepped up again. We got a lot of positive momentum out of the holiday tournament, so we've got to keep this rolling.