OMAHA—Arlington's Josh Miller personified the adage 'blood, sweat and tears' on the second day of the Class C State Wrestling Tournament.
Sporting a gash over his right eye that required 'seven or eight' stitches to close, Miller completed his perfect season and claimed the 170lbs state title with a 12-1 major decision over Tre Daro of David City.
"I was just trying to wrestle how I always do, keep everything the same, don't change anything and just focus on it like it's another match and do my thing," Miller said.
Miller's 'thing' is winning and he has done a lot of it over the past four years in an Eagles singlet.
The last, and final time Miller lost a high school wrestling match came on Dec. 21, 2019—a match he wrestled up a weight class.
Miller still gets a bit of grief from his teammates for the loss in which he was thrown to the mat three times before being pinned in the first period—a mind boggling happenstance for the grappler who ends his career with the second most wins all-time in the Arlington program.
Two years and 89 wins later, the Arlington senior still hasn't been, and won't be beaten again.
He went 47-straight matches this season without losing, following up a streak of 42-straight wins that ended in a Class B 160lbs crown a year ago.
"Last year, the lights were a whole lot brighter than they were this time, but it was just as sweet," Miller said.
The senior started his tournament with a pair of wins on Friday, beating Tagg Buechle of Valentine with a second period pin, then handling Yutan's Josh Jessen in a 4-1 decision.
Miller was putting the finishing touches on his 4-0 decision win over Servando Gonzalez of O'Neill in the semifinals when he took a shot at Gonzalez' legs.
"I hit my head on either his head or his knee, and honestly, I thought I was fine and then I just saw a stream of blood coming down," Miller said.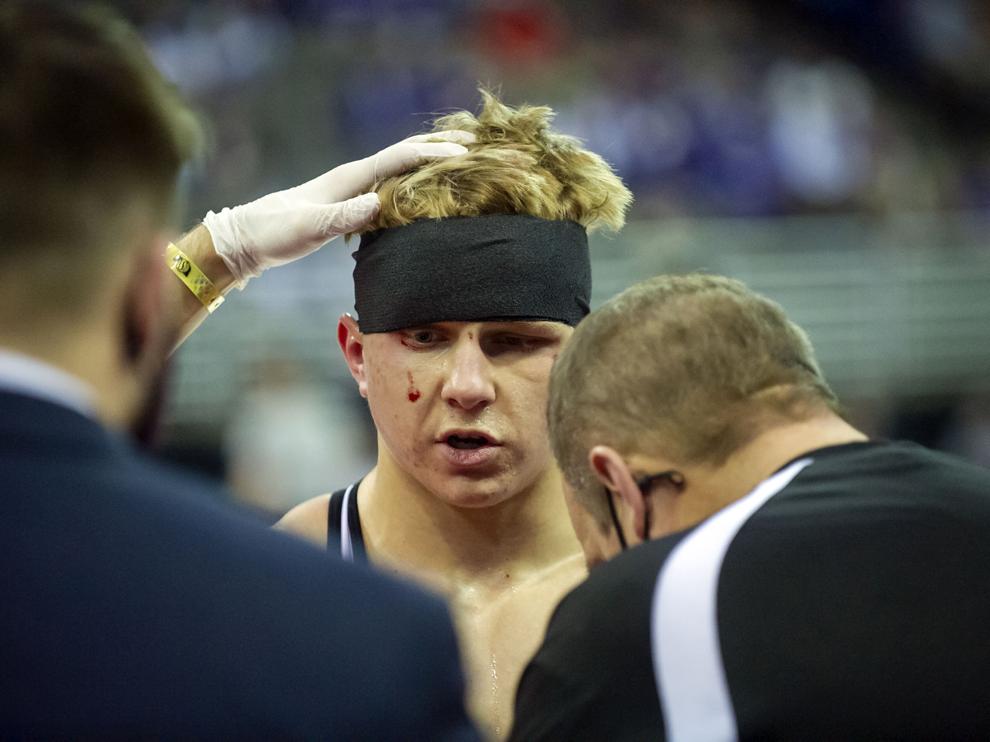 After getting the wound taped up enough to ride out the final minute and change to punch his title to the title bout, Miller spent the five hours in between the semifinals and finals match making trips to the training room.
"I didn't know how big it was. I thought it was just a cut, but apparently it was deeper," Miller said.
The stitches couldn't stop Miller's quest for another gold medal.
An early take down gave the Arlington senior a 2-1 lead in the opening period against Daro. Back-to-back five-point periods allowed Miller to cruise his way to the top of the podium for a second-straight season.
Joining Miller on the podium was wrestling partner Hunter Gilmore, who finished third at 145lbs.
The senior started his tournament run with a pair of dominate wins in Friday's portion of the tournament, pinning Jace Freeseman of Gordon-Rushville in the opening period then handing Korbyn Battershaw of Battle Creek a 10-0 major decision.
O'Neill's Brady Thompson, the eventual runner-up in the weight class, denied the Eagles a pair of state champions, besting Gilmore 2-1 in overtime.
"He is long and I didn't get to my shots," Gilmore said.
If there is a silver lining in Gilmore's semifinals loss, the extra two matches on the backside of the bracket allowed the senior to claim the Eagles all-time win record with 191 career victories, finishing with one more than Miller's 190.
"Josh and I have been competing for that back and forth since the beginning of the year, since we knew it was the record," Gilmore said. "We just kept going back and forth, back and forth.
"He pushes me 24/7, there's not a point in there where I slack and if there is a time when I am slack, he tells me to pick it up. He pushes me and I push him."
Gilmore took care of Freeseman again in the consolation semifinals, pinning him in 52 seconds—nearly a minute faster than their opening round match.
In the final match of his high school career, Gilmore used up all five minutes of mat time, securing the only two points of the match with a reversal in the final second to claim a 2-0 decision over Hunter McNulty of Logan View.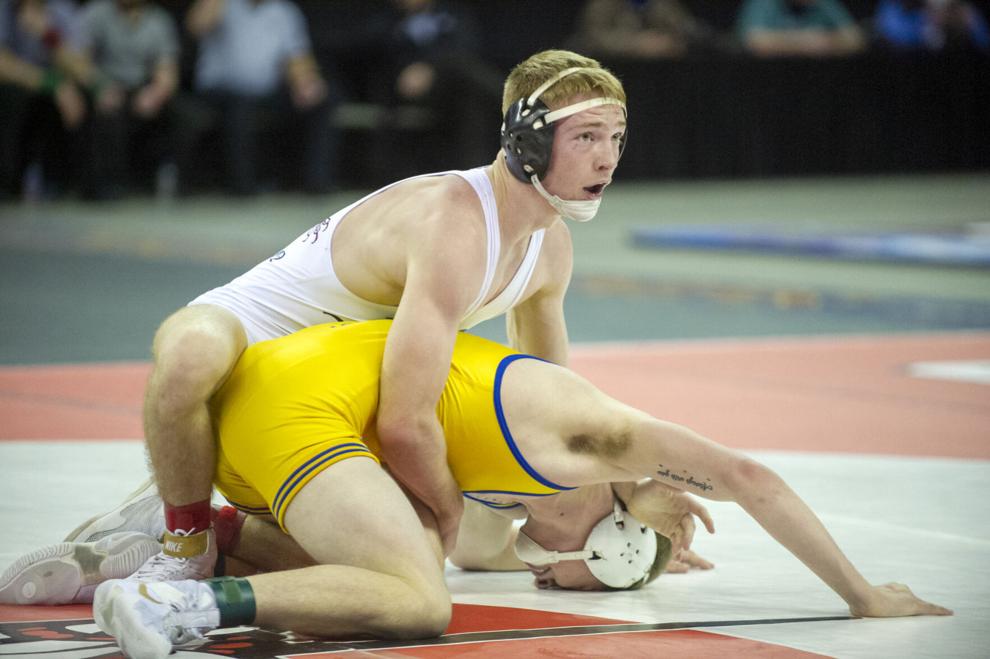 "That's like my fifth, sixth time wrestling him, so it's always hard to beat someone more than once," Gilmore said.
Gilmore ended the year with a 47-2 record.
"It feels special that my last high school career match at state was a win," Gilmore, who will wrestle for Chadron State next year, said.