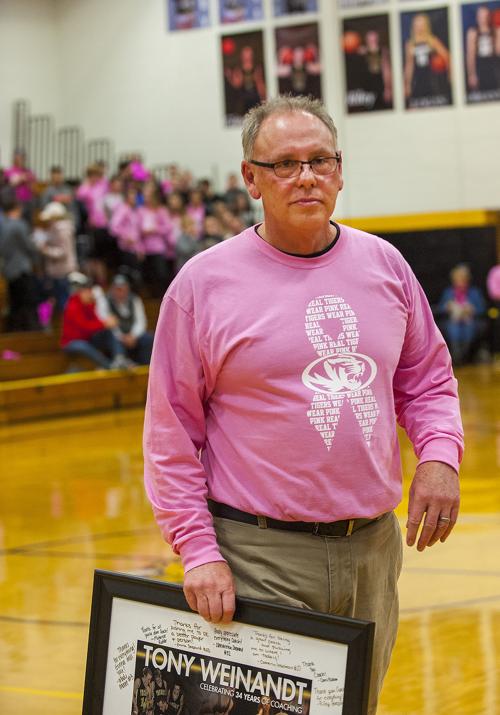 Camerin Inselman didn't really know what to expect when she transferred to Fremont High School prior to her sophomore year.
Like her older sister, Brianne, Camerin was set to join the FHS girls basketball team that was coached by Tony Weinandt.
"I didn't know him very well at first because I transferred in from Bellevue West," Inselman said. "But I got to know him really well. He tried to push me to be the best I could be. He found my weaknesses and helped make them strengths. He is also a people person. He loved being around all of us. He was an enjoyable coach to be around, but he also knew how to get the best out of us."
Weinandt got the best out of all of his athletes he coached during his tenure with the Tigers. The 1978 FHS graduate, who also served as an assistant coach in football and boys track, retired earlier this week. Weinandt coached one year at Elmwood High School and 14 years at David City before serving 19 years at FHS.
"I think what has made Tony so successful and such an attribute to our school is his true love of sports and his sincere desire to take good care of kids and help them grow and mature," FHS boys track coach Dave Sellon said, who also serves as an assistant coach in football. "Regardless of the sport, the pace of coaching at the varsity level is tough. He has done three sports a year for about his whole career."
Weinandt was the head boys basketball coach for the Scouts before returning to his alma mater. He coached freshmen boys basketball for two years before replacing Tom Tvrdy as the girls varsity coach.
The decision to retire wasn't easy. He discussed the situation with wife, Dawn.
"It was kind of a two-year process," Weinandt said. "Last year we talked about it and this year we decided it was the right time."
Weinandt helped the Tigers qualify for the Class A state football playoffs. Fremont made its first postseason appearance in nine years before losing to eventual state champion Omaha North in the first round.
In December, he finalized his decision and took the FHS girls basketball team on what has become an annual trip to the Nike Tournament of Champions in Phoenix.
"Dawn and I knew about it when we went to Phoenix," he said. "We really enjoyed it and had a great trip. The kids played really well and we ended up having a great year, unfortunately we just came up a game short (losing to Papillion-La Vista in the A-6 district tournament). We won 17 games in Class A and I felt good about what we did. I just wish we could've won one more and made it to state."
Inselman relishes her trips to Phoenix. She credits Weinandt with helping ease players' concerns about playing in such a big event.
"Phoenix was awesome and we got to see another side of him than we did as a teacher and coach," she said. "Before one of our games — to help ease our nerves — we had a little dancing competition. That was one of my favorite memories. He started dancing with all of us and I think that helped us all relax and play a lot better."
Weinandt grew up around Fremont athletics. He remembers as a youth watching the Tigers compete in various events.
"It all started with my dad (Larry)," he said. "When we were young, we went to Fremont High football and basketball games and we would go to Midland games," he said. "Watching all of those teams play was our family time."
Weinandt made his mark at FHS as a multi-sport athlete.
"In growing up and then going to school at Fremont, it was special to be a Tiger," Weinandt said. "It was a different time and we didn't have all the select teams that we have now. Each game that we played being a Fremont Tiger meant a lot — not that it doesn't now — but those were really the only games you played."
Weinandt said many coaches influenced him while he was growing up, including Larry Sheppard, Buzz Hollins, Al Bahe, Jon Appleget and Pat Murphy.
"There were a lot of coaches that were huge influences in me wanting to be a coach," he said. "I have a lot of memories of being around those guys."
Weinandt has also helped create memories for his athletes. He guided the 2011-12 girls basketball team to the state tournament. It was Fremont's first appearance at state since 1985. That team included future Morningside basketball player Ali Bachman (who would later serve as a FHS assistant) and Sherise Burnside, who went on to play softball for Midland University.
"I don't want to say we surprised anybody because as a coaching staff we thought we were going to be pretty good," Weinandt said of the squad that finished 19-6. "That team was a group of tremendous friends and they bought into everything we wanted them to do and they worked extremely hard. It was so exciting for the community when we beat Bellevue West here in the district final."
The Tigers returned to state two years later, led by Nebraska Gatorade Player of the Year Jessica Shepard. After starting her career at the University of Nebraska, Shepard transferred to Notre Dame and helped the Irish win the 2018 national championship.
"Jess is by far the most unbelievable talent you could ever be around," Weinandt said. "To coach her and then see her win the national championship, I couldn't be more happy for her or proud of her."
There were other talented players during Weinandt's tenure, including Emily Moran, Rylie Cascio Jensen (who led FHS to state in 2016) and the coach's daughter, Jordan.
"It was special coaching her," Weinandt said. "It wasn't always easy for either of us, but we've talked and it is something that neither one of us would trade away."
There were also bright moments in track, including the Tigers ending Kearney's run (1994-2004) of 11 consecutive Class A state championships in 2005.
"Everyone knew that year we had a chance," Weinandt said. "People were talking about it for the whole two days and wondering if we could do it. Our kids handled it so well."
Weinandt, a former quarter-mile runner himself, also had a memorable 2018 meet. Junior Lucas Arps won the all-class gold medal in the 400 meters.
"He helped me a lot and was a heck of quarter-miler back in his day," Arps said. "I'd love it if I could have him as my coach for one more year."
Weinandt said he was fortunate to serve as an assistant to Sellon in track and Kevin Meyer and Seth McClain (the current coach) in football.
"Coach Sellon does a great job and is super knowledgeable about the sport," he said. "He wants your input and lets you coach your event. Kevin and Seth were both great to work with. I haven't had to work for anyone that is a micro manager. They want your input and they provide a great atmosphere to be around."
Weinandt is uncertain of his future plans.
"It is kind of too early to talk about," he said. "But you never say never about (teaching and coaching) again. There are opportunities out there, but I just want to take time to enjoy it and live life a little differently. It just won't be quite as nerve-wracking on Friday nights."
Get in the game with our Prep Sports Newsletter
Sent weekly directly to your inbox!