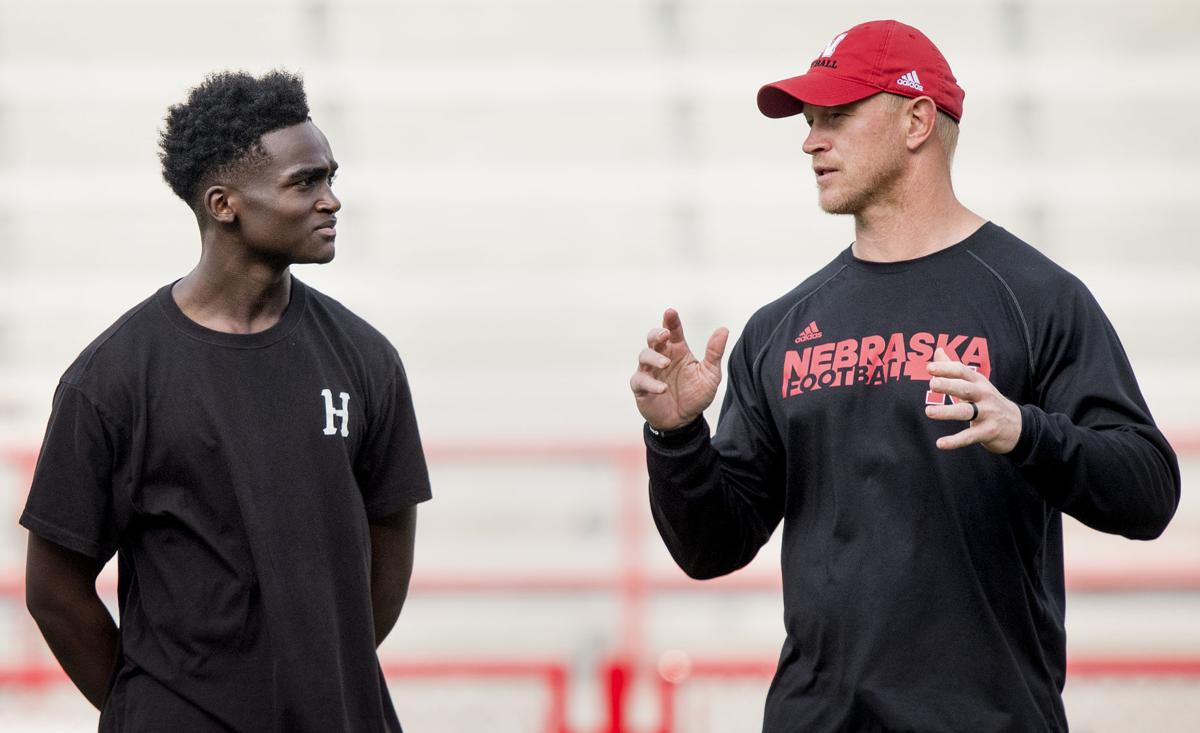 Just because we're socially distanced doesn't mean we can't go for a drive.
1. The main thrust of Nebraska coach Scott Frost's message on the Husker "Sports Nightly" radio program Tuesday evening was about how the coronavirus pandemic has affected his football program and the state of Nebraska overall.
He did also touch on a couple of other topics, including recruiting, which isn't surprising since, well, that's about all the coaching staff can really do at this point.
The NCAA instituted a dead period through at least April 15 in order to keep coaches and recruits from traveling to and from campuses, but teams and recruits can still be in touch remotely.
"We're really trying to turn our attention to recruiting," Frost said. "There's going to be a big hiccup in this cycle without having to be able to have kids unofficially on campus. We're trying to figure out if we're going to lose our entire spring recruiting where our coaches go out or not."
NU picked up a verbal pledge from 2021 linebacker Christopher Paul Jr. on Friday morning. There are several regional players who have been on campus at least once and have been on the Huskers' radar for an extended period of time: in-staters Keagan Johnson (Bellevue West), defensive back Avante Dickerson (Omaha Westside) and tight end A.J. Rollins (Creighton Prep); tight end Thomas Fidone (Council Bluffs, Iowa); wide receiver Jaylin Noel (Kansas City); and linebackers T.J. Bollers (Tiffin, Iowa), Travion Ford (St. Louis) and Seth Malcom (Tabor, Iowa) all look like priorities already, and might be even more important now given their already extensive familiarity with Nebraska.
On Wednesday morning, the Huskers also made the top five for three-star athlete Tommi Hill out of Orlando, Florida, alongside Ohio State, Georgia, Oklahoma and Arizona State.
"We're burning up the phone lines and trying to talk to '21 recruits about the great things about Nebraska and trying to get ahead on recruits in the '22 and '23 class," Frost said.
2. Nebraska indeed has been busy making offers to high school underclassmen.
NU would have been evaluating and offering 2022s and 2023s this spring anyway, but given the uncertain nature of the next few months, it certainly makes sense to get as much legwork done as possible for those groups in case the 2021 cycle gets too compressed and becomes a full-out sprint in the fall.
Among the young players who have picked up Husker offers recently: 2022 tight end Carsen Ryan (Provo, Utah), 2022 running back Brenen Thompson (Spearman, Texas), 2023 lineman Kaydn Proctor (Pleasant Hill, Iowa) and more.
3. Speaking of Dickerson, the four-star defensive back from Omaha isn't letting the dead period cause too much disruption in his recruitment.
On Tuesday, he tweeted that he had taken a virtual visit to Minnesota.
Essentially, Dickerson got on a video chat to learn a bit about coach P.J. Fleck's program. There have been schools that have gone even further, like Kansas, which held a virtual junior day last weekend, complete with a full-day schedule.
It'll be interesting to see how programs (and recruits, for that matter) continue to adjust to the restrictions in place going forward.
4. An interesting bit from the basketball world: NU special assistant Bobby Lutz told the Raleigh News & Observer in an interview that it was the Big Ten that instructed Nebraska coach Fred Hoiberg to leave the sideline of the Huskers' conference tournament loss to Indiana after the cameras showed him looking ill on the bench.
"I go to Fred and say, 'Coach, the Big Ten says you have to leave,'" Lutz told the paper. "He said, 'Why?' 'I don't know, coach. Maybe because you don't look well. To be cautious.' That's why he left the court, because he'd been told to do so, even though he had been examined and cleared to coach."
The whole thing is a worthwhile read from what turned into a bizarre evening. Hoiberg told the Journal Star's Chris Basnett that he's doing well. Hoiberg hasn't spoken publicly since the season ended.
5. On "Sports Nightly," Frost not surprisingly had high praise for fellow former Husker quarterback Eric Crouch, who was recently elected to the College Football Hall of Fame.
"I'm just elated for Eric. Obviously, he's one of the greatest Huskers and one of the greatest college football players of my era. On top of that, he's a good person and a really good friend. … We're thrilled as a university that one of our student-athletes is going into the Hall of Fame, but more than that I'm just happy for Eric and I can't wait to watch him be inducted."
Frost also said he figured Crouch might be the fastest quarterback in NU history.
"He represented the No. 7 well," Frost said.
6. Omaha Burke head coach Paul Limongi told the Journal Star recently that he's been talking with Xavier Watts, who enrolled early at Notre Dame and went through winter conditioning before spring ball got canceled due to the pandemic.
"He's really enjoying it and he's fitting in," Limongi said of the former Burke two-way star, who's going to play offense for the Irish. "He's just a kid that's going to work and be silent about it, and then before you know it, there's a good chance he might be a significant factor for them next year. I would not be surprised if he's in there in the fall on Saturdays."
Be the first to know
Get local news delivered to your inbox!