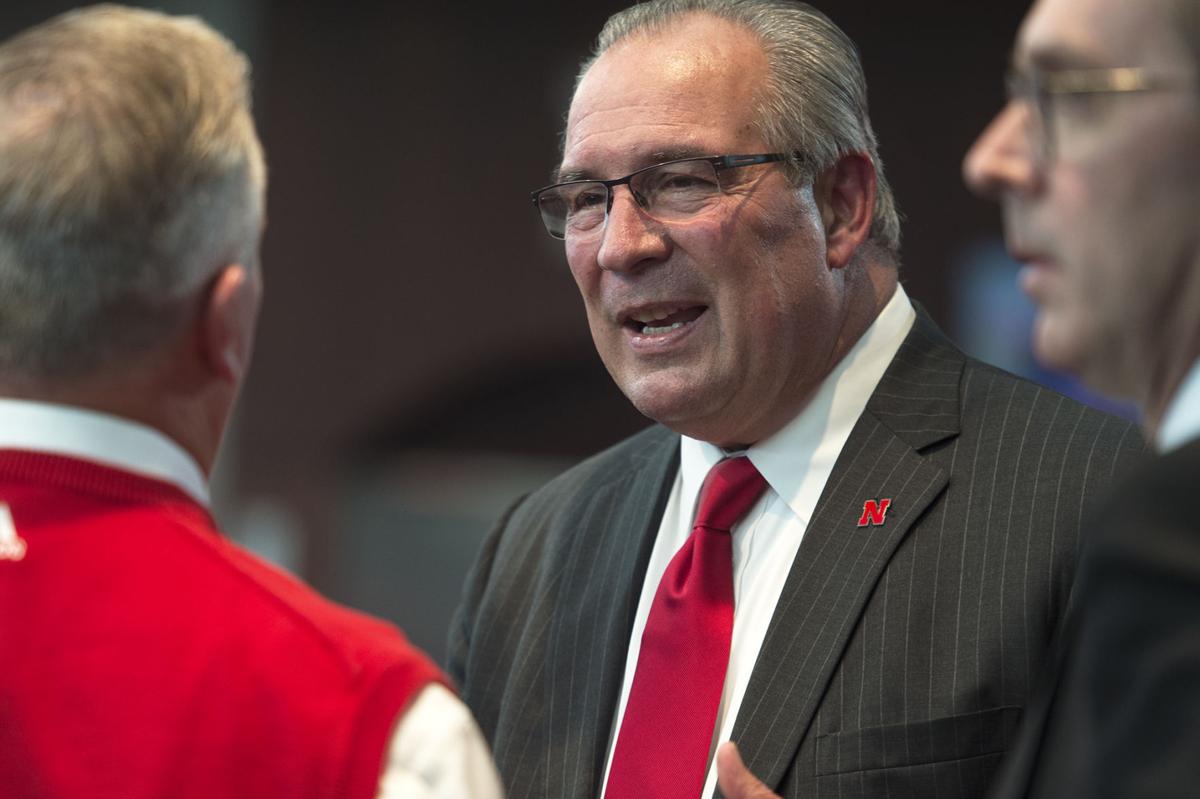 Nebraska athletic director Bill Moos pondered a variety of 2020 Husker football schedule scenarios Friday.  
You hear a lot of ideas get tossed around. Moos hears them, too. Some are far-fetched, some not. Maybe the Huskers will play only conference games, maybe 10 of them — five home, five away. Maybe the season won't begin until October. Perhaps Rutgers and Maryland — universities located in coronavirus hot spots — won't play at all this season. What about the Michigan schools? They're in problem areas, too.
A lot of these conversations are fluid, seemingly changing by the hour. 
As we tossed around ideas and scenarios during a 45-minute discussion, a question came to my mind: Has the pandemic made Moos' job tougher?
"It's made it different," he said. "I will say this, and told my staff this during a virtual meeting Wednesday: When all of this is over, when the dust settles, we will be judged on how we navigated through this crisis far more than how many championships we win. That's how serious it is."
Moos took over as Nebraska's 15th athletic director in the fall of 2017. He set the tone with a simple credo: Honor the past. Live the present. Create the future. These days, though, it's the "live the present" part that can be particularly tricky for almost everyone, and most certainly for someone in charge of a Power Five athletic department. 
It's interesting, isn't it? Moos is 69. No way he could've anticipated leading his department through a pandemic. Who plans for a pandemic? (Insert snarky political comment here). Whatever. So much for easing into retirement. Nobody's saying Moos is enjoying the challenge — it can't be all that enjoyable — but he does seem engaged and even energized. Perhaps the novelty factor helps. 
"I sure as hell know how to do Zoom calls now," he says. 
Novelty factor? Moos made reference to a "facility-usage committee" that is considering issues that, as Moos lays them out, sound like something from a science-fiction movie. Among them:
* How closely will fans be able to sit if they're allowed in Memorial Stadium at all this season?
* What will be allowed for fans near the stadium in terms of socializing before and after games?
"There are all kinds of details we're looking at, and then how to administer them," Moos said.
Moos is spending a lot of desk time these days pondering budget matters, as well as coronavirus protocols, policies and guideposts. It's probably a world that would've been more natural for his predecessor, Shawn Eichorst, who was a policy-driven athletic director. A pencil pusher. Eichorst specialized in risk mitigation, liability mitigation. He was cautious. That's how he was wired.
Oh, make no mistake, Moos can handle what his job has become in a pandemic world. He wants to lead his "team" out of this mess. Sheer want-to in this sort of extreme situation is critical because it's, well, hard. Hard and strange. Uncharted territory, largely. He also understands the impact this period will have on his legacy. Much of his work nowadays is an arduous behind-the-scenes grind and, unlike Eichorst, he's a man of the people with a million stories. Moos wants to kiss babies and shake hands, and you know the deal with those sort of actions in the "new normal." 
The world has gotten weird in the past two months. Disconcertingly weird. You better be adaptable. You better be agile. That's generally easier for 30-year-old people than 70-year-old folks, but Moos seems OK with it all. He's mindful of safety. He achieves social distance thanks in part to his spacious corner office on the third floor of North Stadium. These days, for obvious reasons, there are never more than a half-dozen or so people on the floor on a given weekday. All told, Moos said, there might be 15 people in the entire building most days, including football staff. 
"It's a different challenge, and I love the way we're thinking through this and putting plans together and calling audibles," he said. "Hey, what can we do during this time that can help us be better when it's over? Is it another restructure of our staff? Is it policies and procedures changing? Is it a better appreciation for each other? 
"We can't control the opponent — the coronavirus — but we can continue to adjust our offense as to how we're going to attack it." 
Some matters are more challenging than others. To wit: Has he had to consider furloughs or pay cuts for athletic department personnel?
"Those things are all being discussed and are certainly options," he said. "That's the last thing one really wants to have to do."
As the interview winds down, I basically blurt out an obvious question: What are the chances that Nebraska plays its 2020 football schedule as originally configured?
"I hold out hope," Moos said. "I'd say it's 50-50." 
That's probably enough questions for one day. Moos has work to do. He knows he and his staff will be judged on how they handle their business during an unwieldy period of world history. Yeah, what an enormous task. So far, so good.
Concerned about COVID-19?
Sign up now to get the most recent coronavirus headlines and other important local and national news sent to your email inbox daily.