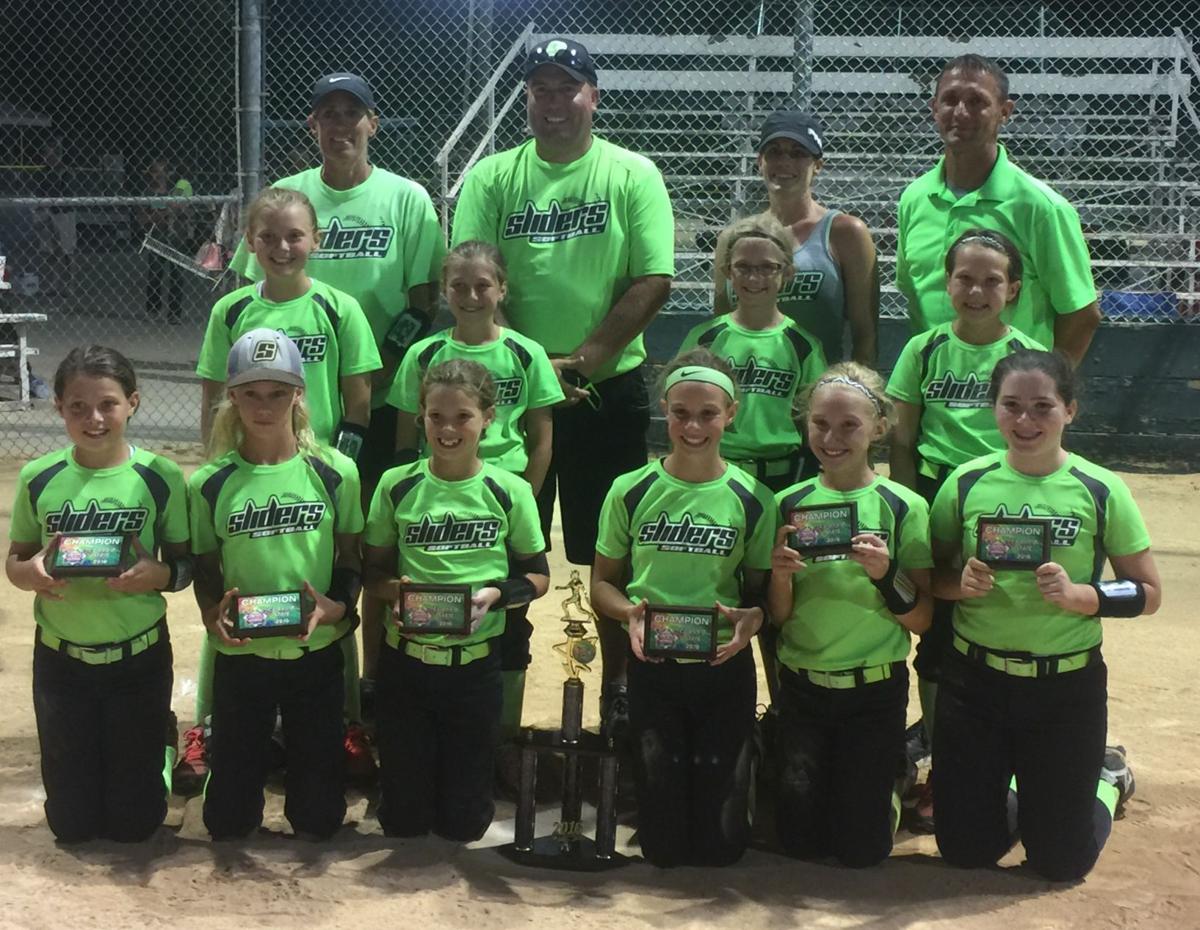 The Fremont Sliders 10-and-under softball team claimed their second state championship of the summer recently by winning the Class B USSSA title in Lincoln.
The Slider finished 5-1 in the tournament, which featured 24 teams.
Fremont opened with a 12-0 win over Team Nebraska. Britt Prince led the way with a grand slam and a single. Sydney Glause added two hits and three RBI. Adler Gilfry went 2-for-2 with one RBI.
Ella Cooper tossed a no-hitter and struck out to get the victory.
In game two the Sliders faced a familiar opponent in the Blair Flames. This was there fourth time the two teams had faced each other. Unlike the previous three meetings, this game was a blowout as the Sliders prevailed 14-2.
All 10 girls scored at least one run in the win. Summer Bojanski, Gilfry and Glause had two hits. Glause, Prince and Rebecca Baker had two RBI each. Cooper and Brylee Nelsen combined on a three-hitter and four strikeouts in the four-inning game.
Fremont then faced the North Platte Sliders. Fremont trailed 1-0 before Prince scored on a passed ball. Strong defensive plays by Bojanski in center and McKenna Murphy at catcher helped keep the game tied at 1 heading into extra innings.
Going to the international tiebreaker, Bojanski had a two-run single and Glause added a RBI to help Fremont to a 5-2 win.
In the championship game of the winner's bracket, the Sliders would face the Lady Dominators. The Dominators had accounted for the only two losses on the Sliders' record this season. This game, however, would be completely one-sided as the Sliders pounded the Dominators 10-0 to earn a spot in the finals.
Cooper, Nelsen and Gilfry had two hits each. Nelsen and Gilfry drove in three runs each while Prince and Cooper scored two runs apiece.
Cooper got the win allowing only one hit and striking out two.
In the first game of the championship, the Sliders would face North Platte again. This time North Platte took advantage of five errors to prevail 4-3.
Cooper only allowed three hits and struck out six. Fremont didn't record a hit in the loss. Baker, Murphy, Nelsen and Bojanski drew walks while Cooper reached on an error.
In the decisive title game, Fremont wasted no time getting its offense clicking. Hits by Murphy and Prince and a North Platte error helped Fremont jump to a 2-0 lead in the first.
Nelsen had a RBI single that helped Fremont extend its lead to 5-0. Fremont would get two more runs on its way to a 7-1 victory.
The Sliders finished the season at 46-3 and claimed the ASA and USSSA State titles as well as the Firecracker Tournament Title, Arlington Softball Tournament title and the Todd Valley League championship. The Sliders offense scored 463 runs, but only gave up 47 runs on the season.