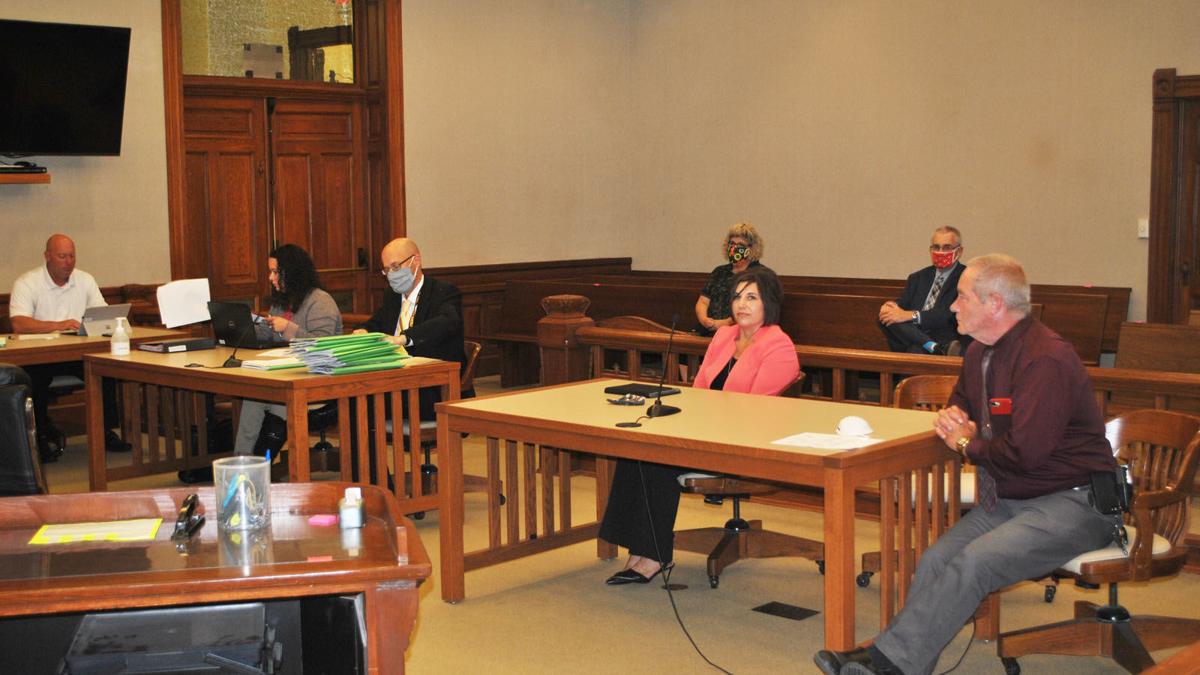 PLATTSMOUTH – Several people who pled guilty to felony drug charges appeared before a judge in a Cass County court recently to learn of their fate.
They weren't sentenced to jail, but instead became the newest members of the Cass County Drug Treatment Court, a multi-phased program designed to get people off drugs by following a strict regimen while staying in society, not behind bars.
"Judges were tired of seeing the revolving door, tired of seeing the same people," said Creston Ashburn, a problem solving court coordinator.
This individualized approach in getting people off drugs has been highly successful elsewhere, he added.
"In Sarpy County, 86 percent of our graduates have not received a Class II misdemeanor or above conviction."
Each drug treatment court is built around certain national standards, aimed at achieving the utmost success.
For example, candidates for this court are assessed for eligibility using validated risk- and clinical-assessment tools.
Drug courts ensure that treatment professionals understand and are responsive to the cultural differences within their population.
Drug courts use behavior-change strategies that are evidence-based, fair and consistently administered. Jail is not used when addicted participants, who are fully compliant with treatment, struggle to remain abstinent. Instead, therapeutic adjustments are used to respond to continued substance use.
Drug courts implement frequent, random and comprehensive drug and alcohol testing of participants to gauge treatment progress and ensure that substance use is responded to in a timely and effective manner.
Participants in the Cass County Drug Treatment Court must first plead guilty to a Class 4 felony drug charge, which is punishable for up to two years in jail and a $10,000 fine. Then, they start off in Phase 1, which requires they begin or continue treatment, submit to random drug testing and be substance free for a minimum of 14 days.
Other requirements include weekly court appearances before a judge who gauges their progress, plus meetings with their supervision officer and community support groups.
In the next phase, participants must also maintain or obtain employment and have at least 36 hours of structured time to include work, education, community support meetings, treatment and volunteer hours.
"Those first two phases are pretty intense," Ashburn said.
In the later phases, if the participant is succeeding, court visits and those to the supervision officer are reduced, though treatment must continue and the required number of days of sobriety increases.
To graduate from this program, the participant must have had 180 days of continuous sobriety, completed all treatment requirements, maintained employment or school, addressed all services needed and maintained pro-social activity.
Participants must pay their program fees.
If they're successful in this program, participants can graduate in as little as 18 months. What's more, upon graduation, those Class 4 drug charges are dismissed.
"We want the public to know we are taking a new approach," said Det. Matt Watson of the Plattsmouth Police Department.
Such a program also needs community support, according to Watson. This could come in the form of financial assistance to help pay expenses or pay for transportation needs of the participants. And, help could come from business owners willing to offer employment to participants, he added.
"This is a higher level of treatment than ever before in Cass County," Watson said.
Be the first to know
Get local news delivered to your inbox!